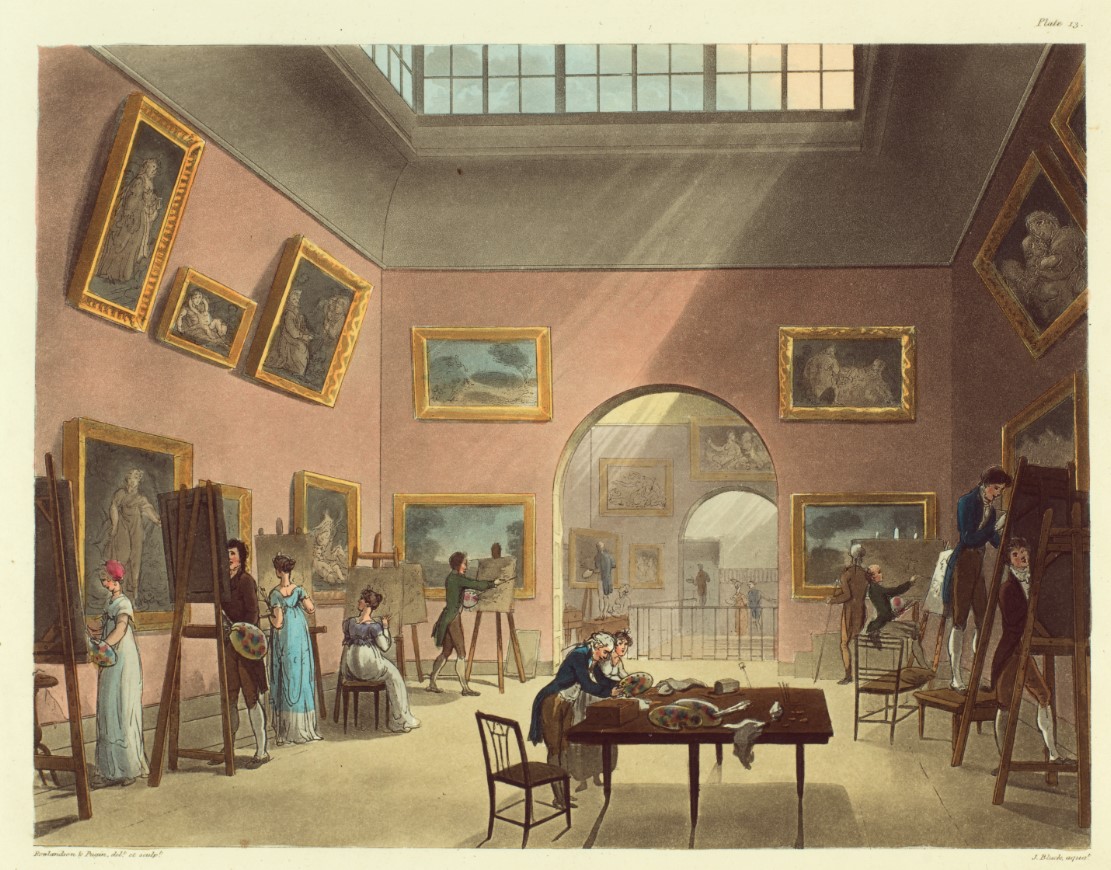 For visitors to present-day art museums, in which every individual work of art on display is elevated into the realm of the sacred, the exhibition of works of art in the late 18th and early 19th centuries can seem a bewildering jumble. Paintings of great ambition were embedded in exhibitionary landscapes consisting of the richest imaginable array of artifacts, environments, and living creatures. And these diverse displays were not consumed in isolation. Rather, they were part of a round of seasonal urban entertainments, which might include viewing oil paintings in the morning and taxidermy in the afternoon—or viewing examples of both at a single venue.
In recent decades, art history has foregrounded the experience of the spectator, or "beholder," or "observer" of art, which has broadened the compass of the discipline considerably. Yet the field still holds a relatively orthodox view of the kinds of venues, events, and display practices that are deemed worthy of inquiry. Even as art historians have valorized the expressive possibilities of alternative exhibition spaces as central to avant-garde identity, the appearance of paintings in the precincts of commercial entertainment had, for many years, been consigned to a position of marginal curiosity. Exhibition-makers have been characterized as either renegades or hucksters—as if aesthetically daring artists were not part of the market, or as if commercial displays could not contain works of aesthetic or cultural merit. Both the sheen of avant-garde rebellion and the tarnish of lucre continue to color approaches to 19th-century displays.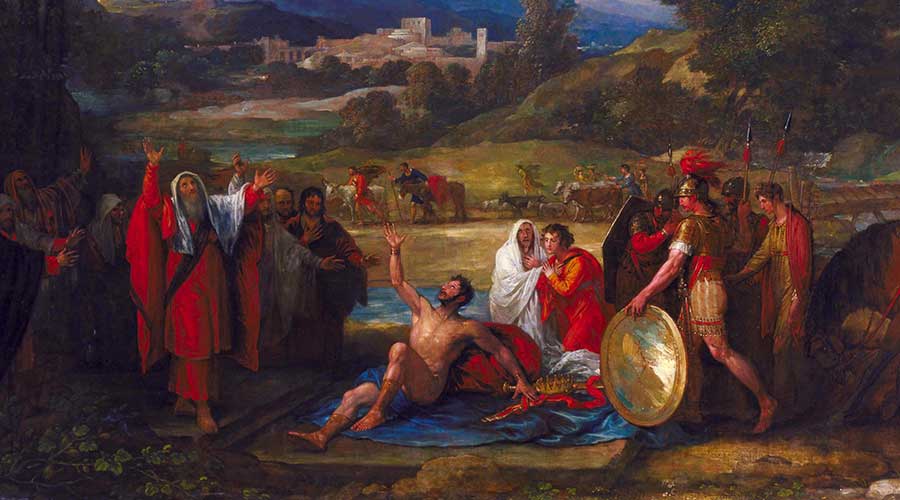 Few artists were more entangled in this ambivalent situation than the American-born painter Benjamin West, who for nearly three decades presided over the Royal Academy of Arts in London and its taste-making annual exhibitions. Yet, in the 1810s, even West availed himself of an increasingly commonplace vehicle to display his late religious paintings: a single-artist exhibition mounted as a commercial enterprise, outside the authorized precincts of Britain's art institutions. In 1816, in rented galleries in Pall Mall, West displayed his Saul Before Samuel and the Prophets, now a highlight of The Huntington's art collections. Measuring greater than 8 by 5 feet, this biblical showstopper reminds us of the critic William Hazlitt's acerbic—if not entirely fair—observation that West was "only good by the acre." More importantly, though, the gigantism of West's picture indicates its participation in what one art historian called "a cult of immensity," a vogue in which paintings were scaled-up to vie for the eye—and coin—of the London consumer, who had a full menu of visual stimulation from which to choose.
Just a few paces from West's exhibition in Pall Mall, for example, a troupe of Chinese jugglers performed marvelous feats of dexterity and legerdemain twice daily. Just two shillings treated the viewer to the usual fare of airborne knives and balls, but also to more mystifying demonstrations, including two myrtle trees conjured from thin air by a "Talismanic Power." A short trot to Leicester Square passed Miller's Mechanical and Beautiful Picturesque Representations at Saville House, comprising a series of views of contemporary events "animated" by strategic lighting, including the satisfying scene of the defeated and exiled Napoleon being deposited on the remote island of Saint Helena. Paintings, however, were never quite so distant from the scene. Indeed, an exhibition at the Waterloo Museum at 97 Pall Mall was chockablock with military regalia seized on the field of battle, but it also included portraits of Napoleon and a group of large battle pictures. In George Cruikshank's caricature of another celebrated venue—Bullock's Museum, Piccadilly—paintings adorn the back wall, presiding over the scene as Napoleon's carriage is seized anew by throngs of consumers. This scene—jarring to today's relatively respectful museumgoers—reveals how objects now categorized as "fine art" worked in tandem with other media to create rich immersive environments.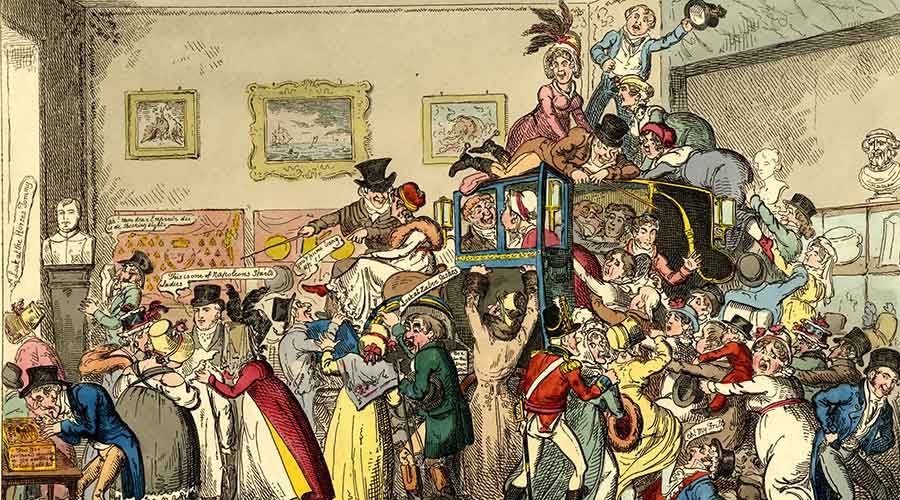 The conference taking place at The Huntington on Sept. 22 and 23—"Paintings, Peepshows, and Porcupines: Exhibitions in London, 1775–1851"—will begin to make sense of this apparent chaos, as an international group of scholars convenes to explore a heterogeneous landscape by peering through the lenses of Empire, race, gender, the city and the provinces, the senses, science and technology, and the body.
Funding for this conference has been provided by the William French Smith Endowment and the USC-Huntington Early Modern Studies Institute.
Jordan Bear is associate professor of art history at the University of Toronto. Catherine Roach is associate professor of art history at Virginia Commonwealth University and a 2017–18 National Endowment for the Humanities fellow at The Huntington.