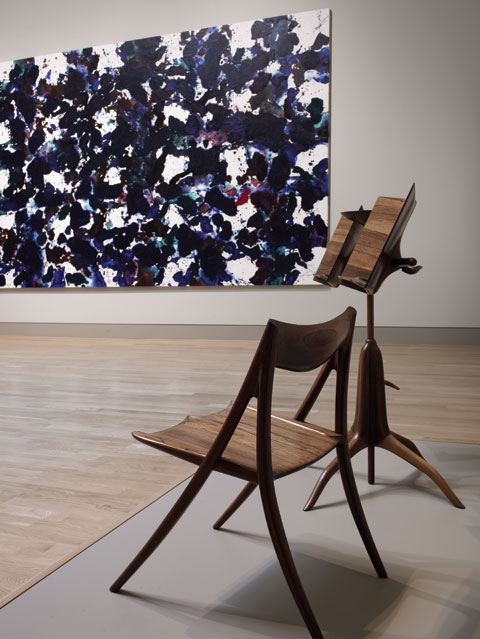 The
Double Music Stand and Musician's Chair
as they appeared at the reopening of the Scott Galleries in 2009. Photo by John Sullivan.
In 2008, three art curators from The Huntington paid a visit to the house of Sam Maloof in Alta Loma, Calif., which had expanded in 1994 from a home to a nonprofit cultural center called the Sam and Alfreda Maloof Foundation for Arts and Crafts. Maloof, a woodworker and craftsman, was in his 90s but still very active producing furniture in his studio.
The curators—Jessica Todd Smith, Harold B. "Hal" Nelson, and Kevin Murphy—were planning the reinstallation of the Virginia Steele Scott Galleries of American Art, and they hoped to borrow something from the famed artist that would best represent not only his craftsmanship but also his central role in the arts and crafts community of Southern California. An article in Huntington Frontiers from Spring/Summer 2009 describes the moment they spotted the Double Music Stand and Musician's Chair, which Maloof had made in 1972 for his friend Jan Hlinka, then a violist for the Los Angeles Philharmonic.
"Almost everything that Sam made was for a particular client and adapted to the needs and the interests and the personality of the individual," explained Nelson. "It really represents a meeting point between Sam the artist and the individual client." The Maloof Foundation generously agreed to make a long-term loan of the work, and it became a centerpiece of one of the 15 galleries that reopened at The Huntington in late May 2009, just one week after the death of Maloof at the age of 93.
Today, you can see the chair and stand in the new Huntington exhibition "The House That Sam Built: Sam Maloof and Art in the Pomona Valley, 1945-1985," where it keeps company with 34 other works by Maloof as well as ceramics, paintings, and sculpture by 35 other artists—most of them close friends with one another over their decades collaborating in the Pomona Valley.
"Sam's friendships and relationships with artists were abiding relationships that had a significant influence on his own work," explained Nelson in a talk about the chair and stand last year, when he was preparing for the exhibition. "At the heart of the concept of this exhibition is the metaphor of Sam's house, where he kept many of these works that reflect these sorts of relationships and friendships."
You can listen to Nelson's talk, "Musical Chair," on iTunes U. The exhibition will be on view in the MaryLou and George Boone Gallery through Jan. 30, 2012. It is part of "Pacific Standard Time: Art in L.A. 1945-1980," an unprecedented collaboration initiated by the Getty that brings together more than 60 cultural institutions from across Southern California to tell the story of the birth of the L.A. art scene.
Matt Stevens is editor of Huntington Frontiers magazine.