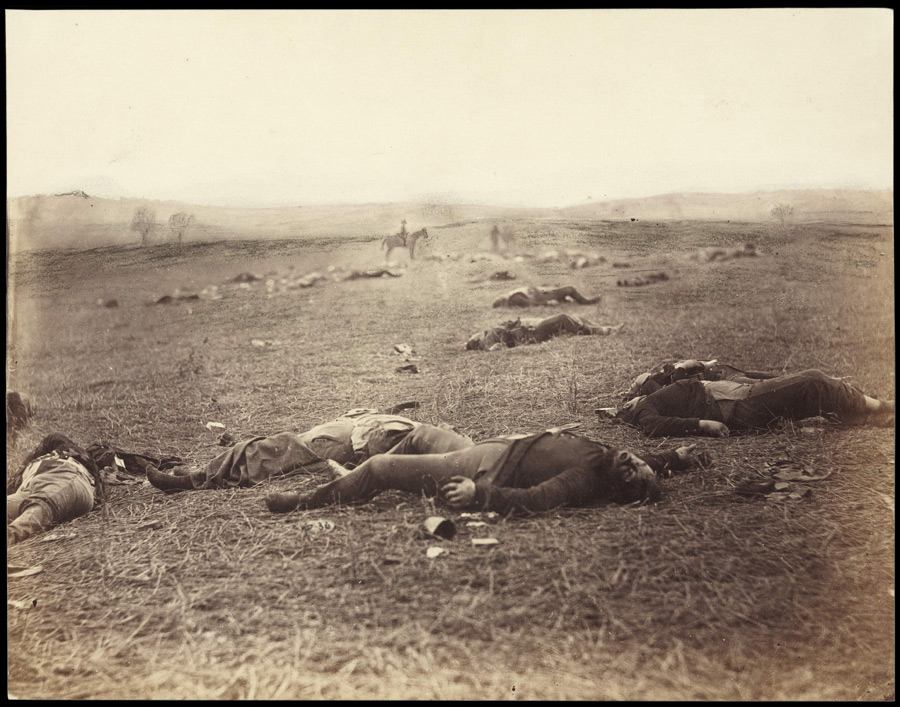 Battle-Field of Gettysburg. View on the Field after Fight of First Day, July 4, 1863
(printed later); also known as "Harvest of Death." Timothy H. O'Sullivan (ca. 1840–1882), photographer; printed by Alexander Gardner (1821–1882) in the two-volume work
Gardner's Photographic Sketchbook of the War
(1865–66). Huntington Library, Art Collections, and Botanical Gardens.
This week we mark two notable anniversaries—the signing of the Declaration of Independence (July 4, 1776) and the Battle of Gettysburg (July 1–3, 1863). By evoking the events of 1776 at the dedication of Gettysburg's Soldiers' National Cemetery in November 1863, Lincoln was challenging Americans to remember the importance of both events—one having to do with the establishment of a Union, the other with its preservation.
These images, from the online component of the recent Huntington exhibition "A Strange and Fearful Interest: Death, Mourning, and Memory in the American Civil War," evoke the power of memory as it played out in the days, weeks, years, months, and decades that followed the Battle of Gettysburg, which now commemorates its 150th anniversary.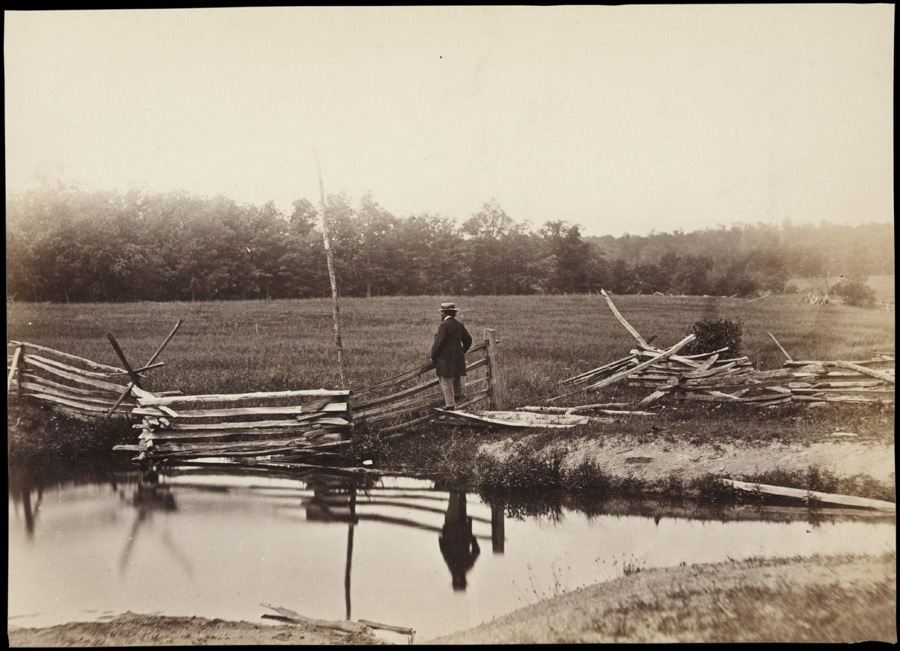 Wheatfield in Which General Reynolds Was Shot, Gettysburg, July 1863
(printed later), attributed to Egbert Guy Fowx (born ca. 1821) for Mathew B. Brady (1823–1896). Photographer Mathew Brady strikes a contemplative pose at the edge of the sprawling wheat field where 7,500 had recently perished. Huntington Library, Art Collections, and Botanical Gardens.
The famous "Harvest of Death," by photographer Timothy H. O'Sullivan, captured the immediate aftermath of battle in gruesome detail and soon became a symbol of the war's dreadful toll. By the time celebrated Civil War photographer Mathew Brady posed at battlefield's edge a mere two weeks later, Gettysburg had already become firmly lodged in national memory. And a third image features John B. Bachelder, the site's first official historian and monument advocate, standing next to Union veterans at Gettysburg around 1887. Two decades removed from battle, the men are citizens of a country that had endured well past a century and counting.
You can still visit the website of "A Strange and Fearful Interest" to view these images and many others, including commentary by historians such as Gary Gallagher and David Blight.
Veterans Posing with John B. Bachelder at the 29th Ohio Infantry Monument, Gettysburg
(ca. 1887), unidentified photographer. Bachelder was instrumental in the preservation of Gettysburg as a National Monument. Huntington Library, Art Collections, and Botanical Gardens.
Matt Stevens is editor of Verso and Huntington Frontiers magazine.