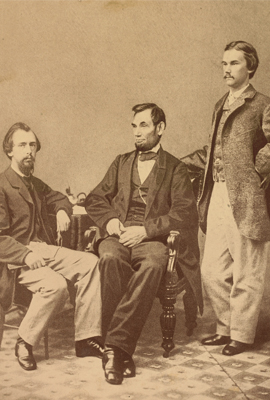 Abraham Lincoln with his White House secretaries John G. Nicolay and John M. Hay, ca. 1863. Huntington Library, Art Collections, and Botanical Gardens.
Monday was President's Day all over again. Pulitzer Prizes in history and biography went to books about George Washington and Abraham Lincoln. Ron Chernow's Washington: A Life took the honors for best biography, and Eric Foner's The Fiery Trial: Abraham Lincoln and American Slavery won best book in history.
Foner, professor of history at Columbia and a prominent historian of the Civil War and Reconstruction eras, was also a finalist for the Pulitzer in 1989 for Reconstruction: America's Unfinished Revolution, 1863-1877. He has the distinction that year of losing out to not one book but two. For the first and only time, two books were awarded in the category of history: Battle Cry of Freedom: The Civil War Era, by James M. McPherson, and Parting the Waters: America in the King Years, 1954-1963, by Taylor Branch. Foner won the prestigious Bancroft Prize that same year.
So while Foner has now entered the pantheon of Pulitzer Prize winners, he previously kept good company as a Pulitzer finalist. This year's two finalists in history are Michael Rawson, for Eden on the Charles: The Making of Boston, and Stephanie McCurry, author of Confederate Reckoning: Power and Politics in the Civil War South. In 2006, McCurry presented part of her research at the Huntington conference "Wars within a War: Controversy and Conflict Over the American Civil War." Participants that year included McPherson as well as Drew Gilpin Faust, who would go on to be a Pulitzer finalist in 2009 for This Republic of Suffering: Death and the American Civil War. Essays by all three are among the 12 articles edited by conference conveners Gary Gallagher and Joan Waugh in a volume of the same title published by the University of North Carolina Press in 2009.
Among this year's class of research fellows at The Huntington are a number of Pulitzer finalists: Sean Wilentz, finalist in 2006 for The Rise of American Democracy: Jefferson to Lincoln; Helen Lefkowitz Horowitz, finalist in 2003 for Rereading Sex: Battles Over Sexual Knowledge and Suppression in Nineteenth-Century America; and Daniel K. Richter, finalist in 2002 for Facing East from Indian Country: A Native History of Early America.
You can listen to lectures by Horowitz and Wilentz on The Huntington's iTunes U site. Both hold fellowships named for the Los Angeles Times: Horowitz is the Los Angeles Times Distinguished Fellow this year, and Wilentz is the Los Angeles Times Fellow. Of course, The Los Angeles Times is winner of many Pulitzer Prizes, including one this year for public service reporting for its stories about the corruption in the city of Bell, Calif. While on iTunes, be sure to listen to a talk by political scientist Raphael Sonenshein, of California State University, Fullerton, who made good use of those Times' stories in his Haynes Foundation Lecture about that scandal.
Offerings on iTunes also include talks by Pulitzer Prize winners Annette Gordon-Reed, Daniel Walker Howe, James M. McPherson, and Laurel Thatcher Ulrich. And in May, be sure to mark your calendars for lectures in Friends' Hall by Wilentz (May 23) and Mary Beth Norton (May 26), a finalist for the Pulitzer in 1997 for her book Founding Mothers and Fathers. She was, fittingly, the Los Angeles Times Distinguished Fellow at The Huntington in 2008-09.
Matt Stevens is editor of Huntington Frontiers magazine.