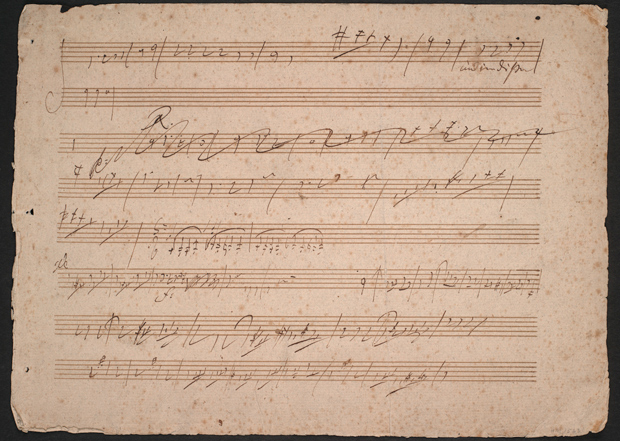 Ludwig van Beethoven, autograph manuscript fragment, score for the first chorus of "King Stephen," ca. 1811. Huntington Library, Art Collections, and Botanical Gardens.
"What you are, you are by accident of birth; what I am, I am by myself."
The baptismal certificate of Ludwig van Beethoven is dated Dec. 17, 1770. Since custom dictated that families not wait longer than 24 hours to baptize a newborn, we assume that he began his tumultuous life on Dec. 16, in Bonn, Germany.
Deep in the vaults of the Huntington Library lies a single manuscript sheet of "King Stephen," an overture with nine accompanying movements composed by him in 1811 and first performed for the opening of a theater in Hungary in 1812. A national hero in Hungary, King Stephen I is revered for his efforts to convert citizens to Christianity in the 11th century. Beethoven incorporated traditional Hungarian folk tunes into this lesser-known work in order to honor the country's rich history. The overture to "King Stephen" was recently performed by the Los Angeles Philharmonic and is still performed and enjoyed worldwide.
The Library's sheet of music was purchased by Henry E. Huntington from collector William K. Bixby sometime between 1916 and 1918 and was placed on view in 2011 for The Huntington's exhibition "Revisiting the Regency: England, 1811–1820." This portion of the first movement, titled "Ruhend von seinen Taten," was originally part of a homemade sketchbook constructed by Beethoven by stringing together pieces of music paper. Leaves from this notebook can be found in New York, Bonn, Stockholm, Paris, Cambridge, and, of course, San Marino. The scrawling and erratic notations on The Huntington's portion of this book are indicative of what writer Johann Goethe once called an "utterly untamed personality."
As you celebrate the holidays with friends and family, why not enjoy some Beethoven on your preferred music-listening device and celebrate the birth of the mercurial musical genius who forever changed the sound of Western music?
Catherine Wehrey is The Huntington's reader services assistant for the Dibner collection.