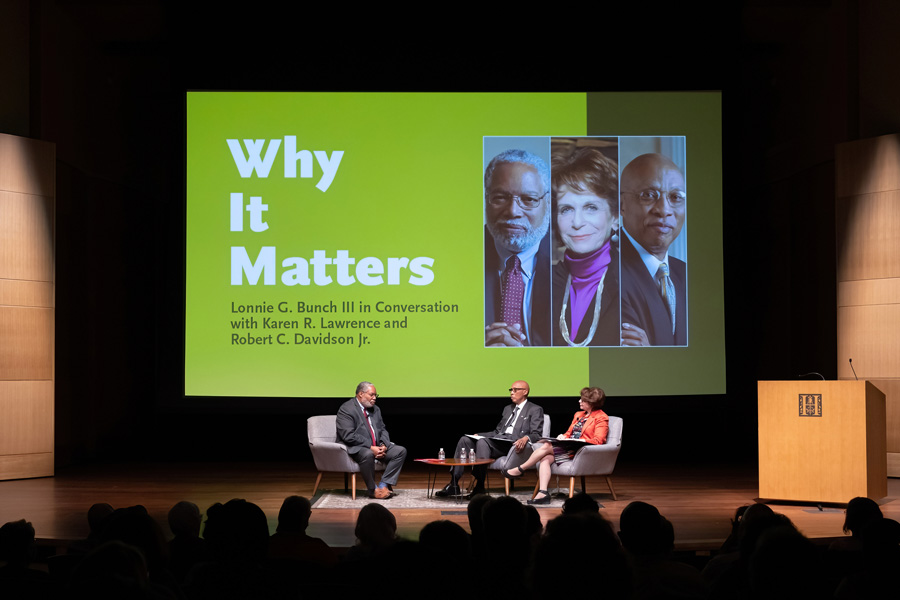 From left: Lonnie G. Bunch III, the 14th secretary of the Smithsonian Institution, spoke with Huntington Governor Robert C. Davidson Jr. and Huntington President Karen R. Lawrence at the "Why It Matters" event in Rothenberg Hall on April 26. Photo by Sarah M. Golonka.
Why do museums matter? It's a question on the minds of many museum leaders today, including Smithsonian Secretary Lonnie G. Bunch III, who spoke at The Huntington last month with Huntington President Karen R. Lawrence and Huntington Governor Robert C. Davidson Jr. The event, held in a packed Rothenberg Hall, was part of the institution's "Why It Matters" series.
Museums and research institutions, Bunch said, continue to be relevant because they help Americans understand the current moment. "Too often, many Americans look for simple answers to complex questions. Museums and research institutions help you embrace ambiguity, help you explore nuance, subtlety, change," he said. "If you're a history museum and all you're doing is looking back, then you're a place of nostalgia. But if you're looking forward, you … do something that we all want to do, and that is to help a nation live up to its stated ideals. That's what cultural institutions can do."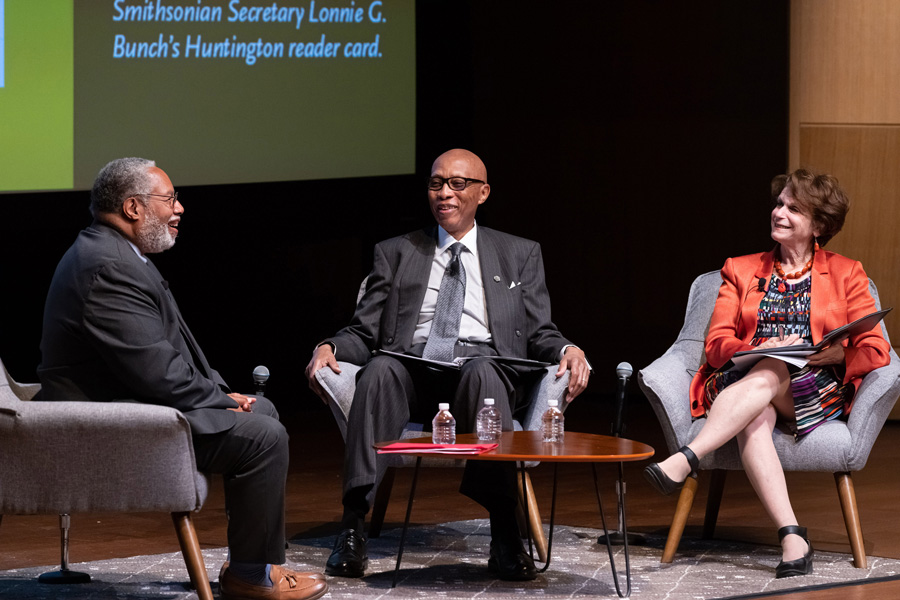 Bunch shared memories of being a Reader at The Huntington with Davidson and Lawrence. Photo by Sarah M. Golonka.
Bunch is the 14th secretary of the Smithsonian, a complex of 21 museums, 21 libraries, the National Zoo, and numerous other research and education centers. He is the first historian to run the place. "What took so long?" asked Lawrence. Quipped Bunch: "It took so long because historians were too smart to say yes and take this job." But he added: "The reality is that the Smithsonian has always valued the humanities, but it privileged science." (Secretaries of the Smithsonian in the past have included ornithologists, astrophysicists, a paleontologist, and a civil engineer.) "Historians bring a different view. We bring a world view that talks about contextualization, that seeks understanding, that really looks for the long view of things. What historians really bring is the sense that we want to create institutions that—no matter what they do—are useful and usable for today."
When Davidson asked how history can help address and examine the issue of civil rights, Bunch said studying history can do three things: Give voice to the anonymous, make visible those who are left out of history, and help people understand that they shouldn't be afraid of exploring their own history. "One should use history for inspiration, for understanding, to push you forward."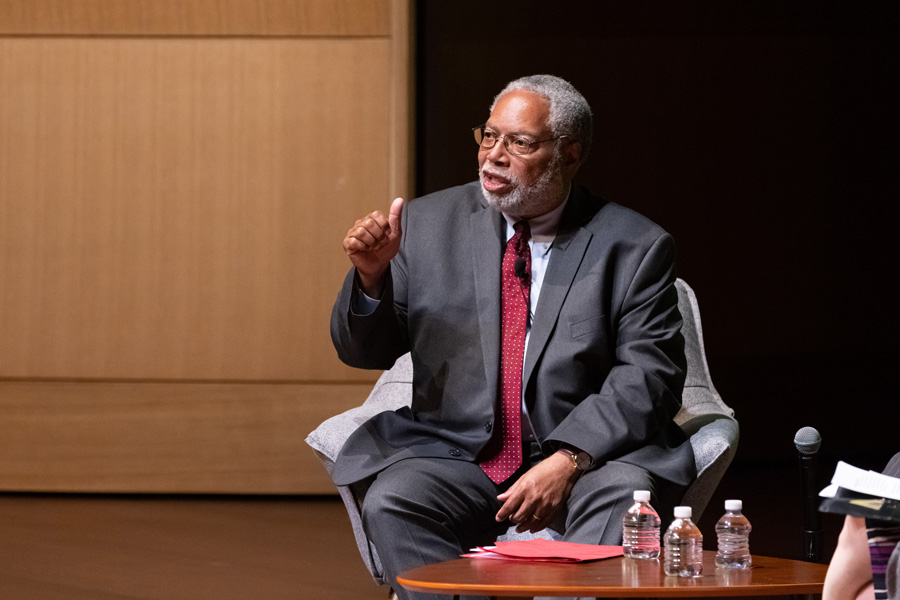 "One should use history for inspiration, for understanding, to push you forward," Bunch said. Photo by Sarah M. Golonka.
He also emphasized the importance of taking a multidisciplinary approach to a place like the Smithsonian: "The Smithsonian wants to help the country understand climate change. The scientists think that's a scientific thing. But historians and others know it's a cultural thing as well. What I'm trying to do is bring it together. I want to say, 'Here's what the Smithsonian does that gives you different lenses into this subject.' And by that, you can appeal to more people, you can give people more opportunity to understand, and you can bring the Smithsonian together."
Before being named Smithsonian secretary, Bunch was the founding director of the Smithsonian's National Museum of African American History and Culture. Although his current role is a career pinnacle, he admitted to Davidson and Lawrence that building the African American museum was, for him, the most rewarding achievement in his professional lifetime. "It is my heart," he said.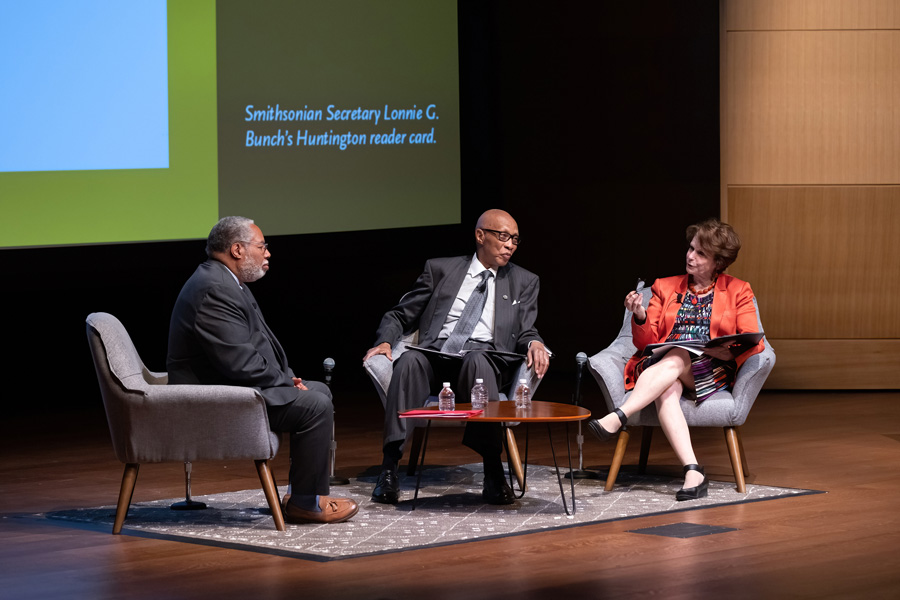 During the event, Bunch said one of his priorities at the Smithsonian is to explore ways to help America find a shared future. Photo by Sarah M. Golonka.
Bunch also discussed his relationship with The Huntington, which he visited as a research scholar in the 1980s and early 2000s to study the relationships in the 1840s and 1850s between Mexicans of African descent and African Americans who moved to Los Angeles. "I came to The Huntington to look at the records to help me understand the transition of LA from a Mexican pueblo to an American city," he said. When asked if he could get a new Reader card to continue his work, Lawrence replied, "Any time you want to come back, we would love to do that."
One of his most meaningful acquisitions, Bunch said, occurred in the early 1990s during his stint as associate director of the Smithsonian's National Museum of American History. After the Woolworth Corp. announced it would close 1,000 stores, Bunch negotiated an agreement to transfer to the Smithsonian the Woolworth's lunch counter from Greensboro, North Carolina, where African American college students had staged a sit-in in 1960. For Bunch, the acquisition was personal. When he was a young boy growing up in New Jersey, he loved the 25-cent hamburger at Woolworth's, so upon seeing the store during a visit to Raleigh, North Carolina, he ran to the lunch counter.
Bunch discussed his distinguished career with Davidson and Lawrence at the "Why It Matters" event on April 26.
Photo by Sarah M. Golonka.
"These white hands picked me up and threw me to the colored section, where you had to stand up," Bunch recalled. "I never forgot that because I never had another Woolworth's hamburger."
The lunch counter acquisition "was both a scholarly issue—it was an unbelievably important moment in terms of how young Americans helped to transform the civil rights movement—but it was also an opportunity for me to say, 'They threw me out of one, but I got the other one.'"
You can watch a video of this event on The Huntington's website.
The Huntington's "Why It Matters" series celebrates the institution's unparalleled opportunities for cross-disciplinary exploration of human culture and history. The program highlights the significance of the institution's library, art, and garden collections in helping to address issues of today.
Cheryl Cheng is the senior editor in the Office of Communications and Marketing at The Huntington.