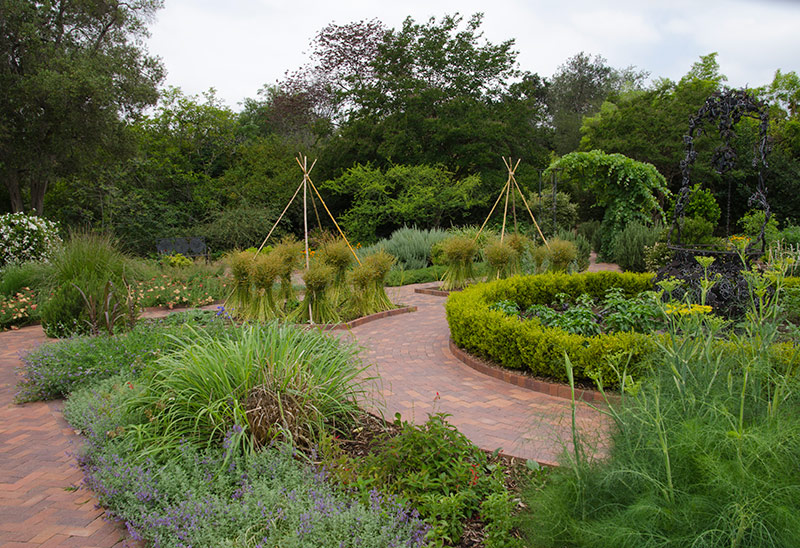 The half-acre Herb Garden is a wonderful source of inspiration, for foodies as well as gardeners. Photo by Lisa Blackburn.
For those who enjoy both gardening and cooking (not to mention eating), cultivating an herb garden can be one of life's most rewarding pleasures. Being able to add freshly snipped chives to a buttery baked potato or some aromatic rosemary to a pot of Tuscan bean soup can lend a wonderful homegrown flavor to the simplest dishes.
The Huntington's Herb Garden is a great place to pick up some inspiration, both for modest plantings and more ambitious goals. Volunteers are on hand most days to answer questions and offer tips. "The rewarding thing about herb gardening is that so many of our favorite culinary herbs are easy to grow and are well adapted to our climate," said gardener Kelly Fernandez, who tends this half-acre landscape. "Some of my personal favorites are Thai or Italian basil, red or green shiso, Mother of Thyme (it makes a beautiful groundcover), borage, and lemon balm, which has a wonderful scent and makes a great tea."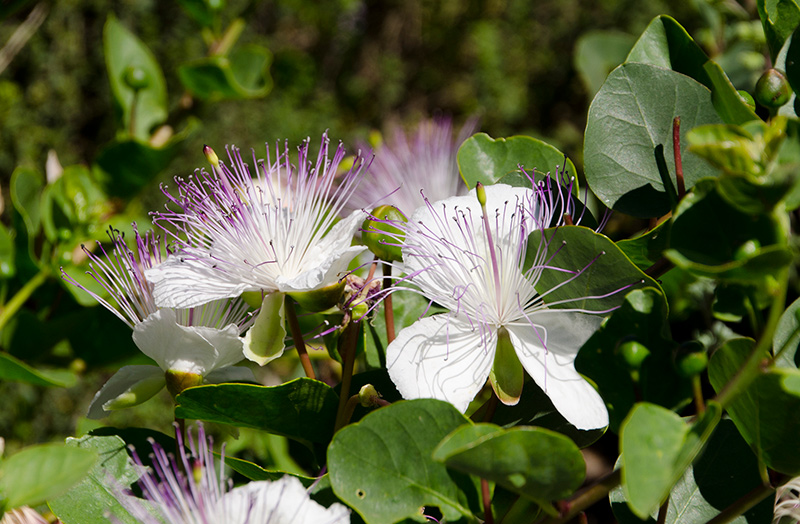 The caper's feathery flowers make this drought-tolerant plant an attractive landscape choice. Photo by Lisa Blackburn.
Some plants in an herb garden can serve double duty as ornamentals, and they often have interesting culinary uses lacking in more familiar herbs like parsley and sage. And that brings us to the caper bush. On a recent spring morning, horticultural intern Delia Hitz headed over to the Herb Garden with clippers in hand and knelt down by an attractive low shrub covered in feathery white and mauve blooms. She wasn't there to pick flowers, however; she was harvesting buds for brining.
"The caper bush is a Mediterranean native, and it's often found growing in dry, rocky soil," Hitz explained as she snipped. "It's really drought tolerant, so it's well suited to the Southern California climate." Hitz is finishing up a year-long internship in the Huntington Ranch Garden, building on her background in organic farming, community gardening, and habitat restoration with native plants. (See her recent Verso post about mesophilic and thermophilic composting.) Her passion for water-wise gardening piqued her interest in the caper plant.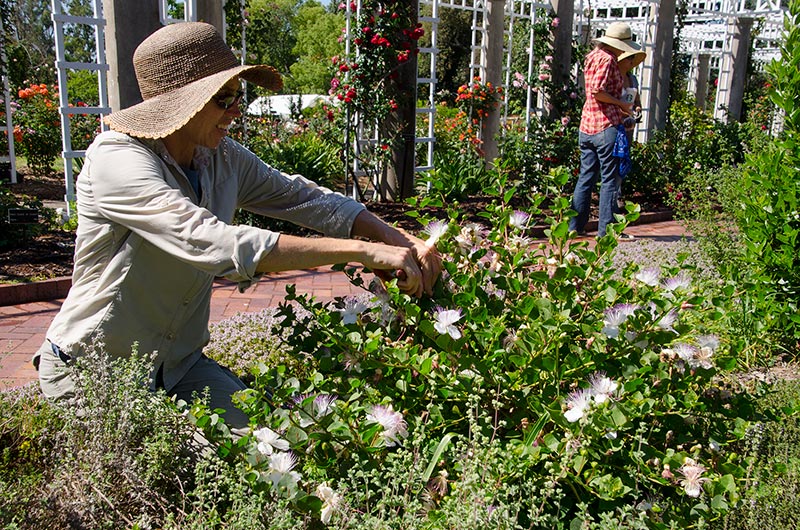 Horticultural intern Delia Hitz harvests caper buds for brining. Photo by Lisa Blackburn.
Hitz collected a bag full of plump buds and took them home to brine, promising to report back on how they turned out. A week later the results were in: "Delicious!" she pronounced. To celebrate her first successful caper brining, Hitz served them up to friends, not in a sauté, sauce, or salad, but in icy gin cocktails garnished with some lemon peel and coriander seeds from the brine.
Summer is a great time to plant and enjoy many herbs, so stop by the Herb Garden on your next visit for some ideas and inspiration. And if you want to add some extra piquancy to your homegrown harvest, consider embarking on a little "caper" of your own. Fernandez notes that while caper plants may not be carried at local nurseries, they can often be special ordered by request, so don't hesitate to ask. Purchasing plants or seeds by mail order from specialty growers is another option. (Fernandez buys many of her herbs, including capers, from Richters Herbs in Ontario, Canada.) And capers typically are offered at The Huntington's spring and fall plant sales.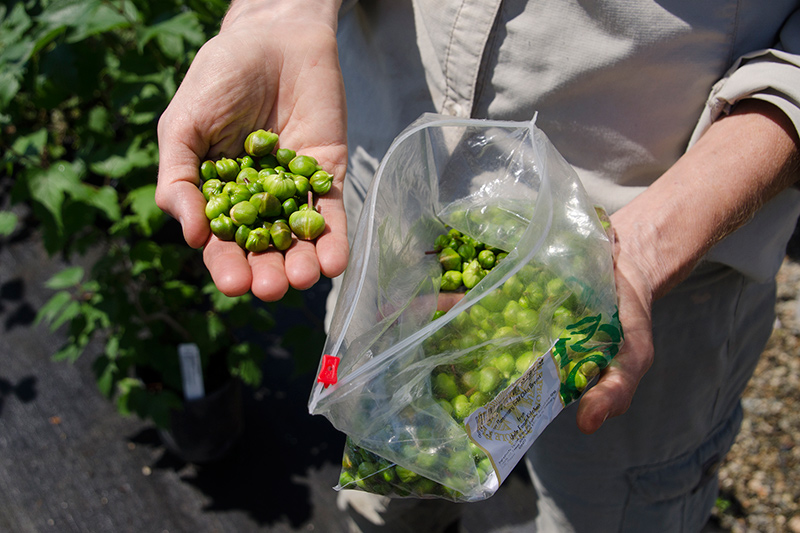 Caper buds, ready to be soaked and brined. Photo by Lisa Blackburn.
Delia's Brined Capers
½ cup caper buds
½ cup vinegar
½ cup water
1 tablespoon salt
lemon peel
coriander seeds
Pre-soak capers in a bowl of plain water for three days, changing water each day. Drain capers and place them in a small clean jar, along with several strips of lemon peel and a few coriander seeds. Combine vinegar, water, and salt, then pour the liquid over the capers to cover. (If capers float to the top, they can be weighed down to keep them submerged in the brine. A small plastic zipper bag filled with water works well.) Leave at room temperature, loosely covered with a cloth or paper towel, for six days. When ready, capers should taste tangy but not bitter. Close jar with a lid and store in the refrigerator.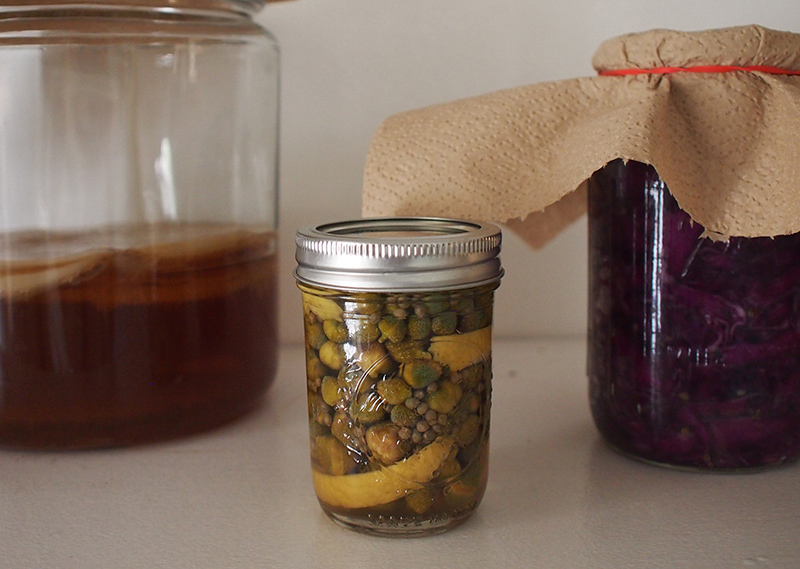 After six days of brining, the capers (center, flanked by jars of homemade kombucha and sauerkraut) are ready to be enjoyed. Cocktail, anyone? Photo by Delia Hitz.
Lisa Blackburn is communications coordinator at The Huntington.