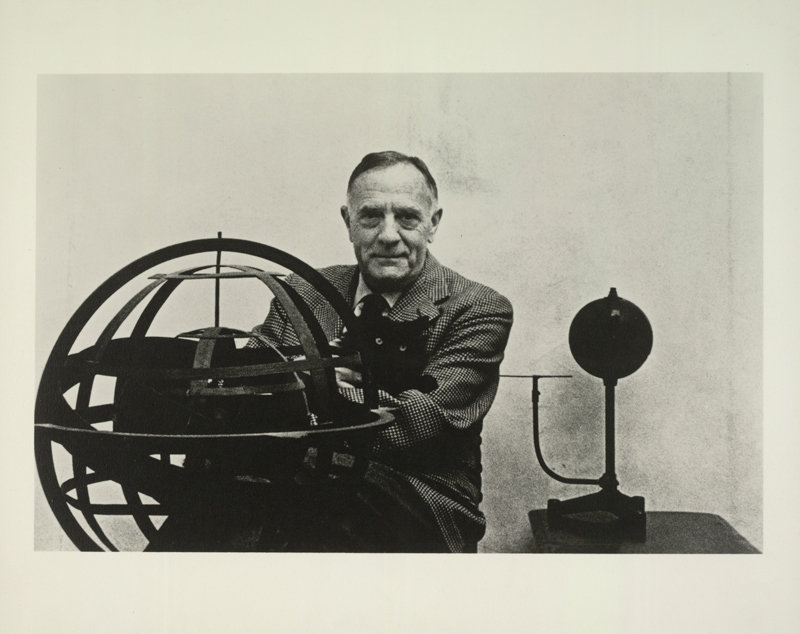 Edwin Powell Hubble, seated with his cat Nicolas Copernicus, behind an armillary sphere and next to an orrery, March 1953. Huntington Library, Art Collections, and Botanical Gardens.
The name Hubble is familiar to most people. It invokes mental images of the Hubble Telescope and its photographs of colorful nebulae in space, but few know details of the life of its namesake…or his cat. Astronomer Edwin Hubble (1889–1953) was a brilliant scientist who contributed to the study of space with his work at the Mount Wilson Observatory, just minutes from the Huntington Library.
His papers, both professional and personal, currently reside at The Huntington and are studied by scholars who come here to use them for book projects, journal articles, and dissertation research. We know much about Hubble's pursuits, his publications, and his studies. Evidence of these may be found in the underground, climate-controlled stacks of The Huntington. However, among these influential archives rests proof of a deep bond and a cherished partner: his cat. In 1946, Edwin and Grace Hubble brought home a black, furry, and (initially) tiny cat: "Its name," Edwin said immediately, "is Nicolas Copernicus."
The life of this Nicolas Copernicus, who is named after another famous star-gazer, is well-documented. He shows up in Grace's diaries and numerous photographs and is portrayed as a loyal pet, one who kept company with Edwin and Grace for many years. The part-Persian leviathan of a cat held a valued place in their lives. The Hubbles catered to Nicolas' many needs. The astronomer decided that "it must have a cat-door. All cats should have [one], it is necessary for their self-respect." Pipe cleaners, the preferred amusement of choice, were a common sight at various locations in the house.
At night, Nicolas was a permanent fixture at the foot of the master bed. Edwin's constant referrals to the Hubble home as "Nicolas' estate" demonstrates the exalted position of the ever-present feline. In return, gifts of lizards, live birds, dead mice, and dragonflies (often hovering somewhere between life and death) were deposited around the house. As Grace noted, "Like all astronomers," he preferred a "midnight lunch." Ever the typical cat, Nicolas made it painfully obvious which visitors he approved of.
An enthusiastic reading of Macbeth by a close friend sent Nicolas dashing outside, while writer Aldous Huxley was the unfortunate victim of an attempted assault by sharpened claws. When Edwin Hubble died in 1953, Nicolas curled up beside him on the master bed, and, for months after the cremation, sat at the window of "his estate," where he had perched for many years, waiting for Hubble to return home.
The photograph seen here is of Hubble and Nicolas posing with an armillary sphere (a model of the relationships of objects in space). A look at other photographs of Hubble in The Huntington's collections reveals a man who rarely smiled for the camera.
But in this photo, we see the hint of a smile and a gleam of amusement in the eyes of one of the most important figures in the field of astronomy, probably instigated by the two gleaming eyes of his black, furry shadow. Grace Hubble recounted the special relationship between man and cat in her diary: "When E worked in the study at his big desk, Nicolas solemnly sprawled over as many pages as he could cover. 'He is helping me,' E explained. When he sat on E's lap, he purred differently, a slow, lion-like purr…. 'Is that your cat purring?' I would ask, and E would look up from his book, smile, and nod his head." Nicolas died on Christmas Eve, 1962.
The astronomy section of The Huntington's "Beautiful Science" exhibition features items from our collections pertaining to Edwin Hubble, including a 1923 logbook of the 100-inch telescope at the Mount Wilson Observatory. For more information on his life, you may wish to read Edwin Hubble: Mariner of the Nebulae by Gale Christianson (Harper Collins, 1995).
Catherine Wehrey is The Huntington's reader services assistant for the Dibner collection.