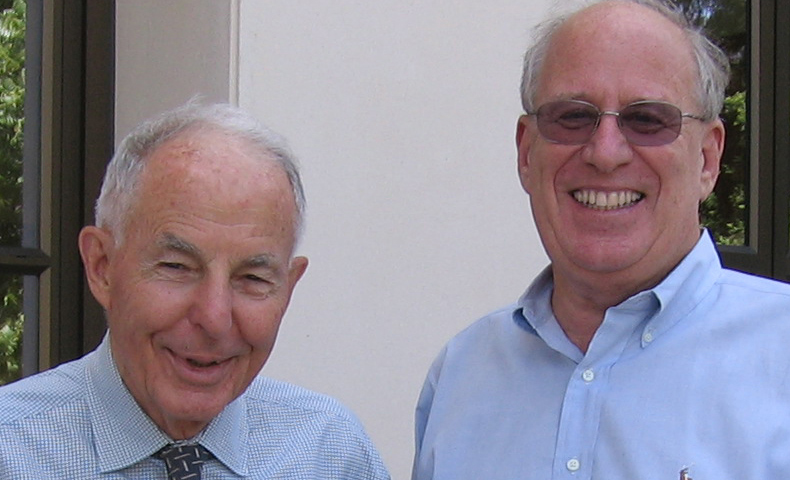 Bob Middlekauff and Steve Koblik at The Huntington in June 2012. Koblik is president of The Huntington. As one of his predecessors, Middlekauff served as director of The Huntington from 1983 to 1987. Photo by Cristina Lutz.
Last weekend, Huntington President Steve Koblik was among the 220 honorees who were inducted into the American Academy of Arts and Sciences. The ceremony, held in Cambridge, Mass., continued a tradition dating back to 1780 of recognizing some of the world's most accomplished scholars, scientists, writers, artists, and civic, corporate, and philanthropic leaders.
One of the nation's most prestigious honorary societies, the Academy is also a leading center for independent policy research. Members contribute to Academy publications and studies of science and technology policy, energy and global security, social policy and American institutions, the humanities and culture, and education.
The 2012 inductees include such notable figures as Secretary of State Hillary Clinton, Gates Foundation co-founder Melinda Gates, musician Sir Paul McCartney, television journalist Judy Woodruff, mezzo-soprano Frederica von Stade, and mathematician Ngô Bao Châu.
The complete list of active members is encyclopedic in its grouping of names into areas of expertise, including mathematics and physical sciences; biochemistry and molecular biology; the social sciences; humanities and arts; and public affairs, business, and administration. Within each of these broad categories the groupings are divided into specialties. David W. Blight, a Civil War historian who enters this year with Koblik (and was also the Rogers Distinguished Fellow at The Huntington in 2010–11), is listed among an impressive group of historians—many of them Pulitzer Prize winners and many of them former research fellows at The Huntington.
Robert Middlekauff is on that list, having entered in 1984 shortly after the publication of his well regarded book about the American Revolution, The Glorious Cause (1982), just one year into his tenure as director of The Huntington (he was director from 1983 to 1987).
While Koblik is also a historian, his name is listed in a category the Academy calls Educational, Scientific, Cultural, and Philanthropic Administration. More then ten years into a remarkable tenure as Huntington president, Koblik has helped put The Huntington on the map of the finest humanities-based institutions in the world.
Koblik and Middlekauff exchanged greetings in June when Middlekauff visited the Huntington to attend a conference in honor of Robert C. Ritchie, who had retired in 2011 as the W. M. Keck Foundation Director of Research. Middlekauff summed up his recollections of how he straddled the world of scholarship and administration: "The important thing for the Huntington director, I thought, was to be a scholar who would bring sympathy to the work of other scholars who wanted to come here." His words could be interpreted as a simultaneous tribute to both Roy Ritchie and Steve Koblik, and as proof that recognition through any one of the Academy's categories likely comes by ignoring those distinctions as much as possible.
Matt Stevens is editor of Verso and Huntington Frontiers magazine.