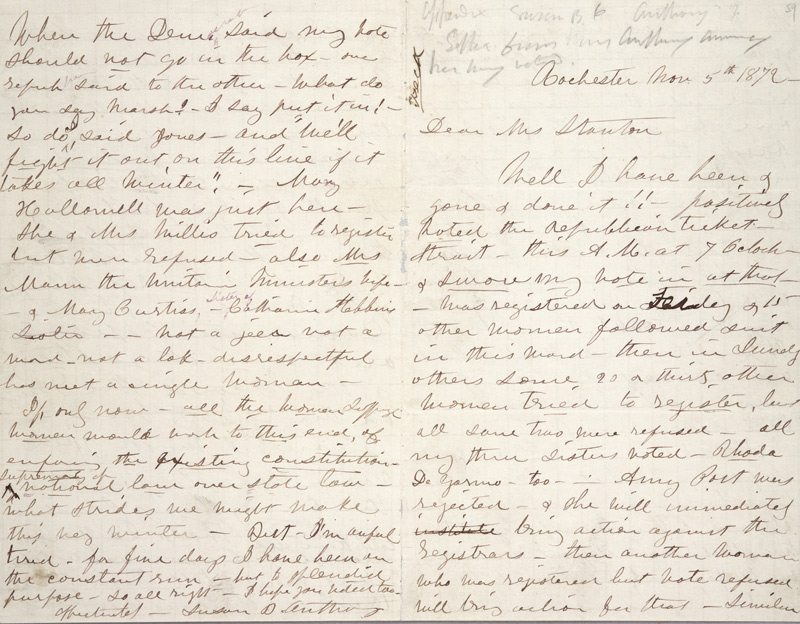 Susan B. Anthony (1820–1906), letter to Elizabeth Cady Stanton, Rochester, N.Y., Nov. 5, 1872. The letter begins on the right side of a creased sheet of paper and continues on the opposite side before ending on the left side of the sheet above. The Huntington Library, Art Collections, and Botanical Gardens.
Exactly 141 years ago today, a determined band of women in Rochester, N.Y., broke the law by voting in the presidential election of 1872. One of them was noted suffrage advocate Susan B. Anthony (1820–1906). Realizing the significance of her act, she wrote a letter to her friend and fellow suffragist Elizabeth Cady Stanton, proclaiming, "Well, I have been & gone & done it!!"
Thank goodness that letter and many other Anthony-related materials are protected in The Huntington's collections, where they've been available to scholars for decades. The letter will be on view beginning Saturday, Nov. 9, in the new permanent exhibition in The Huntington's Library Main Hall, "Remarkable Works, Remarkable Times: Highlights from the Huntington Library." Original objects like this reveal the real, unedited personality and passion of Anthony, perhaps the most prominent leader of the women's suffrage movement.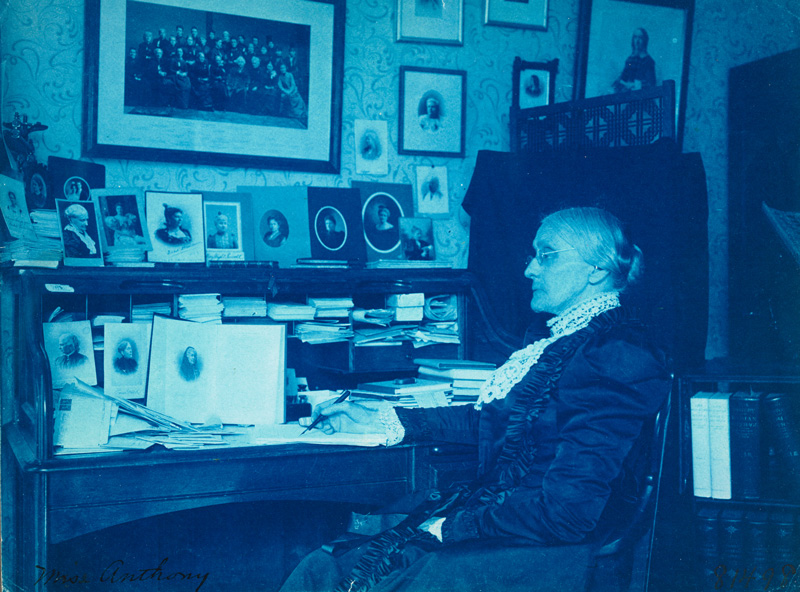 Frances Benjamin Johnston (1864–1952), portrait of Susan B. Anthony, cyanotype print, Rochester, N.Y., 1899. The Huntington Library, Art Collections, and Botanical Gardens.
Also included in the exhibition will be this photograph (cyanotype print) of Anthony taken in 1899 by Frances Benjamin Johnston, one of the country's first female photojournalists. Although nearly 30 years removed from her act of protest, Anthony still seems an undeniably formidable force.
For the crime she committed on that fateful Election Day, Anthony was tried and ordered to pay a fine. She never paid. It was not until 1920, well after her death, that the 19th Amendment was passed, prohibiting a citizen from being denied the right to vote based on gender. Anthony voted for Ulysses S. Grant for president that day. While today's election might not involve a presidential race, let's hope that at the end of the day we can all exclaim, "I have been & gone & done it!!"
You can view both sides of the letter on the Huntington Digital Library.
Thea M. Page is director of marketing communications at The Huntington.