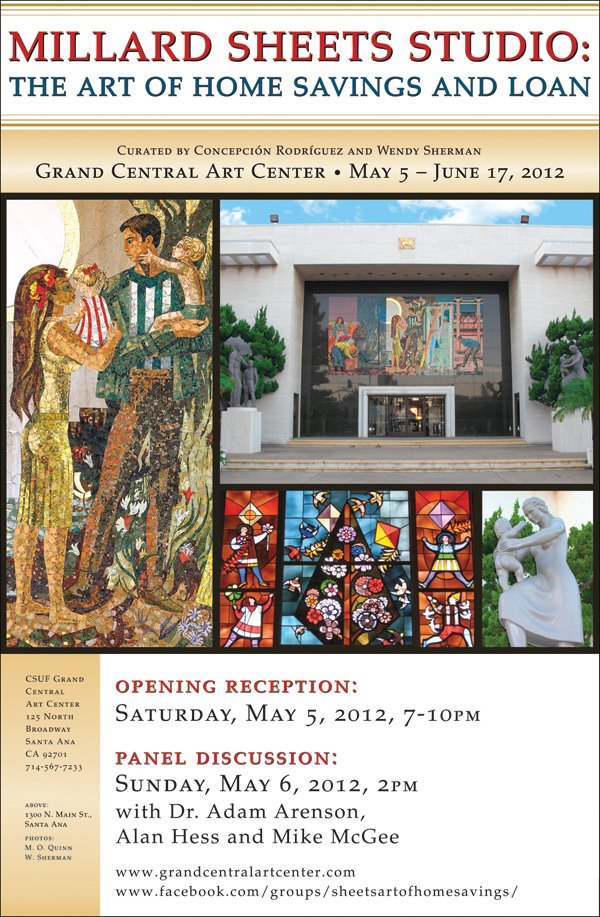 A new exhibition opening this weekend at Cal State Fullerton's Grand Central Art Center has a special connection to The Huntington's manuscript collection of mosaic artist Denis O'Connor. O'Connor executed many of the murals still seen throughout Southern California and highlighted in the exhibition opening May 5, "Millard Sheets: The Art of Home Savings & Loan."
Adam Arenson, a Haynes Foundation Research Fellow at The Huntington this spring, wrote about O'Connor and Sheets in the most recent issue of Huntington Frontiers magazine, describing the pair's roles in a unique partnership that featured numerous artists as well as financier Howard Ahmanson, whose vision brought everyone together.
Arenson will participate in a panel discussion at the Grand Central Art Center on Sunday, May 6, at 2 p.m. Joining him to discuss the Millard Sheets Studio will be Alan Hess, architecture critic and historian with a particular emphasis on midcentury modernism, and Mike McGee, director of the Begovich Gallery and professor and program director of exhibition design and museum studies at CSUF.
The exhibition features the photography of M. O. Quinn and Wendy Sherman and was curated by Sherman and Concepción Rodríguez; several photos from their show appear in Arenson's Huntington Frontiers article.
Also this Sunday is a one-day art exhibition in The Huntington's Botanical Center. "Art Matters Encore!" is a juried art exhibition and sale organized by the San Marino League, with proceeds to benefit The Huntington's Japanese Garden endowment and Art Center College of Design's fine arts scholarship program.
The event will showcase the work of more than 100 California artists, including ceramist Kelly Berning; sculptors Judeth Davis and Laddie John Dill; photographer Graham Howe; and painters John Budicin, Karl Dempwolf, Lynn Gertenbach, Jim Morphesis, Jean Osher, Ray Turner, and Ralph Waterhouse, among others.
As a special highlight of the event, Tom Krumpak, professor of art at Cal State Long Beach, will give a lecture at 11:30 a.m. titled "Off the Radar," surveying a number of prolific artists who are creating exciting and challenging new work. At 1 p.m., Jean Osher will give a still-life painting demonstration.
"Art Matters Encore!" will be on view Sunday only, from 10:30 a.m. to 3 p.m. in the Botanical Center, and is included with Huntington admission.
"Millard Sheets: The Art of Home Savings & Loan" is on view May 5 through June 17, 2012. The exhibition highlights the murals from the Home Savings & Loan buildings in Temple City, Rolling Hills Estates, Anaheim, Pomona, and Santa Ana. For more information, visit the website of Cal State Fullerton's Grand Central Art Center.
Matt Stevens is editor of Huntington Frontiers magazine.