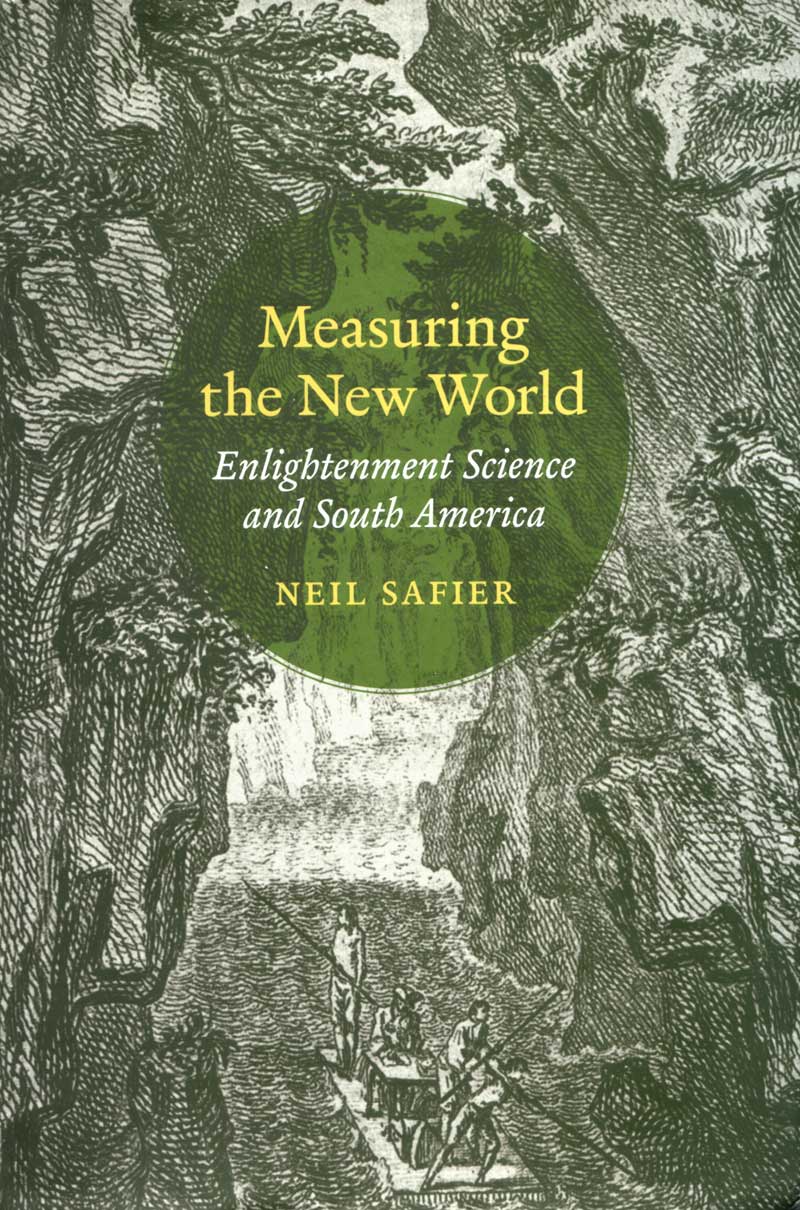 Few authors can boast hitting Amazon.com and the Amazon River in the same month, but Neil Safier is one of them. His 2008 book, Measuring the New World: Enlightenment Science and South America, just came out in paperback and can be found on his publisher's website (University of Chicago Press) as well as on the ubiquitous Amazon.com. And today the associate professor of history at the University of British Columbia is delivering the keynote lecture at a conference in Brazil, in the heart of Amazonia, just two days after wrapping up his year of research at The Huntington as one of the Dibner Research Fellows in the History of Science and Technology.
"My work revolves around scientific exploration, particularly of foreigners traveling to what we would call exotic locales," he explains. The title of his plenary lecture—"Draining the Vastness of the Sea"—is inspired by the words of an 18th-century colonial administrator, Francisco Xavier Ribeiro de Sampaio, who said of the near-impossible task of cataloging the natural treasures of the Amazon: "Who, with a small shell, could possibly empty the ocean? Natural history in this part of the world is inexhaustible."
Safier's book title, too, is a metaphor of sorts. While he has indeed written about 18th- and 19th-century scientists traveling to what he calls Amazonia to measure the equator, among other things, he also shows how they took measure of the new world in a more philosophical sense—how they struggled to understand indigenous cultures, and how, in some cases, their attachment to western science hindered them.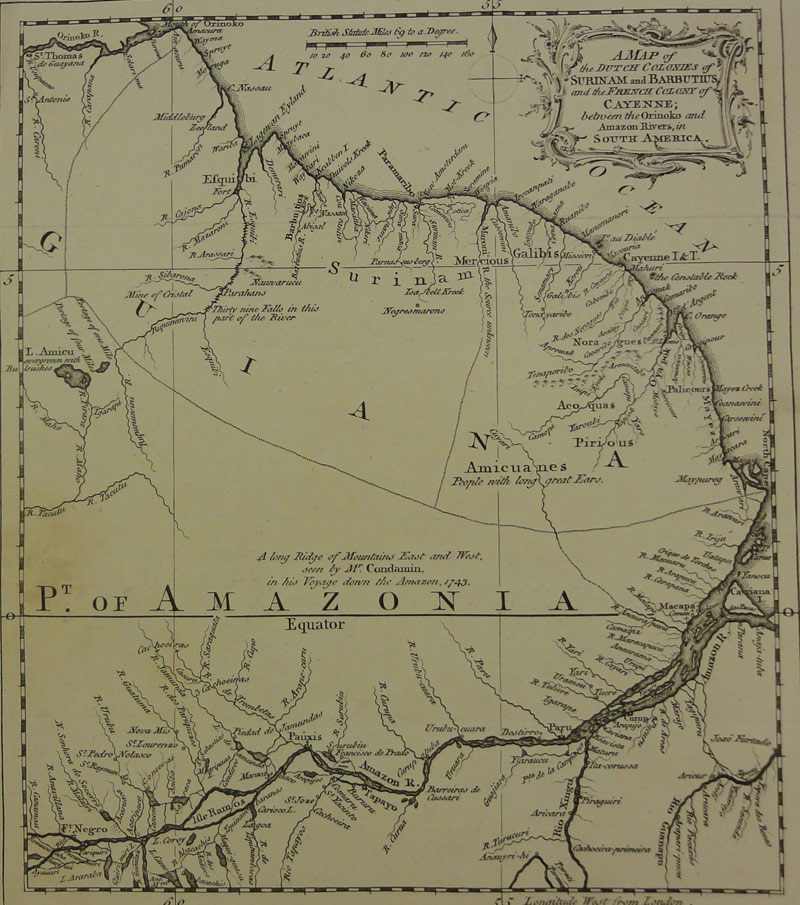 From the Huntington's collections, a map—"A Match of the Dutch Colonies," from London Magazine, c. 1763—showing what is one of the first instances of the use of "Amazonia" to refer to this space.
Safier admits that The Huntington is not your typical destination for the study of 18th-century Portuguese or South American history. But there are many hidden treasures lurking in the collection, and he has relished the opportunity to sift through manuscripts, maps, and rare books with his unique perspective. One of his chapters in Measuring the New World emerged from a chance discovery of rare annotated maps about 10 years ago in a Paris library. Safier said he likely gleaned information others may have overlooked.
"That's why it's important to keep inviting scholars back to look at all of these materials with new eyes," he explained, rationalizing his Huntington fellowship. "No two scholars ask the same kinds of questions."
Now, after a year conducting research at The Huntington, he's gathered material for a new project he hadn't anticipated last fall when he began research for a book titled loosely as "Amassing Amazonia." A spinoff book idea has emerged that will detail American naturalists and geologists who ventured to the Amazon from the 1860s to the 1920s, including John Casper Branner, the second president of Stanford University, who was sent as a young man to the Amazon in the 1880s by none other than Thomas Edison to look for bamboo that might be used as filaments for the light bulb. (The Huntington holds a unique and sizeable portion of the Branner papers.) Today Safier will share the fruits of this research for the first time in the keynote lecture at a conference in Manaus, Brazil, on the history of science in Amazonia. Then on Aug. 7, he'll travel to Belém, Brazil (in the eastern Amazon), to deliver another paper, titled "Pioneers of the Amazon? North Americans in Amazonia," based on research he carried out at The Huntington this year.
Safier is no stranger to conferences in Amazonia. Last fall he started his Huntington fellowship a week early so he could take a quick trip in October to join a floating campus on the Amazon River (pictured above).
Despite Safier's unique academic ventures, he's not all that unusual among scholars, particularly among Huntington fellows who mix research with conferences and workshops at The Huntington and elsewhere. In March, Safier presented a paper at a Huntington conference titled "Visual Knowledge in the Early Modern Americas." And just last month he chaired a panel at the annual conference of the USC-Huntington Early Modern Studies Institute: "The New World of Projects, 1550–1750."
In the fall, Safier returns to his regular position at the University of British Columbia, but he has still managed to book passage for two more trips: one in January 2013, when he will return to The Huntington to attend the conference "Oceanic Enterprises: Location, Longitude and Maritime Cultures 1770-1830," and the other, in December 2013, again to The Huntington—this time to preside as a co-convener—for the conference "Cultures of Cosmopolitanism in the Eighteenth Century."
Best of luck to the 2011–12 class of Huntington researchers who have completed their fellowships. We profiled a number of them in the blog, including Fran Dolan, Ramon Gutiérrez, Peter Stallybrass, Harry S. Stout, Robert Westman, and Kariann Yokota. You can visit Neil Safier's web page on his faculty website, which includes links to many of his published articles, including an essay he wrote in 2007 for the Huntington Library Quarterly: "'Every day that I travel...is a page that I turn': Reading and Observing in Eighteenth-Century Amazonia."
Matt Stevens is editor of Huntington Frontiers magazine.