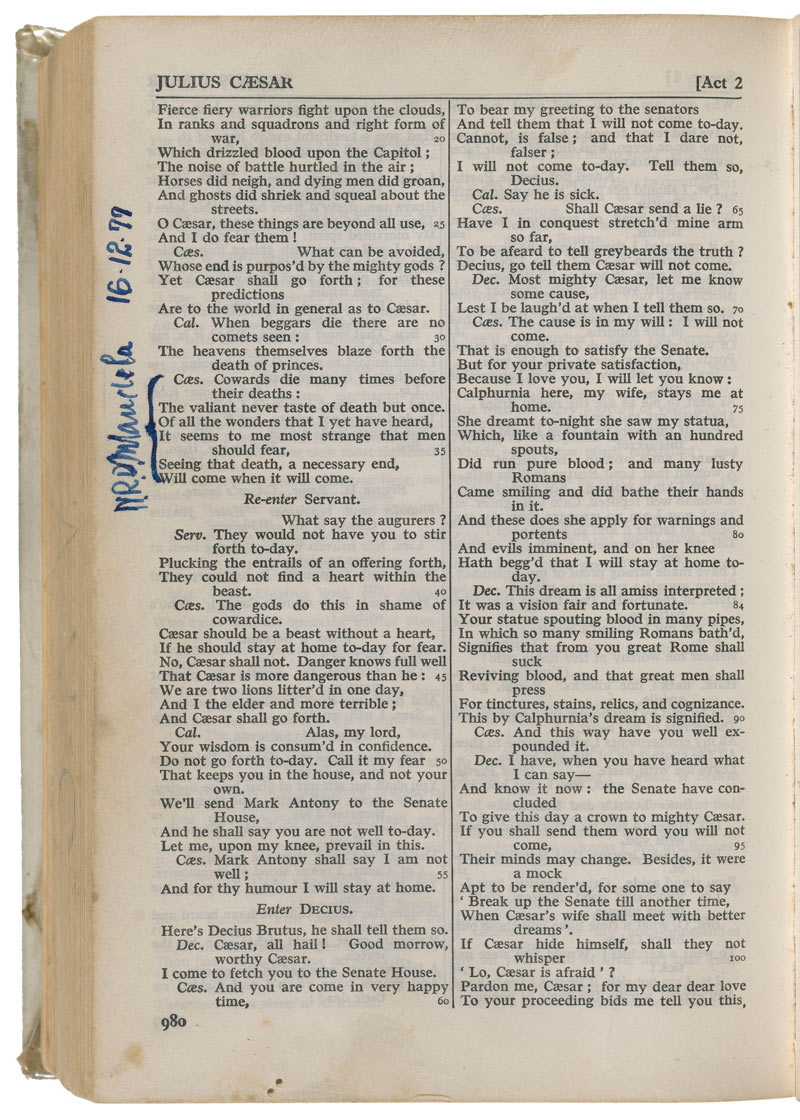 Nelson Mandela signed his name along the side of a passage from
Julius Caesar
. Robben Island Shakespeare. Photo by Julie Ainsworth. Courtesy of Sonny Venkatrathnam / Folger Shakespeare Library.
Before Nelson Mandela was president of South Africa, he was a prisoner for 27 years, most of them served on the infamous Robben Island. During that incarceration, he was one of 34 prisoners who shared a copy of The Alexander Text of the Complete Works of Shakespeare.
In May 2013, David Schalkwyk, then research director at the Folger Shakespeare Library, gave a lecture at The Huntington describing what is now known as the Robben Island Shakespeare, the tattered book owned by fellow prisoner Sonny Venkatrathnam. As the book passed from cell to cell, prisoners signed their names next to favorite passages, invoking meaning to their plight and solidarity with one another through the comedies, tragedies, histories, and sonnets of Shakespeare.
Mandela's choice? A passage from Julius Caesar (2.2.32–7):
"Cowards die many times before their deaths:
The valiant never taste of death but once.
Of all the wonders that I yet have heard,
It seems to me most strange that men should fear,
Seeing that death, a necessary end,
Will come when it will come."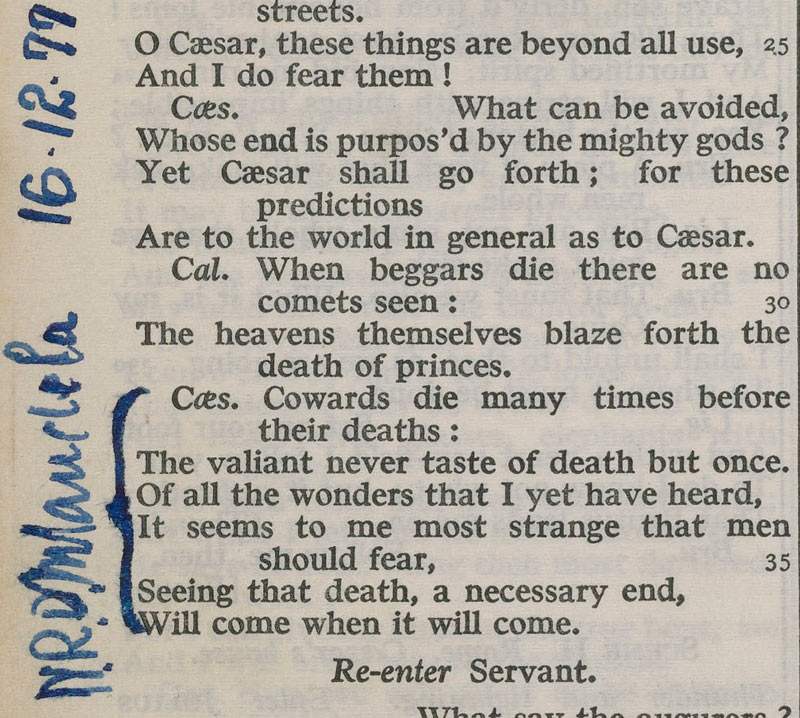 You can download Schalkwyk's talk—"The Signatures of the Robben Island Shakespeare"—from iTunes U or click and listen to it here. The talk was sponsored by the Zamorano Club, Southern California's oldest organization of bibliophiles and manuscript collectors.
Click here to learn more about the recent exhibition of the Robben Island Shakespeare at the Folger Shakespeare Library. Schalkwyk is now director of Global Shakespeare, a new partnership between Queen Mary, University of London, and The University of Warwick.
Matt Stevens is editor of Verso and Huntington Frontiers magazine.