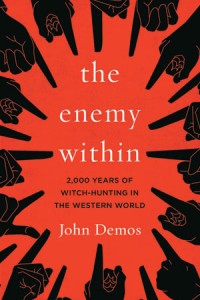 Historians can be like kids in a candy store when it comes to Halloween. Nicholas Rogers, the Fletcher Jones Foundation Distinguished Fellow at The Huntington in 2009–10, had fun with a public lecture in Friends' Hall last October. You can still download "Halloween and the Culture Wars" from iTunes U. Topping the list of spooky subjects among American historians might just be witchcraft. Two years ago, Mary Beth Norton was the Los Angeles Times Distinguished Fellow here. Among her many books is the well regarded In the Devil's Snare: The Salem Witchcraft Crisis of 1692 (2002).
But the scariest subject of all to many historians is not witchcraft but the writer's craft. John Demos, author of Entertaining Satan: Witchcraft and the Culture of Early New England (1982) and The Enemy Within: 2,000 Years of Witch-Hunting in the Western World (2008), has made his mark as a kind of founding father of narrative history. His influential book The Unredeemed Captive: A Family Story from Early America (1994) is as much a fine example of great storytelling as it is meticulously researched history. He has since spawned a new generation of scholars who strive to write compelling stories.

One of Demos' graduate students, Michelle Nickerson, helped to found the writing group Past Tense at The Huntington when she was a fellow in 2006. Another, Adam Arenson, is the co-host of the group this year. Rather than focusing on content or historiography, participants explore the writing process. (Arenson and fellow Past Tense convener Jana Remy also host the blog Making History, a forum for historians and graduate students.) The first meeting of Past Tense, held earlier in the month, featured a discussion with Yale historian David Blight about his approach to writing a chapter in an upcoming book that will look back on the centennial of the Civil War. His talk on "James Baldwin and the Civil War Centennial, Fifty Years Later" is available for download on iTunes U.
This Monday, on Nov. 1, the group convenes again for a discussion with Daniel Richter, professor of history from the University of Pennsylvania. He'll be talking about "Colonial Stories and a 21st-Century Readership." The group meets at 7:00 p.m. in the Overseers' Room at The Huntington. For more information, visit the Making History website.
Matt Stevens is editor of Huntington Frontiers magazine.