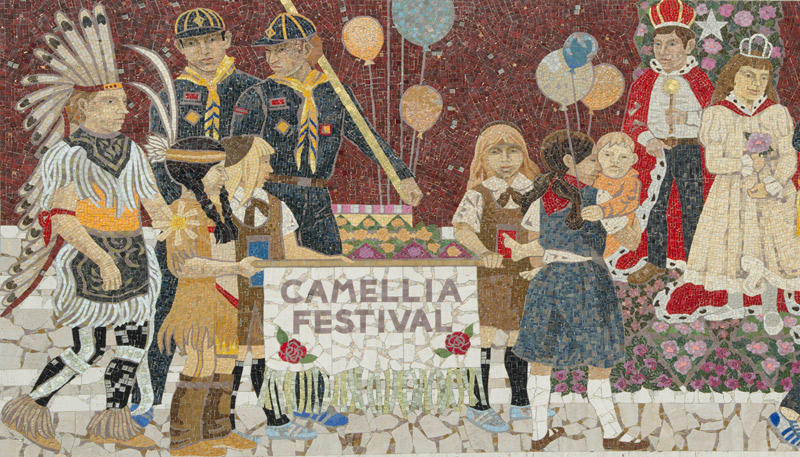 Detail from Denis O'Connor's mosaic for the Home Savings & Loan building (now Chase) in Temple City, Calif. Photo by M. O. Quinn.
On Sunday, March 18, the L.A. Conservancy is sponsoring a tour on "Millard Sheets: A Legacy of Art and Architecture." It will be followed by a panel discussion on Sheets and his work. Joining several artists and Sheets' son and daughter on the panel will be historian Adam Arenson, author of a recent article in Huntington Frontiers about one of Sheets' mosaic artists, Denis O'Connor.
"This will be a one-time-only opportunity to tour buildings that Millard Sheets designed with docents from the L.A. Conservancy," says Arenson, who is assistant professor of history at the University of Texas at El Paso and a Haynes Foundation Fellow at The Huntington this spring. "It is bringing together Millard Sheets fans from all over." In his article, "Paying Dividends," Arenson detailed the role played by Denis O'Connor in crafting more than one hundred mosaics for the Home Savings & Loan buildings throughout Southern California and beyond, an ambitious collaboration between artists of the Millard Sheets Studio and financier Howard Ahmanson. The project began in the 1950s and lasted until 1991.
The Huntington has the papers of Denis O'Connor (1933–2007), which were donated by O'Connor's son, Kevin, in 2010. The Huntington also has the Sheets papers on microfilm.
As Arenson writes in "Paying Dividends":
Sheets was a Pomona Valley native and an art wunderkind who started teaching at art school even before he graduated. He had won art contests in the 1920s and exhibited in New York as well as Los Angeles; in 1932, he was hired to teach art at Scripps College, after a stint at the Chouinard Art Institute. Appointed chair of the art department at Scripps in 1936, he began to build one of the finest art departments in the western United States. Sheets was a visual artist, not an architect, though he had taken on some large projects before, including overseeing the construction of the Thunderbird air-training schools just before World War II. He was ready for another challenge and learned about the financier's goal: "I want buildings that will be exciting 75 years from now," Ahmanson said, offering Sheets complete control—design, subject, decoration, and construction.
The tour kicks off on Sunday at 11:30 am, rain or shine, and will cover six sites in Claremont and Pomona, including Sheets' former studio. Tickets are $30 for the general public, with discounts for Conservancy members, students, and children. For details and a list of the historic sites that will be covered, visit the website of the L.A. Conservancy.
At 5 pm, a panel discussion will convene at Claremont United Church of Christ. Arenson will be joined by sculptors Betty Davenport Ford and John Svenson; Sheets' daughter and son, Carolyn Sheets Owen-Towle and Tony Sheets (an artist in his own right); architect Rufus Turner; and mosaicist Brian Worley. You need to make reservations for the panel ONLY if you have not purchased a ticket for the tour.
Please note that the LA Marathon also takes place this Sunday. The Conservancy says the tour shouldn't be affected, but be sure to visit the Marathon website for street closure information.
You can learn more about Millard Sheets on the website of LA Conservancy as well as on Adam Arenson's own blog about the art of Home Savings.
Matt Stevens is editor of Huntington Frontiers magazine.