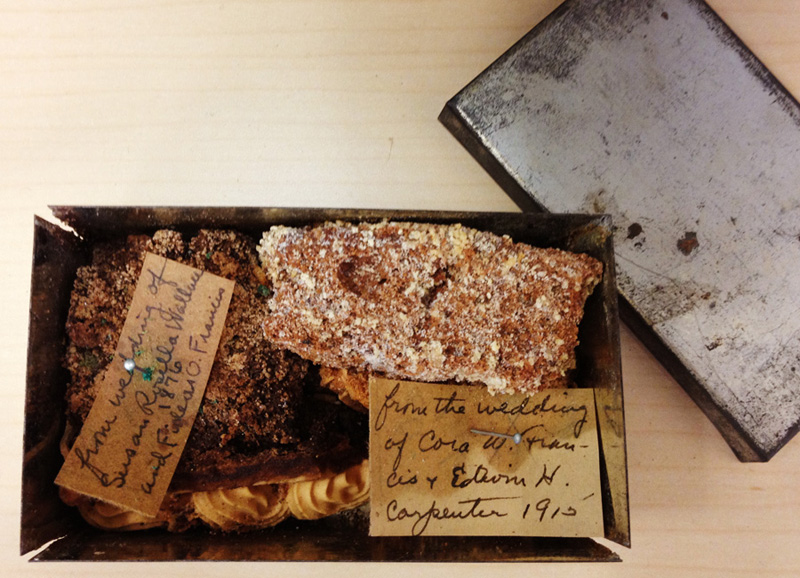 Bits of wedding cakes from 1915 and 1876, recently featured on our Tumblr.
A few months back a volunteer in our manuscripts department came across a rather unusual item in the uncataloged papers of Edwin Carpenter, Ph.D., who was a bibliographer, librarian, and editor at UCLA, The Huntington, and the New York Public Library. Among the genealogical research, correspondence, and essay proofs was a small tin box containing little cubes of wedding cake. Each piece is identified—one from his parents (Edwin Carpenter Sr. and Cora Francis, 1915) and one from his maternal grandparents (Susan Rosella Wallace and F. O. Francis, 1876).
Ed was an employee here from 1946 to 1947, and then again from 1960 until his death in 1995. He started as a reading room attendant and later worked for the Huntington Library Press. At the time of his death, his title was "lecturer." He sat at the reception desk; wrote articles and presentations on Los Angeles history and the Huntington family; did some freelance copy editing; and indexed everything he saved. Ed corresponded with a lot of the major librarians of his day and wrote copious letters to his mother during World War II.
His collection has been in the stacks since it was donated in 1995, but until our volunteer—Peggy Park Bernal, the former director of the Huntington Library Press—expressed interest (and enthusiasm and excitement), it was relegated to the bottom of my processing list. Peggy has been working on processing the collection for ten months, coming in for a once-weekly dose of Ed.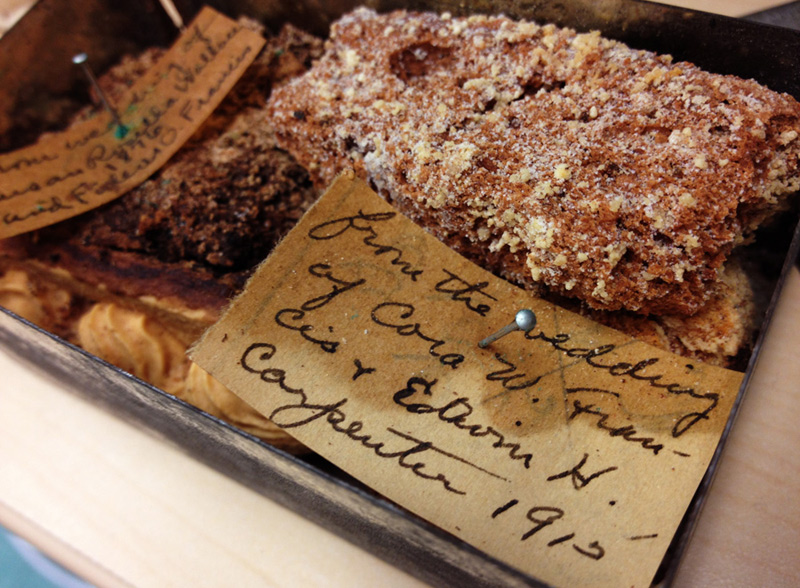 A small note accompanying one slice reads: "from the wedding of Cora W. Francis + Edwin H. Carpenter 1915."
My plan for the box of cake was to document it and then throw it away. After all, food has very little research value, and The Huntington primarily deals in manuscripts, rare books, and the like. We try not to collect objects, and cake has no place in an archive (just ask any book or paper conservator). But Peggy was reluctant, so it stayed on her desk. Last week, she e-mailed me a blog post from the Smithsonian about its new exhibition, "Souvenir Nation: Relics, Keepsakes, and Curios," which includes a piece of FDR's birthday cake.
We posted a photo of the cake on The Huntington's Tumblr, where it met a warm reception—more than 4,000 views (and counting), thanks in part to nods from other libraries' and special collections' Tumblrs, some supportive Seinfeld-related tweeting—and, to my surprise, a celebrity fashion watchdog site that I've been following for years.
I thought, "Peggy's right. Do I really want to throw this away?" Someday I want to do an exhibition of our wacky objects (trust me when I tell you every archive has crazy things), and this would fit so nicely next to the weaponry and pictures of dogs.
So with the Tumblr cake post in hand (on my phone), I sat down for some fresh cake with our chief conservation officer. After explaining the situation, and waiting for her to get over the fact that there has been 100-year-old cake in her stacks, she agreed to take a look at it. And to bag it up immediately.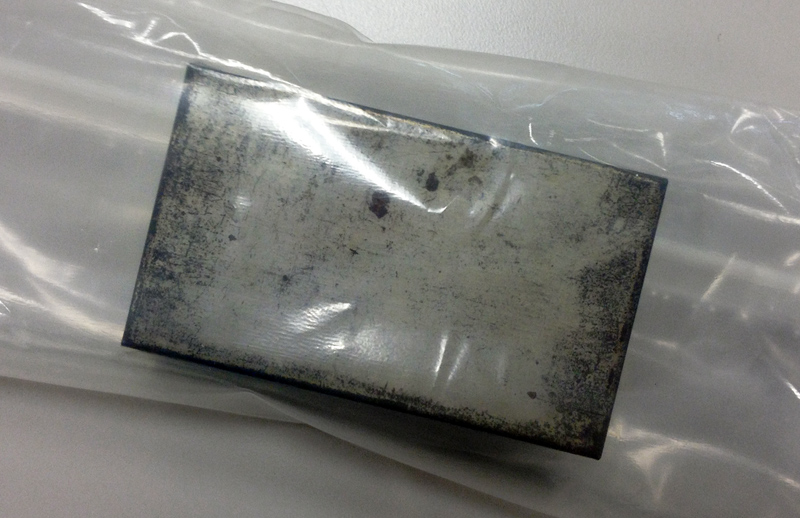 The tin of cake, temporarily bagged up and awaiting further attention from our conservation team.
Jennifer Allan Goldman is a manuscripts curator and the institutional archivist at The Huntington.