The next time you walk into the Library's main exhibition hall to see "Remarkable Works, Remarkable Times," be sure to stop into "The Library Today" gallery. Several remarkable videos will vie for your attention—one projected onto a table and five others on view on iPads. But don't overlook the display of recent books published by scholars who have conducted research at The Huntington. Virtually all of them mention The Huntington in their acknowledgments. These books—and their authors—are the hidden treasures of The Huntington.
Each year, nearly 200 professors and graduate students receive funding to conduct research here through fellowships ranging from one month to a full year in residence. The grants total $1.7 million, with about 30 percent of the awards going to scholars from outside of the United States. The recipients for 2014–15 are listed here and include scholars who specialize in literature, the history of science, and the American Civil War, among other fields. Many grantees have been arriving throughout the summer and are busy at work in the Ahmanson Reading Room of the Munger Research Center.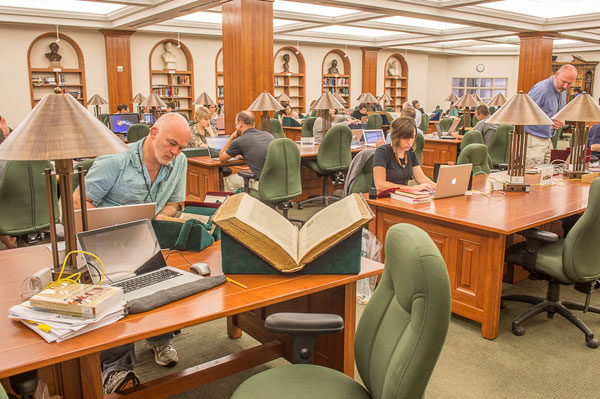 Readers busy at work in the Ahmanson Reading Room of the Munger Research Center. (Photo courtesy of Martha Benedict, www.marthabenedict.com)
One such researcher is Susan Brigden of Oxford University. She's the inaugural Mary L. Robertson Visiting Fellow in Tudor Studies and will be the featured guest at the opening seminar of the Early Modern British History group on Sept. 13, one of the oldest seminar series among the more than a dozen that take place here every year. Then on Sept. 22 she'll kick off the lecture season with a talk titled "Reformation Diplomacy: Henry VIII and His Ambassadors." You can check out the entire slate of lectures here, not to mention the rich conference programs listed here. Lectures are free but often require reservations; conferences carry a modest fee.
The Huntington posts audio of many of these programs as well. On iTunesU you can find more than 150 talks, including Alan Taylor's lecture about the book he was working on during his fellowship in 2012–13. (The Internal Enemy: Slavery and War in Virginia, 1772-1832 went on to win the 2014 Pulitzer Prize in history.) Most of the talks from the 2013–14 season are now available for download, including Louis Hyman's Haaga Lecture about "Entrepreneurs of the New Deal," in which he managed to work in a mention of Scrooge McDuck and tell a joke about the efficient market hypothesis. (Yes, it got a lot of laughs.)
So history is never dead at The Huntington. And, according to Frederick Hoxie, it isn't even past. "If we as Americans have a special story to tell," he said last year during his lecture about Native American history, "we won't find it in the past. We will best tell the story in the future about the society that we will all make together. A story that will be informed by our past but will not reproduce it. That society—that new society—will be one based on accepting our complicated history and acknowledging the different perspectives it has produced."
This was Matt Stevens' final post as editor of Verso, but was bumped to make way for a tribute to him.
Matt wrote as a postscript to this piece: "Special thanks to Kate Lain for her invaluable work on Verso and also to the many volunteers who have helped sustain Verso, Huntington Frontiers magazine, and The Huntington's audio programming, including Linda Chiavaroli, Nicole Fanning, Virginia Lawson, Bob Pierpoint, and Joyce Schlaker. You, too, are hidden treasures of The Huntington."
Matt Stevens was editor of Verso and Huntington Frontiers magazine. He left The Huntington last week to join the staff of the USC Rossier School of Education.