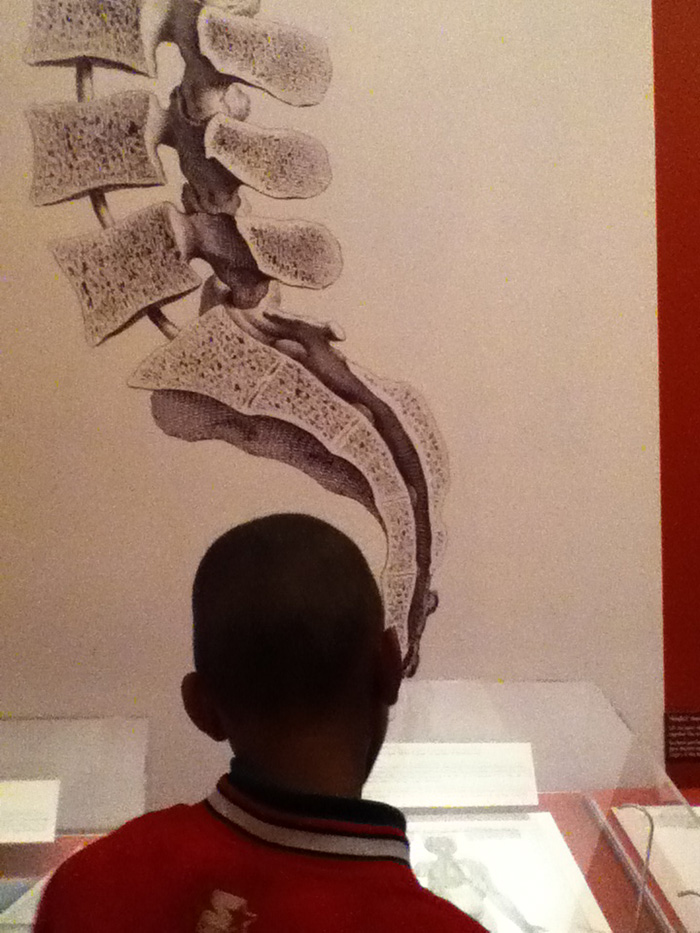 Last fall, students from Eliot Middle School in Pasadena toured the permanent exhibition "Beautiful Science: Ideas that Changed the World." Photo by Roger Gray.
With summer in full swing, a few highlights from the past school year still linger in the minds of soon-to-be 8th graders from Eliot Middle School in Pasadena. Last fall, as 7th graders, they toured "Beautiful Science: Ideas that Changed the World" in Dibner Hall of the History of Science, and in the spring they marveled at "Remarkable Works, Remarkable Times: Highlights from the Huntington Library" in the Library's Main Exhibition Hall.
Eliot, a visual and performing arts magnet school in the Pasadena Unified School District, is one of four partner schools with The Huntington and the first middle school. (The Huntington has a longstanding collaboration with Rockdale Elementary and fairly new relationships with Torres High School and Arroyo Seco Elementary, all of the Los Angeles Unified School District.) The experience of Eliot's students and teachers demonstrates how the institution develops and nurtures relationships with schools that go way beyond a single field trip.
The Huntington wanted to partner with a middle school because "students are at the age when they start figuring out who they are," observes Audrey Durden, The Huntington's school programs and school partnerships manager. "If we can give them a vision of what's available, hopefully they have a little bit more to ponder as they think about their future."
Eliot science teacher Roger Gray adds, "For many of these kids it was their first experience with a lot of things outside a classroom setting." He has a stack of student thank you letters to The Huntington to prove this, with remarks like "I had never seen a Venus flytrap" and "I had never seen that many old books with amazing stories before."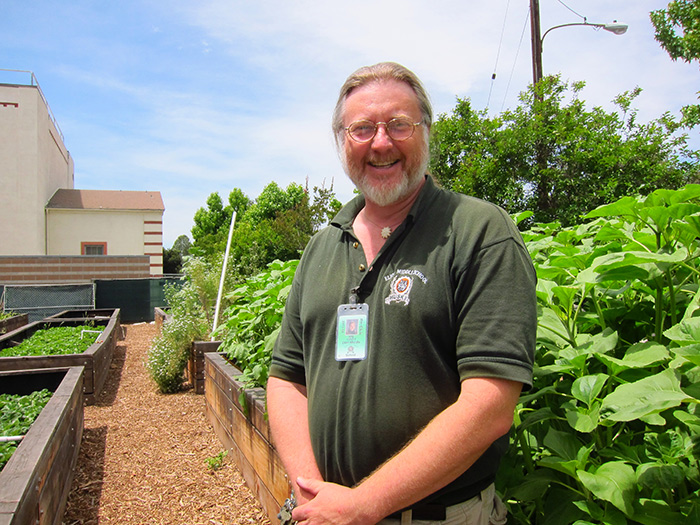 Eliot science teacher Roger Gray in the school's garden. Photo by Linda Chiavaroli.
Gray points out that in-school lessons have more relevance when students can connect them to experiences outside the classroom—what he calls "making information real." In the case of his class, the visit to the natural history section of "Beautiful Science" translated directly to its study of ecosystems and mechanisms of evolution in the spring.
"When we visited in the fall," said Gray, "Charles Darwin was simply a funny looking guy with a beard who kept interesting pictures of birds. However, by the time we studied Darwin in the spring, the students were better equipped to absorb Darwin's importance and how he changed science."
Gray's students, inspired by the communication of ideas demonstrated in "Remarkable Works, Remarkable Times," have created Eliot Arts: Kingdom Plantae. They gathered plants from around Eliot's campus, pressed and preserved them, and then depicted them as they applied their skills as observers and artists.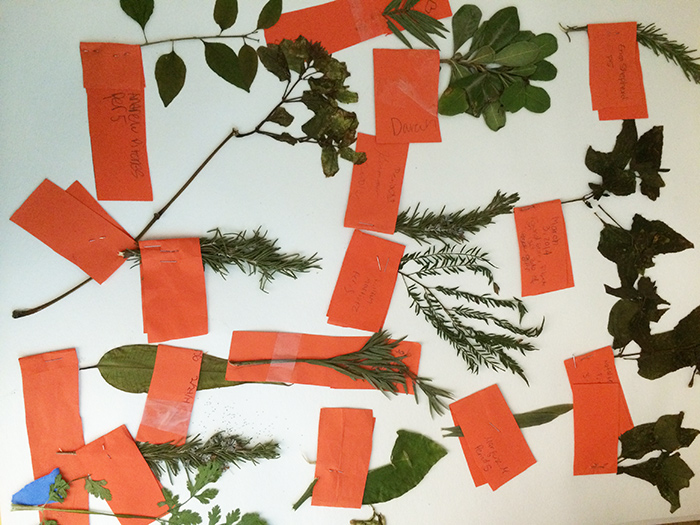 After their spring 2014 visit to "Remarkable Works, Remarkable Times," students gathered plants from around Eliot's campus and pressed and preserved them. Photo by Roger Gray.
Teachers benefit from the partnership as well. "We have a fairly extensive school garden here," said Gray, who has taken courses at The Huntington Ranch. "The garden aspect of The Huntington has been very helpful to me professionally and has given me hands-on experience in an area in which I didn't have a great depth of knowledge."
The discovery extends to Eliot households too. Students and teachers can return to The Huntington at any time with their families.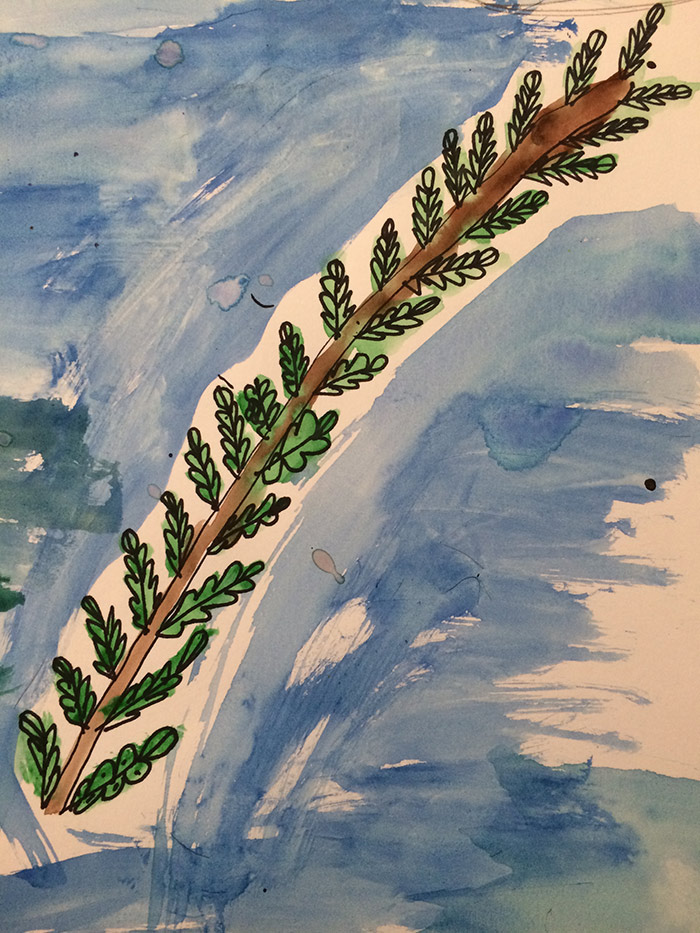 In addition to collecting plants, the students applied their skills as artists and observers. Photo by Roger Gray.
What happens now for Eliot-Huntington? Teachers have been attending workshops this summer, and families new to Eliot in September will be introduced to The Huntington at a Family Day. During the 2014–15 school year, field trips will continue, including a special project with 7th grade students.
"We look forward to many years of partnership to inspire and challenge the middle school students," said Durden.
But why wait until next year?
"I liked the museum," wrote one of Gray's students last spring. "It is so cool. I will go there on summer break."
Linda Chiavaroli is a volunteer in the office of communications at The Huntington. She is a Los Angeles-based communications consultant.