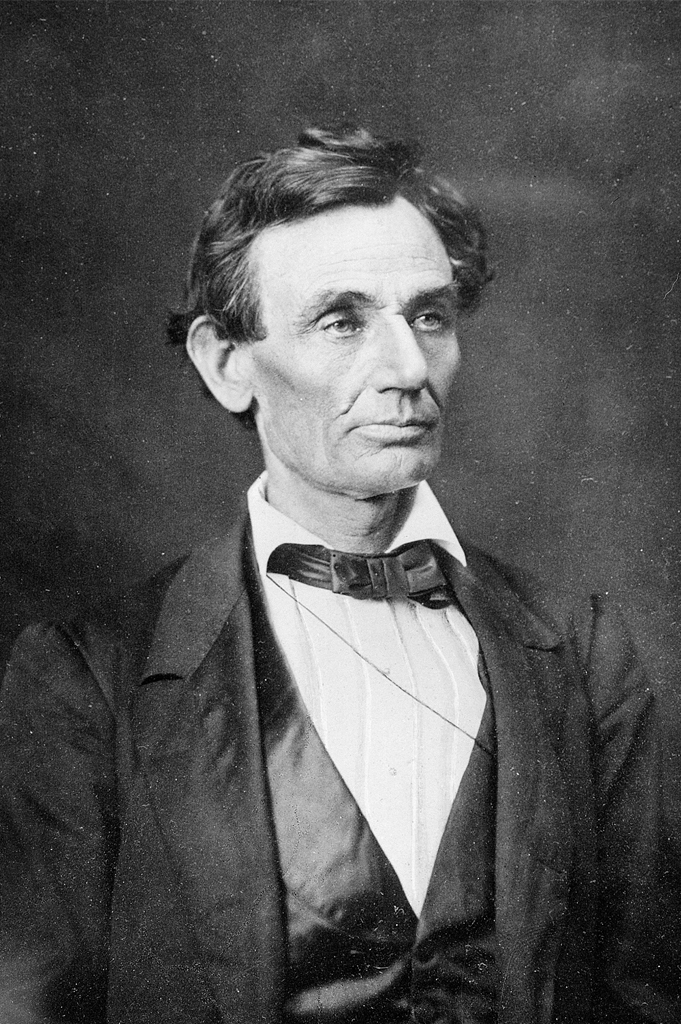 Abraham Lincoln, 1860. Alexander Hesler photographed Lincoln after he won the Republican presidential nomination, Huntington Library.
Abraham Lincoln never set foot in California, but the Huntington Library has become one of the premier repositories of Lincolnian—manuscripts, books, letters, and ephemera by and about our 16th president. In 1914, Henry Huntington purchased the collection of William H. Lambert, a Philadelphia lawyer who was known as one of the "Big Five" collectors of Lincoln memorabilia. Among the items in that archive is a copy of the 13th Amendment, signed by Lincoln in 1865.
Two years ago—during the bicentennial year of Lincoln's birth—The Huntington mounted the exhibition "The Last Full Measure of Devotion: Collecting Abraham Lincoln," which not only showcased many iconic items from the permanent collection but also told the story about Lambert and those other four collectors—Charles W. McClellan, Daniel Fish, Benjamin Oakleaf, and Judd Stewart.
McClellan's archive can now be found at Brown University; Oakleaf's is at Indiana University's Lilly Library; and Fish's is split between two other institutions in Indiana. And the collection of Judd Stewart? That came to The Huntington as well, in 1922, and included a proof copy of Lincoln's first inaugural address, complete with handwritten suggestions from Lincoln's friend Orville H. Browning. In fact, it also included a portion of the Lambert collection that had eluded Henry Huntington's grasp eight years earlier.
Huntington had ended up with two of the so-called big five collections and yet he continued to amass Lincoln materials, including the papers of Ward Hill Lamon, a close friend and biographer of Lincoln. In the many decades following Huntington's death, curators have continued to add to the holdings, right up to the present. This morning we announced news about the Library Collectors' Council, which counts among its new purchases for The Huntington the papers of Charlton Thomas Lewis (1834–1904), a true American polymath. Among his correspondents were Salmon P. Chase, who ran against Lincoln for the presidency but later served as his secretary of the treasury. Lincoln later nominated Chase to the Supreme Court. Lewis also corresponded with his own father, Joseph Jackson Lewis (1801–1883), who served as commissioner for the Internal Revenue under Lincoln. While not, strictly speaking, Lincolniana, the Lewis papers add to the tapestry of materials that have made The Huntington a premier center for post-doctoral scholarship in the antebellum and Civil War eras.
You can listen to a number of lectures about Lincoln on The Huntington's iTunes U site, including the following:
David Blight on "Lincoln and the American South"
Stephen B. Cushman on "When Lincoln Met Emerson"
Daniel Walker Howe on "Abraham Lincoln's Opposition to the Mexican War"
James McPherson on "Lincoln and the West"
Ronald C. White Jr. on "A. Lincoln: A Biography"
Sean Wilentz on "Lincoln the Politician"
Matt Stevens is editor of Huntington Frontiers magazine.