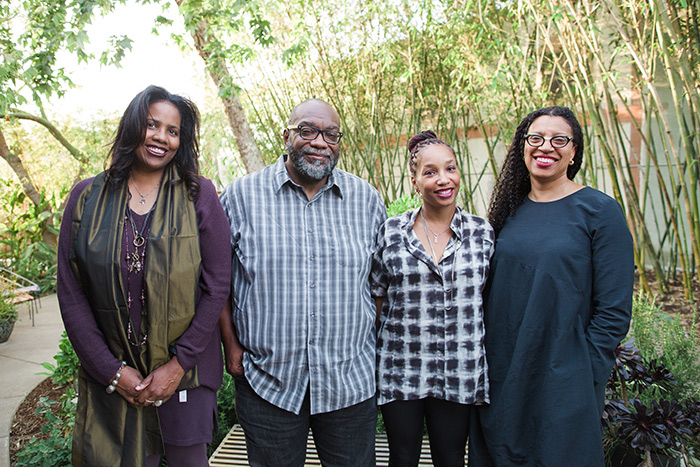 (Left to right): Writers Lynell George, Fred Moten, Tisa Bryant, and Robin Coste Lewis crafted new works based on The Huntington's Octavia E. Butler archive. Photo by Gina Clyne, courtesy of Clockshop.
When it came to finding the confidence to publish her writing, science fiction writer Octavia E. Butler (1947–2006) could count on herself for a pep talk. "I shall be a bestselling writer," she wrote in one of the notebooks contained in her papers. "I will find the way to do this. So be it! See to it!" she wrote. It worked. She published a dozen novels, including the bestselling Kindred, and won numerous awards—such as a MacArthur "genius" grant in 1995. Sadly, she died, unexpectedly, at the age of 58. Fortunately, she'd already decided to bequeath her papers to The Huntington.
To commemorate the 10-year anniversary of Butler's death, Clockshop, a Los Angeles non-profit arts organization, is partnering with The Huntington and several other institutions to celebrate her life and work during a yearlong series of literary, film, art, and cultural events. The program is called "Radio Imagination" and centers on 10 contemporary art and literary commissions that explore Butler's archive at The Huntington. One recent event involved four writers who met at Clockshop's headquarters to read from new works in progress. The mood was one of somber memorial, awe, celebration, and reverence. A full decade after Butler's passing, the writers and audience members still felt Butler's presence and support as a mentor, role model, and teacher.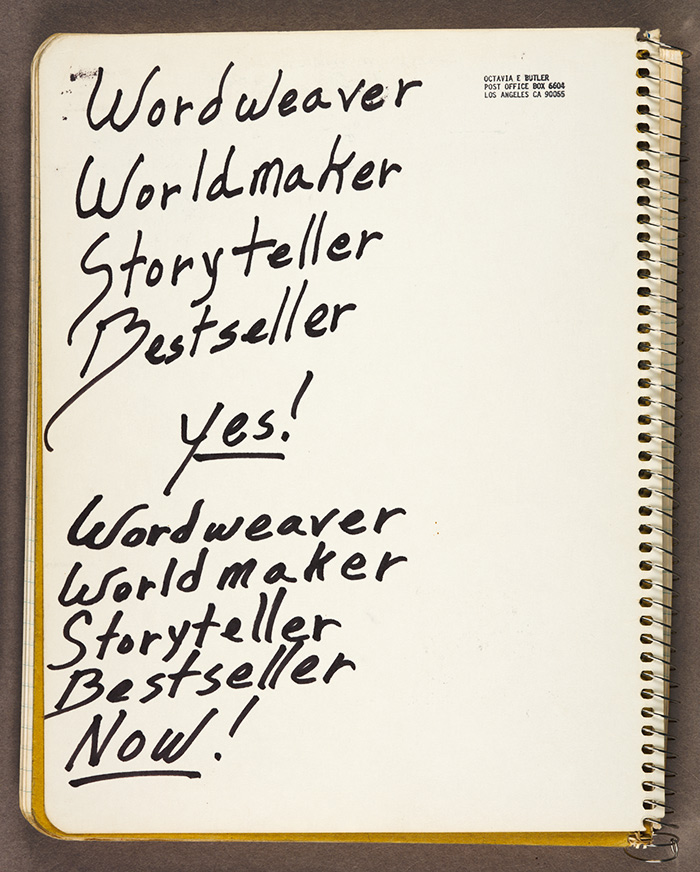 Page of handwritten notes on the inside cover of one of Octavia E. Butler's commonplace books, 1987. Octavia E. Butler papers. The Huntington Library, Art Collections, and Botanical Gardens. Copyright Estate of Octavia E. Butler.
Each writer had a different approach to processing what they found in the Butler papers. Robin Coste Lewis, winner of the 2015 National Book Award for poetry, was struck by the solitary nature of the photographs of Butler. In image after image, noted Coste Lewis, Butler was often the only black woman, the only science fiction writer, the only woman, or the only person from the West Coast. And yet, she persevered, undaunted. Coste Lewis's work, "Fall in Love? Black Genius, Loneliness, and an Ocean Named Peace" spoke to the determination of black literary achievement. "It's a meditation on black genius, aloneness, and location," said Coste Lewis.
Despite her success, Butler's papers reveal ongoing struggles with self-doubt, insecurity, and uncertainty. To make sense of this tension, Los Angeles-based journalist and essayist Lynell George assembled a posthumous interview constructed of Butler's own words. Entitled "Free and Clear, George used Butler's published fiction—as well as her lists, research, and other notes in the margins—to produce a series of questions and answers. "Butler was a dreamer, fighter, genius, and muse," said George. "She took the utmost care to chronicle every corner of her against-all-odds life, perhaps because she worried that no one would get it right or assemble it better than she might."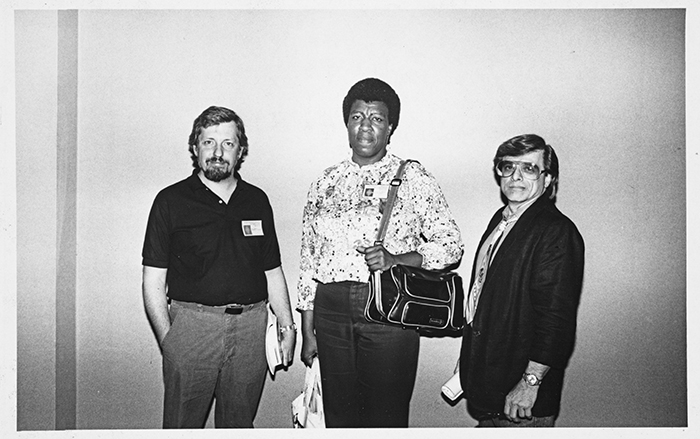 Octavia E. Butler (center) with Harlan Ellison (right) and unidentified man at the Conference on the Fantastic in the Arts, photographer unknown, 1988. Octavia E. Butler papers. The Huntington Library, Art Collections, and Botanical Gardens. Copyright Estate of Octavia E. Butler.
Author Tisa Bryant explored Butler's influences in a work called "The Teacher's Hand." Bryant remarked on the ways Butler found unlikely mentors—such as the white male, self-help authors she read—even though she knew they weren't writing with her in mind. Bryant said Butler had to nurture herself into the writer she became. "Octavia Butler's mind, from childhood, was certainly a place of such conjure," said Bryant.
Scholar and poet Fred Moten expressed his admiration through a critical poem looking at Butler's notebooks, with a focus on the notes she wrote to herself in the margins. Called "The Common Place (Flaw," it followed Butler's writing process as she worked through her thoughts to arrive at the final versions of her manuscripts.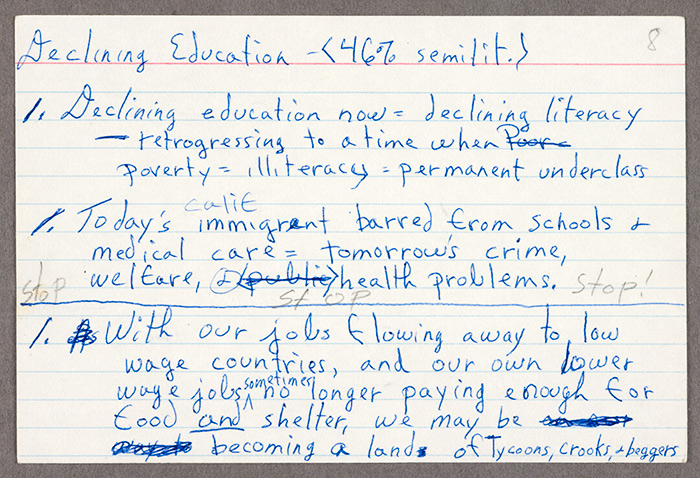 Notecard of handwritten notes by Octavia E. Butler for a speech related to her novel
Parable of the Sower
, ca. 1995. Octavia E. Butler papers. The Huntington Library, Art Collections, and Botanical Gardens. Copyright Estate of Octavia E. Butler.
The gathering of these four writers was one event in the "Radio Imagination" program. The program's name comes from a quote Butler made during a 2001 interview: "I have the kind of imagination that hears. I think of it as radio imagination." Upcoming events are listed on Clockshop's "Radio Imagination" webpage.
For Clockshop director Julia Meltzer, recognition of Butler's contribution to the Los Angeles cultural landscape is long overdue. "Our hope is that 'Radio Imagination' will bridge Butler's groundbreaking fiction with contemporary conversations about the future of Los Angeles," said Meltzer.
Octavia E. Butler would have turned 69 on June 22, 2016. All this month, Clockshop invites you to share how Butler has inspired you by posting on any of your social media channels with the hashtag #BecauseOfOctavia.
Related content on Verso:
Celebrating Octavia Butler (Jan. 27, 2016)
Writing Herself In (June 22, 2015)
Ayana A. H. Jamieson is the founder of the Octavia E. Butler Legacy Network and a reader at The Huntington.