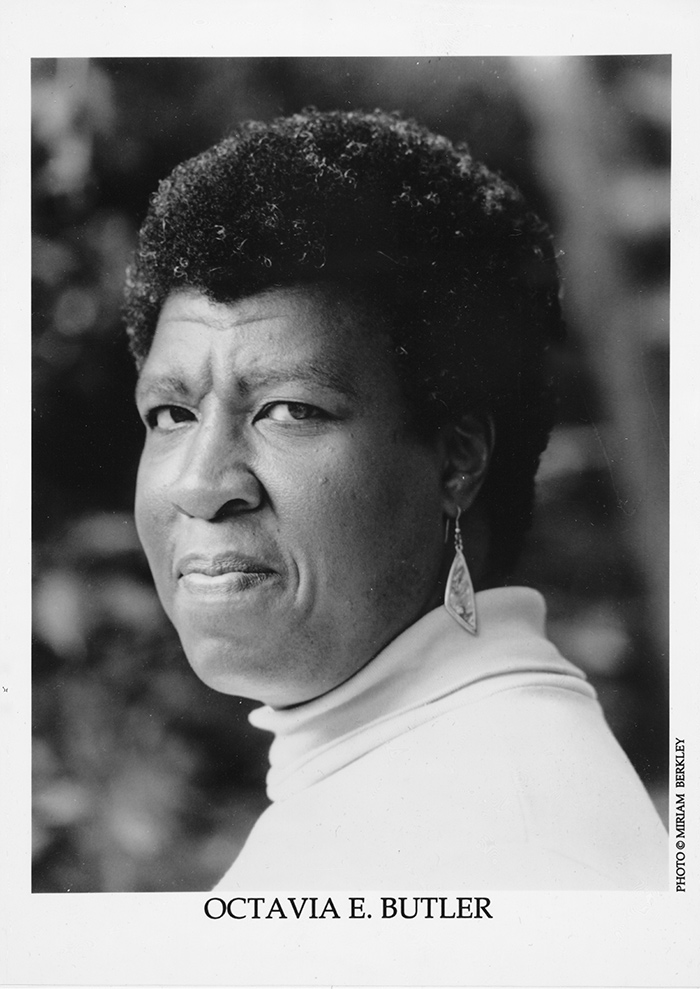 Octavia E. Butler, ca. 1988, © Miriam Berkley. For alternative images and questions regarding usage, please contact photographer Miriam Berkley.
The papers of award-winning science fiction writer Octavia E. Butler (1947–2006) came to The Huntington in 2008. By the time the collection had been processed and cataloged, more than 40 scholars had already asked for access. Today, the Octavia E. Butler Collection is one of the top two most actively researched archives at The Huntington.
To better understand the insights gained by scholars using the archives, we are convening a daylong academic conference to explore the legacy of a writer whose relevance and influence continue to rapidly expand.
Titled "Octavia E. Butler Studies: Convergence of an Expanding Field," the conference highlights the evolving, transdisciplinary work that scholars have done based on Butler's archives. It will also foster conversations to examine how Butler's life, writing, and research nurture a deeper understanding of the past, present, and possible futures.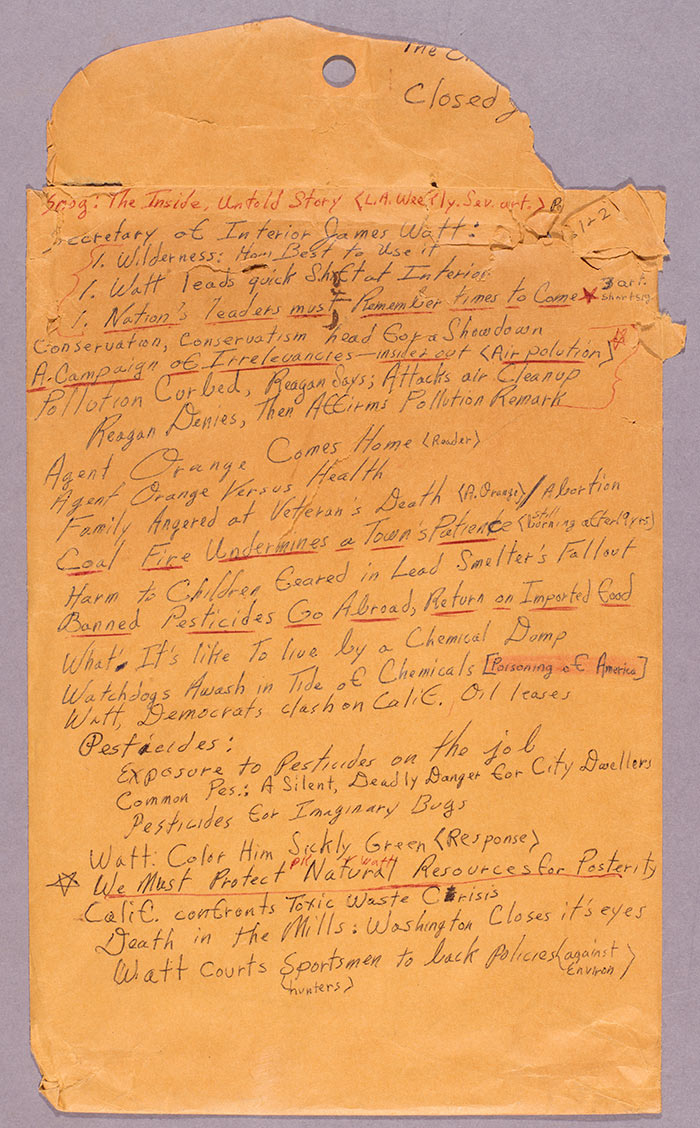 Shelley Streeby, one of the conference presenters, has been studying Butler's research on the environment and climate change, which Butler initiated in 1965. This image is of the outside of an envelope Butler used to file away the articles she collected on climate and the environment beginning in the 1980s. The Huntington Library, Art Collections, and Botanical Gardens. Copyright Estate of Octavia E. Butler. Click here to enlarge.
The Octavia E. Butler Collection contains more than 8,000 items, including her unpublished book drafts, diaries, research, notes, letters, and other ephemera. Our conference provides the first opportunity for those Butler experts who earliest delved into The Huntington's archive to share and discuss their discoveries.
The conference showcases academics addressing a range of topics drawn from the Butler Collection. We are pleased to include Shelley Streeby, faculty director of the Clarion Science Fiction and Fantasy Writers' Workshop and professor of Literature and Ethnic Studies at UC San Diego, who will expand on chapters written for her forthcoming book, Imagining the Future of Climate Change: World-Making through Science Fiction and Activism. We'll also hear from Gerry Canavan, assistant professor of American Literature at Marquette University, who is the first to use the Butler archive to develop a biography, Octavia E. Butler. Canavan will discuss fragments of Butler's unpublished novel Parable of the Trickster, the intended third installment in her Parable series.
Aimee Bahng, assistant professor of English at Pomona College, will discuss Butler's research on the behaviors of slime molds, a topic explored in the Xenogenesis trilogy. Cassandra Jones, assistant professor of African American Studies and director of the American Studies program at University of South Carolina Upstate, will present on Butler's character Anyanwu, the shapeshifter, in the Patternist novels. Jenny Terry, senior lecturer in the Department of English Studies at Durham University, will talk about art inspired by Butler's novels. And Sami Schalk, assistant professor of Gender and Women's Studies at University of Wisconsin, Madison, will explore Butler's writings as disability literature.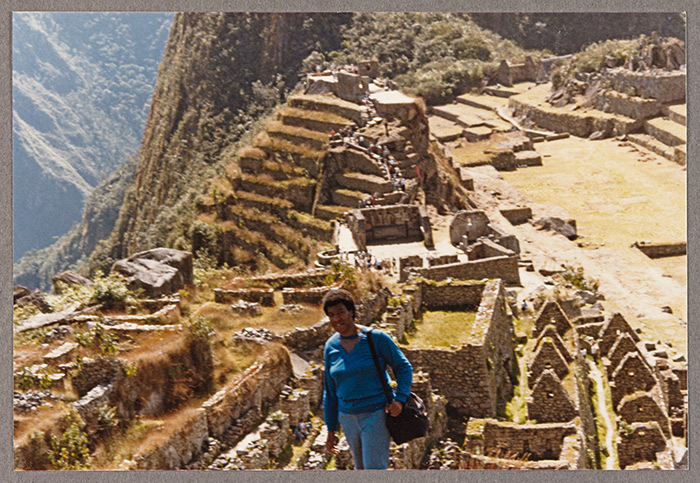 Butler in Machu Picchu, unidentified photographer, 1985. Butler traveled to Peru to conduct research for her Xenogenesis/Lilith's Brood trilogy, which takes place in a post-apocalyptic rain forest and in and alien space vessel. The Huntington Library, Art Collections, and Botanical Gardens.
This long-planned conference comes on the heels of several other significant Butler programs over the last year or so. A Huntington Library exhibition, "Octavia E. Butler: Telling My Stories," the first major exhibition to explore Butler's life, runs through Aug. 7, 2017. The local arts non-profit Clockshop ran a yearlong series of events celebrating Butler called "Radio Imagination," with several partners including ourselves and The Huntington. These events provided opportunities for Butler scholars, artists, students, readers, and fans to come together to discuss and celebrate the author's work and legacy. We continue that tradition as co-editors of a forthcoming special issue on Butler in Palimpsest: A Journal on Women, Gender, and the Black International, a peer-reviewed journal published by the State University of New York.
We hope that 50 years from now, in 2067, people will look back on this conference as the beginning of an explosive golden age in the field of Butler Studies.
Related content on Verso:
Telling Their Stories (May 17, 2017)
Telling Her Stories (April 6, 2017)
Instagram Takeover with Lynell George (Oct. 5, 2016)
Seeing to It (Aug. 15, 2016)
Mentoring in the Afterlife (June 10, 2016)
Celebrating Octavia Butler (Jan. 27, 2016)
Writing Herself In (June 22, 2015)
You can read more about the conference program and registration on The Huntington's website.
UPDATE (6/26/17): You can listen to audio from the conference on SoundCloud and iTunes U.
Ayana Jamieson is the founder of the Octavia E. Butler Legacy Network and the awardee of the Helen Bing Fellowship at The Huntington, where she will continue her scholarship on Butler's life. She is also an interdisciplinary lecturer for State University New York, Empire State College.
Moya Bailey is the digital alchemist of the Octavia E. Butler Legacy Network and assistant professor of Cultures, Societies, and Global Studies and Women's, Gender and Sexuality Studies at Northeastern University.