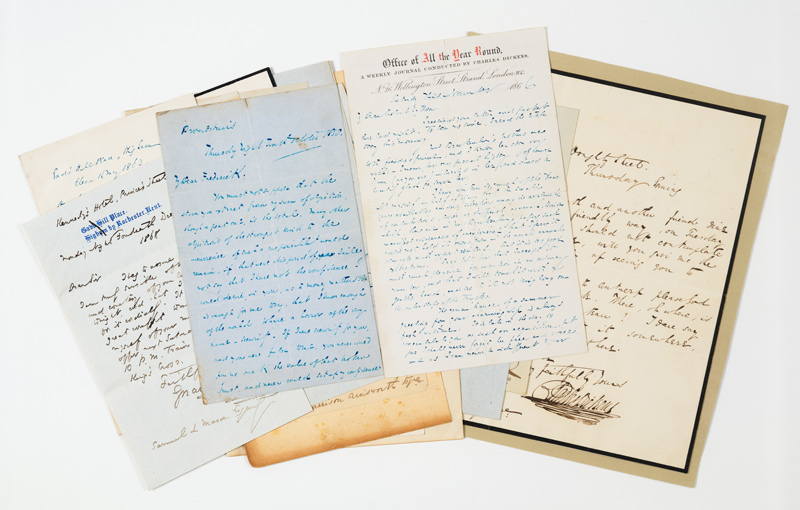 Set of 15 letters by Charles Dickens (1812–1870). The letters were written between 1837 and 1868. Huntington Library, Art Collections, and Botanical Gardens.
For the second time in four years, The Huntington's Library Collectors' Council has added to the Library's Charles Dickens holdings, acquiring a set of 15 letters by the prolific 19th-century British novelist. Back in 2010, the council purchased a set of 35 letters, adding to the more than a thousand already in the collection. The latest acquisition comes just in time to celebrate the author's 201st birthday—he was born Feb. 7, 1812.
"Dickens was a master interpreter of life in Victorian England, especially of the often-harsh underbelly of teeming London," says Sara S. "Sue" Hodson, literary manuscripts curator at The Huntington. That harsh world is encountered again and again by characters such as David Copperfield, Pip, and the hungry orphan Oliver Twist, who pleads to Mr. Bumble, "Please, sir, may I have some more?"
"If we know a people's literature," says Hodson, "we begin to know the people themselves and we better understand ourselves, as well."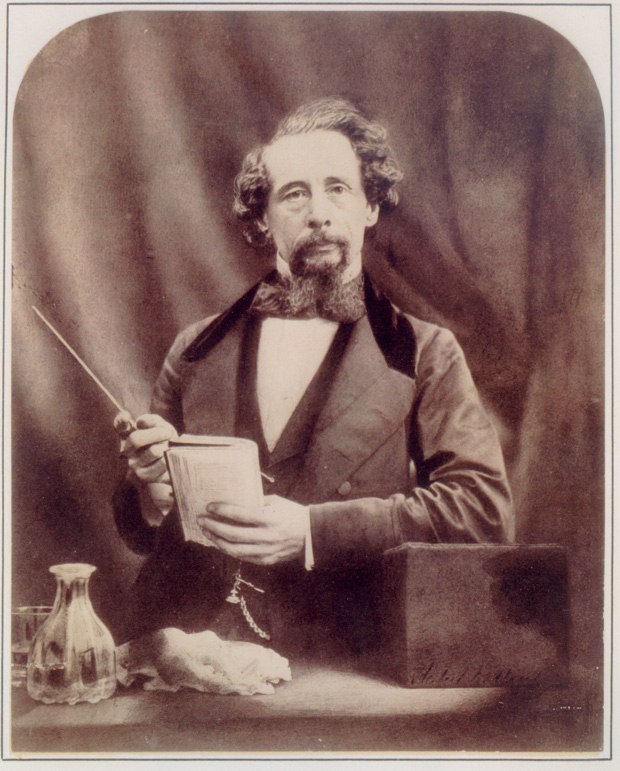 Portrait of Charles Dickens, 1859, by photographer Herbert Watkins. The Huntington Library, Art Collections, and Botanical Gardens.
Dickens produced many of his novels in serial form while also working as a magazine editor, publisher, and itinerant lecturer. "A look at his full career gives us an inside view of the writing, publishing, and reading habits of the Victorian era," says Hodson.
Academic interest on Dickens remains strong, driven perhaps by the commemorations last year of the bicentennial of his birth. At least 35 books have been published about him in the past two years alone, but none of those authors had access to this new set of letters, which until now has been in private hands. The letters, which include exchanges about the author's finances and editorial matters, among other topics, represent fresh ground for scholars.
In addition to letters, The Huntington has manuscripts of some of Dickens' lesser-known writings and a letterbook of his correspondence for the magazine All the Year Round, plus original photographs and extraordinary early serial publications of his novels—one of the most complete collections of such publications in any collection, says Hodson.
The new acquisition has already been cataloged and is ready for use by researchers.
Related content on Verso:
Charles Dickens, Man of Letters (Feb. 7, 2012)
Matt Stevens is editor of Verso and Huntington Frontiers magazine.