The calligraphy of Peizhu and Qian Yu adorns the piano at Atlantic Times Square in Monterey Park. Photo by Christina Cheng, posted to streetpianosLA.com on April 16.
As you go about your business this weekend in greater Los Angeles you might spot a random piano in a shopping mall, train station, or theatre. "Play Me, I'm Yours" is a public art installation that features 30 pianos, each decorated by a local artist, including one of the calligraphers whose work graces a few spots in The Huntington's Chinese garden.
The Los Angeles Chamber Orchestra (LACO) helped organize the event as a tribute to Jeffrey Kahane, who is marking his 15th anniversary as director. "With the pianos serving as blank canvases upon which people can share their own creativity," says LACO executive director Rachel Fine, "we look forward to hearing our neighbors, co-workers, and other fellow Angelenos play these instruments. Beyond solo playing, we encourage choirs, bands, other musical ensembles and even dancers to incorporate rehearsals or jam sessions at the piano sites. Some people may seek out all 30 pianos to see the different locations as well as the unique visual aspects of each instrument. The pianos are there to be enjoyed by everyone."
The three-week jam session launched on April 12 with a simultaneous performance of complete preludes from Bach's "The Well-Tempered Clavier, Book 1." The classical musicians then gave way to closet performers who are free to play anything from chopsticks to Chopin. Participants and observers are invited to upload video and photos to the project's website, streetpianosLA.com.
Chinese Calligrapher Peizhi Yu and his son, Qian, have decorated the piano now stationed at Atlantic Times Square in Monterey Park. Yu is one of the many calligraphers who wrote the two dozen or so poetic names given to bridges, courtyards, and pavilions throughout Liu Fang Yuan, The Huntington's Chinese garden. For example, one of his names was carved by craftsmen above the doorway into the Plantain Court (Ba Jiao Yuan).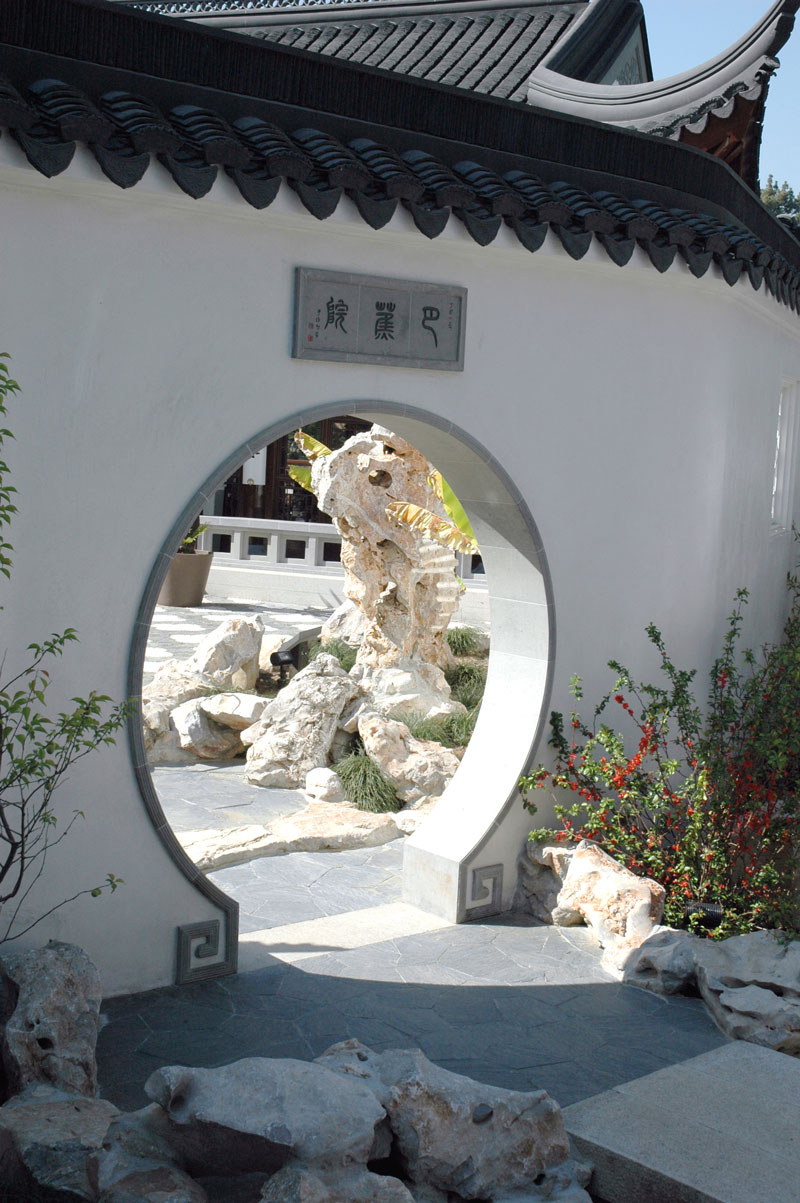 Peizhu Yu's calligraphy above the entrance to the Plantain Court of The Huntington's Chinese garden. Photo by Lisa Blackburn.
After you play one or more of the pianos in "Play Me, I'm Yours," be sure to come to The Huntington on any Wednesday, between 1 and 3 p.m., where you can listen to traditional Chinese music while viewing the Chinese garden—and the calligraphy of Peizhi Yu and his fellow calligraphers.
Peizhi Yua's poems on the piano are traditional seven character couplets. The two poems on either side of the piano translate loosely as "Famed painting should be studied as reading lines of poetry" and "Fine instrument (piano) should be listened to as listening to sound of water flow." The couplets are based on poems by Qi Gong, a famous Chinese calligrapher, artist, and poet. "
Play Me, I'm Yours" was created by British artist Luke Jerum and has been touring internationally since 2008. To date, more than 500 pianos have been made available to the public in some 22 cities across the globe, from New York to Sydney. After Los Angeles, "Play Me, I'm Yours" will be found next in San Juan, Puerto Rico, in May, London and Salt Lake City in June, and Salem, Oregon, in July.
You can learn more about the Chinese garden in Another World Lies Beyond: Creating Liu Fang Yuan, The Huntington's Chinese Garden, a catalog edited by T. June Li, curator of Liu Fang Yuan. It is published by the Huntington Library Press and includes a full appendix of all of the calligraphy in the garden. The book is available at The Huntington Bookstore & More.
Matt Stevens is editor of Huntington Frontiers magazine.