Last summer, I worked as an intern in the manuscripts department, exploring the Library's large collection of history of science materials. Now and then, a nonpaper item would appear among the boxes and boxes of manuscripts. I wrote before about Volterra's Egg, which was used by Italian mathematician Vito Volterra to explain astronomical phenomena. I'm back in the department this summer, and I've found a surprising artifact again.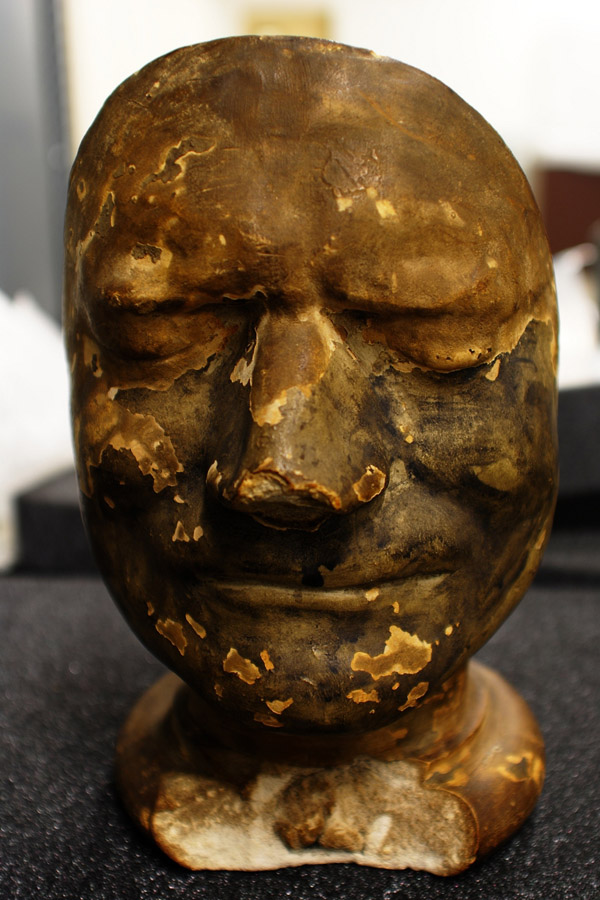 In 2006, The Huntington received the Babson Newton collection on permanent deposit as a part of the Burndy Library. Along with the books and manuscripts painstakingly collected by Grace Knight Babson, the collection is home to a plaster death mask of Isaac Newton. As one of only five known originals, the mask gives us a rare familiarity with a giant of science and mathematics.
Even of the few known originals, this is a particularly important piece. The mask was originally presented to the Boston Athenaeum by Mrs. Joseph Coolidge Jr., granddaughter of Thomas Jefferson, upon receiving her grandfather's art. According to the Babson Library, it was "almost certainly owned by Thomas Jefferson, who counted Newton among one of his greatest heroes."
"The Newton death mask is an iconic artifact in the study of Newton," says Daniel Lewis, Dibner Senior Curator for the History of Science and Technology at The Huntington. "There is an immediacy and a fascination for memento mori, as these artifacts of the dead are known, and the very existence of multiple copies of the mask says something important about our reverence for iconic figures from the past."
The mask was originally used by Flemish sculptor John Michael Rysbrack (1694–1770) as a model for the bust of Newton at Westminster Abbey. Rysbrack then gave two copies of the mask to French sculptor Louis-François Roubiliac (1702–1762) for use in creating the Newton statue in the Trinity College Chapel.
Though originals are very rare, masks of Newton's face weren't always hard to come by. In her biography, Newton: The Making of a Genius, Patricia Fara writes that in the mid-1800s, "small, cheap versions of Newton's death-mask were being advertised in the press by phrenologists, while custom-made hand-finished models were valued as gifts for scholars throughout Europe." It was only one example, she writes, of the growing fascination and appreciation of "England's most celebrated scientific saint."
John Vining is a former summer intern in the manuscripts department at The Huntington. He is currently working toward his Bachelor of Arts in Philosophy and History of Math and Science at St. John's College in Annapolis, Md.