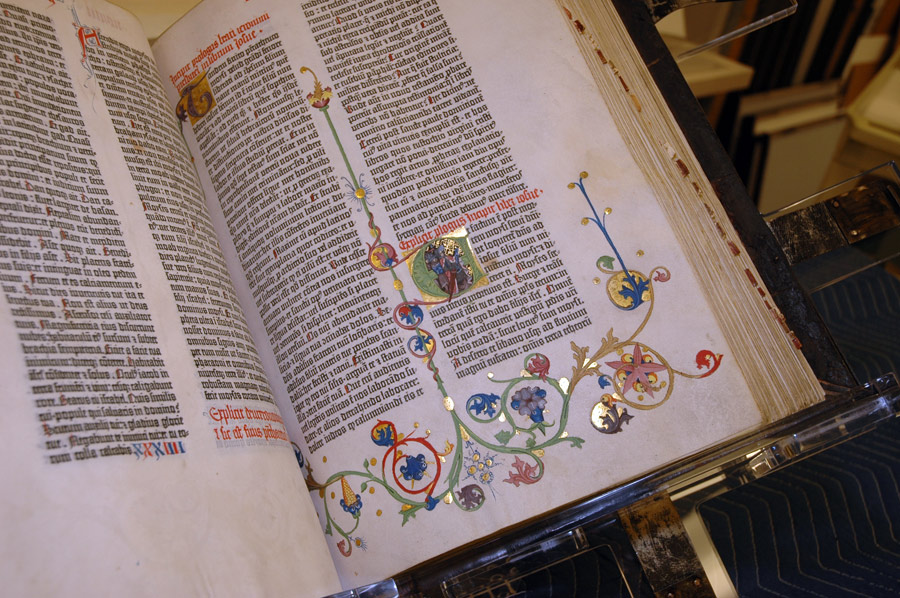 After Monday, the Gutenberg Bible will move from the Scott Galleries to the Thornton Portrait Gallery. Huntington Library, Art Collections, and Botanical Gardens.
Monday will be your last chance to see the Library's most prized books and manuscripts for a while. Back in June 2012, many of The Huntington's treasures went on temporary display in the Scott Galleries of American Art when the Library Exhibition Hall closed for a 16-month renovation (now moving into its final five months).
After Monday, all but one of those items will go off view until the fall, when a magnificent new installation opens in the renovated Library Hall. Meanwhile, the Gutenberg Bible will move over to the Thornton Portrait Gallery, keeping company with Pinkie and Blue Boy.
On Verso, we have written about many of these treasures, including a post back in 2011 about the challenges of displaying a large tome like the Gutenberg Bible. So this might be an apt occasion to look back at some of those posts as we bid temporary adieu to these iconic works.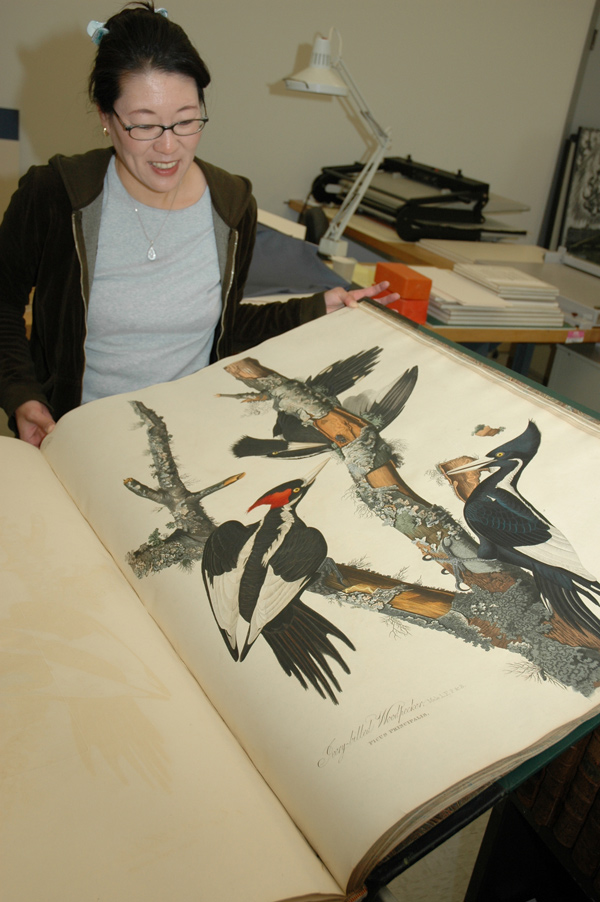 Exhibition preparator Lauren Tawa with the Ivory-Billed Woodpecker, plate no. 66, from Audubon's
Birds of America
. Huntington Library, Art Collections, and Botanical Gardens.
Shakespeare's First Folio edition of his collected plays, published in 1623, is a work of genius, although Bruce Smith, the Dean's Professor of English at the University of Southern California, might say the volume is a testament to the Bard's congeniality. Find out what he means by reading "Will Shakespeare, Mr. Congeniality" and clicking to our audio program of Smith's lecture about Shakespeare.
In "A Big Page-Turner," we marked an impressive milestone for Audubon's Birds of America and explained why conservators needed to turn the pages of books on display at regular intervals to minimize light exposure.
That post is also a reminder that Huntington curators occasionally remove items from display to preserve their conditions, all the more reason for you to take a last look at some of the treasures that will not be part of the new configuration in November.
Items are also rotated out of the gallery for another critical purpose—research. If you can't make it this weekend, rest assured that these treasures live simultaneously in countless works of scholarship. Last month alone, we wrote about two scholars—Joyce Chaplin and Adria Imada—whose recent books made excellent use of The Huntington's Jack London papers and photographs, among many other rare items. On display through the weekend is a manuscript page from London's novel Martin Eden.
Also on display through Monday are a page from Christopher Isherwood's A Single Man (see "A Single Manuscript") and Hilary Mantel's prize-winning novel Wolf Hall (see two recent posts about her follow-up winner, Bring Up the Bodies, here and here).
If you prefer the likes of John Milton or Samuel Johnson, you won't want to miss seeing books that also double as monuments to scholars who spent their entire careers enriching our understanding of these literary giants. In 2012 we marked the deaths of Milton scholar John Steadman and Johnson bibliographer O M "Skip" Brack Jr.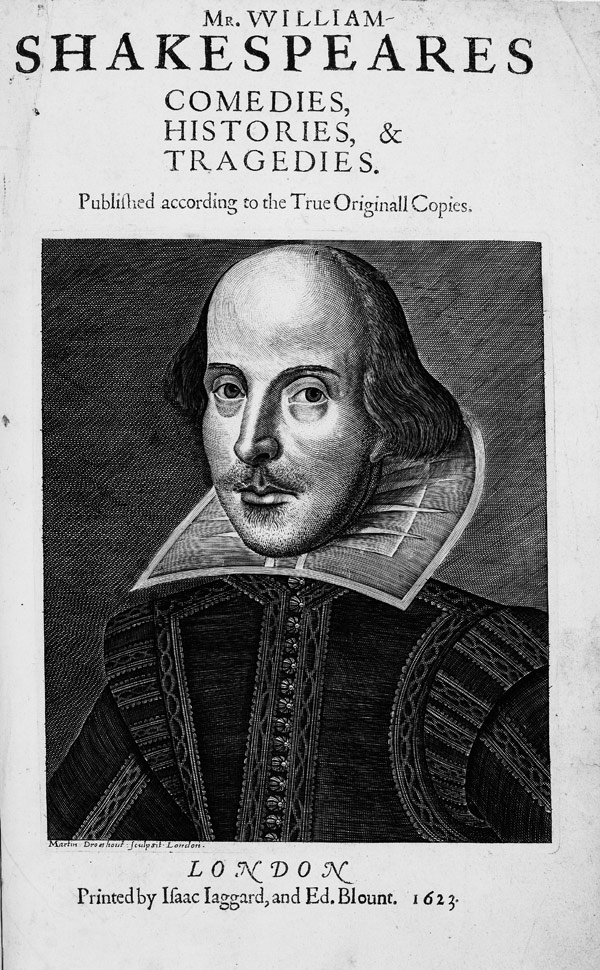 Title page of Shakespeare's First Folio edition, 1623. Huntington Library, Art Collections, and Botanical Gardens.
The pattern plays out in American history, too. The Huntington's copy of A Narrative of the Life of Frederick Douglass, An American Slave (1845) came to life in the lecture delivered by David Blight when he was The Huntington's Rogers Distinguished Fellow of 19th-Century American History in 2010–11. (Blight is now wrapping up a biography of Douglass.)
And you are not alone if you hope that the new Main Hall exhibition will return Henry David Thoreau's hand-written manuscript of Walden to a prominent position. It will. In his 2011 book, Fire Season: Field Notes from a Wilderness Lookout, writer Philip Connor paid homage to Thoreau, first by living a solitary existence for 5 months out of every year as a fire lookout in New Mexico and then by writing about it in his evocative book. Read about his visit to The Huntington in "Where There's Smoke" and download audio of his conversation with Bill Deverell, director of the Huntington-USC Institute on California and the West.
So come see the treasures this Memorial Day Weekend and then notice how often you'll encounter them out in the world between now and the fall.
Matt Stevens is editor of Verso and Huntington Frontiers magazine.