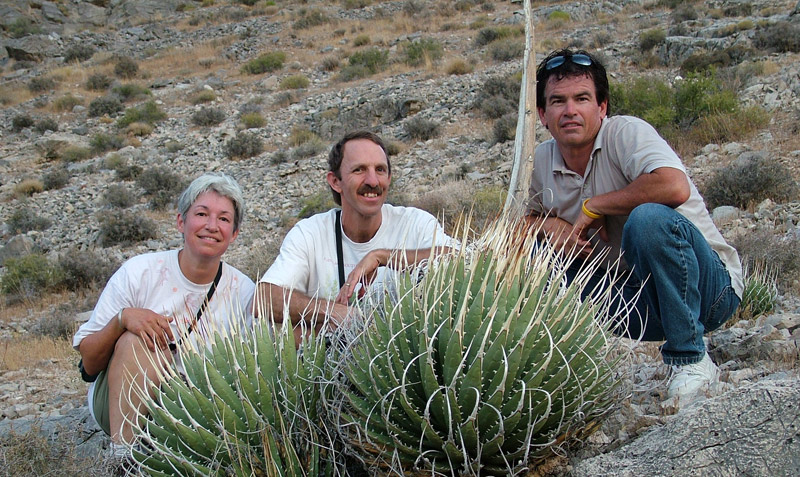 Karen Zimmerman, desert collections propagator, and John Trager, director of ISI, pose with agave specialist Kelly Griffin and the
Agave utahensis
var.
eborispina
. Seeds were collected from this specimen in the Nopah Mountains, near the California-Nevada border and made available in the 2009 catalog of International Succulent Introductions. Photo by Kelly Griffin.
John Trager and Karen Zimmerman labor quietly throughout the year propagating plants for The Huntington's International Succulents Introductions (ISI) program. Described as "a shopper's paradise and a unique conservation program" in the spring/summer 2006 issue of Huntington Frontiers, the ISI program produces a sales catalog each spring of 30 to 40 affordable plants indigenous to the Canary Islands, Chile, Malawi, and Mexico, among other mostly arid regions of the world.
While Trager and Zimmerman enjoy the occasional collecting trips to places like the American Southwest or South Africa, they rely on an informal network of botanists and horticulturalists who obtain the appropriate permits to collect plants and send the seeds, cuttings, or plants to The Huntington, where Trager and Zimmerman do the rest, often waiting years—and even decades—before there are enough new propagations to make it into an annual ISI catalog.
Walter Röösli and Ralph Hoffmann were a noted team of Swiss explorers that collected specimens from the exotic and singular flora of Madagascar. "The Swiss team was very judicious in harvesting from the wild—they only took what they needed," said Trager in the 2006 Huntington Frontiers article written by Traude Gomez Rhine. Just as important as the plant material is the documentation that accompanies it—information about the precise wild location of the plant and the soil type, associated flora, and altitude in which it thrives in the wild.
Trager still emphasizes the importance of getting out into the field, especially for young botanists, who need to see for themselves how plants grow in nature, no matter how much is readily available to them in cultivation.
The large succulent (at left) in one corner of The Huntington's Desert Conservatory is a specimen of
Uncarina grandidieri
, native to Madagascar. Next to it (at right) is
Cyphostemma currori
, a member of the grape family native to Namibia. Below that, is a ground cover called Senecio sempervivus, derived from a plant collected in Yemen back in 1967. Photo by John Trager.
The advice isn't lost on John Zaborsky, who has completed his first year in a botany doctoral program at the University of Wisconsin and can't wait to get to Madagascar. He's planning to construct a phylogenetic tree—or evolutionary history—of the genus Uncarina, which is in the Pedaliaceae, or sesame, family. By extracting DNA from leaf samples, he can show how the various species in the family are related to one another. Since he still doesn't have the resources to travel to the plant's native habitat in Madagascar, Zaborsky did the next best thing. He made a trip out to The Huntington in August and met plant conservation specialist Sean Lahmeyer along with Trager and Zimmerman. He then found nine out of the 14 known species of the plant right here among our collections. The Huntington's complete documentation on file, thanks to collectors like Röösli and Hoffmann, proved invaluable.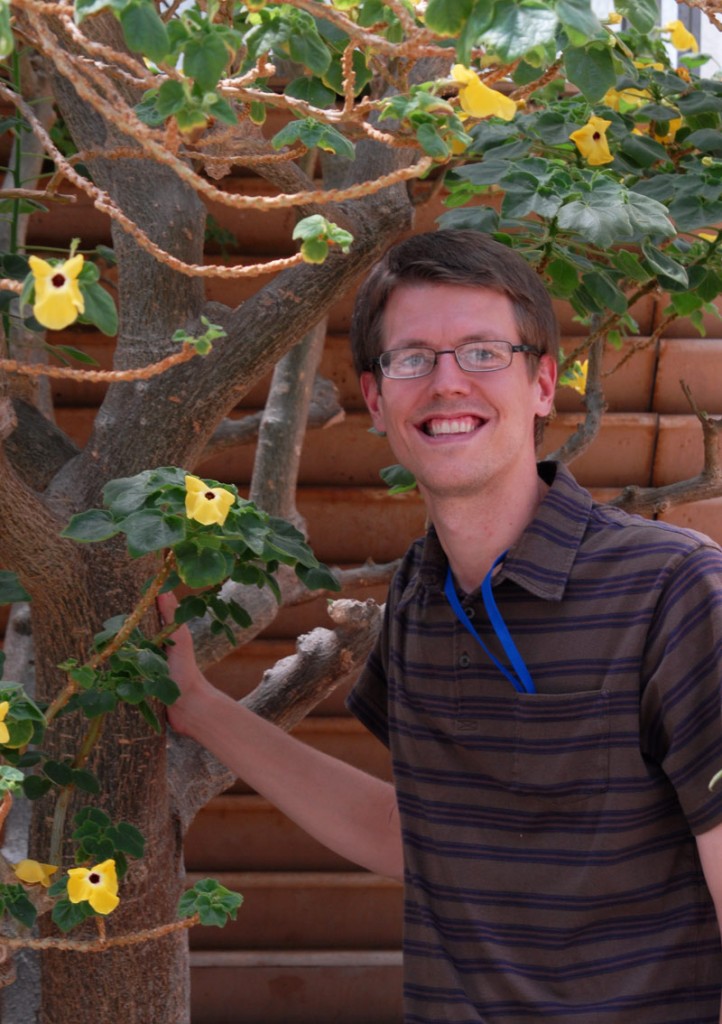 John Zaborsky, a graduate student in botany at the University of Wisconsin, poses next to the
Uncarina grandidieri
in the Desert Conservatory. Photo by Karen Zimmerman.
Zaborsky was thrilled to see a spectacular Uncarina specimen as a focal point in one corner of The Huntington's Desert Conservatory, the greenhouse managed by Trager and located at the top of the 10-acre Desert Garden. It houses cacti, euphorbias, and other succulents that can't withstand the occasional low temperatures of Southern California winters. After collecting his leaf samples, Zaborsky posed for a photo snapped by Zimmerman. He stepped gently into the flower bed, mindful of the plants to either side. To the right was a specimen of Cyphostemma currori, a plant native to Namibia; another specimen in the nursery has now produced enough seedlings to be considered as a future ISI offering. Below that is a ground cover called Senecio sempervivus, derived from a plant collected in Yemen back in 1967 by the legendary (in succulent circles) J. J. Lavranos and Alan Radcliffe-Smith. It eventually found its way into the ISI program 40 years later, in 2007. Sempervivus translates loosely from Latin as "to live forever."
As Zaborsky said his goodbyes, he promised to keep in touch and said he would be happy to share cuttings of the five Uncarina species and any other succulents that he tracks down in Madagascar.
For more on this story, check out News Bytes in the spring/summer 2012 issue of Huntington Frontiers, downloadable in PDF form here.
Matt Stevens is editor of Verso and Huntington Frontiers magazine.