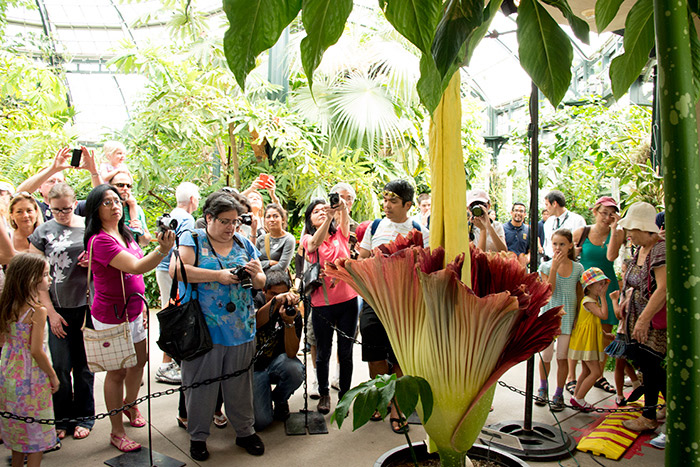 There were cameras, cameras everywhere for the big bloom.
It bloomed, it smelled weird, and then, within hours, the much-anticipated show was over. And while the excitement surrounding the bloom may have passed, the images of it remain, some already superseded by other images we've taken since, some still waiting to be looked at, and some continuing to circulate.
The flowering of an Amorphophallus titanum (a.k.a. titan arum, "Corpse Flower," or, around here, "Stinky") is a pretty amazing and beautiful process to witness, and the recent occurrence here at The Huntington (our fifth bloom since 1999) was no exception. Swarms of people flocked in to catch a glimpse (or a whiff) of this crazy plant. And the large majority brought cameras. Smartphones, DSLRs, handheld video cameras, point-and-shoots, you name it. Everywhere. Including mine.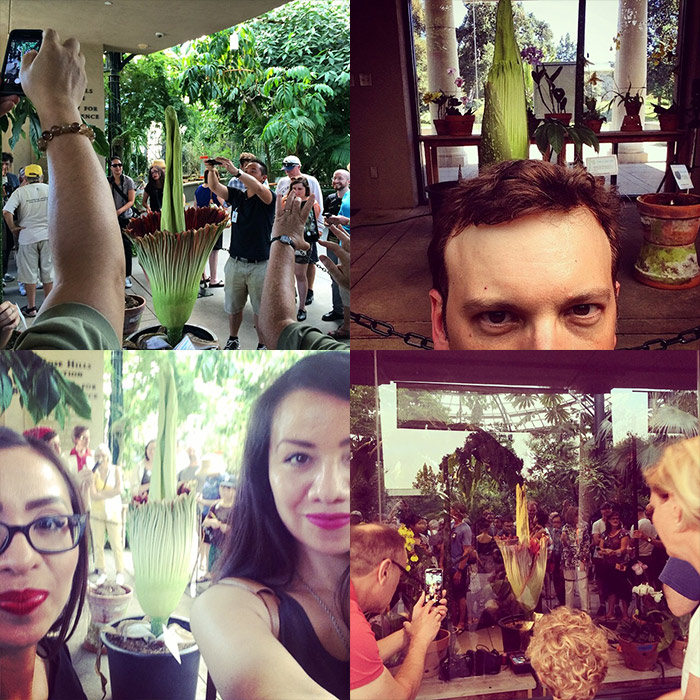 Instagrammers captured a range of views of the plant, the excitement, and themselves. Photos clockwise from top left were snapped and shared with The Huntington by @airontee, @amleon13, @rachelbitan, and @maeva_yunive.
But why? Why this impulse to photo-document? Why the need to "capture"? And what were we even capturing anyway while we were snapping? The "moment" (what does that even mean)? The plant itself? Hardly. Proof to our friends and ourselves that we were there? Some sort of visual souvenir that we hope will help trigger a memory somewhere down the line? Do we even know?
I happened to engage in a few different types of photo-documentation over the course of the big bloom, and had different reasons for each. And there are undoubtedly some reasons that I haven't yet figured out how to articulate.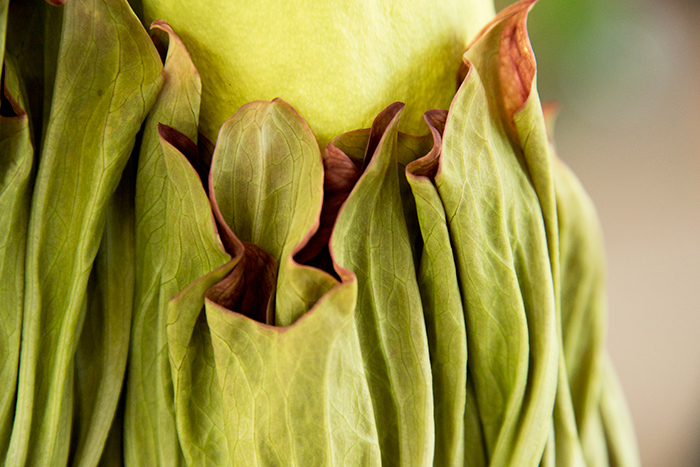 Getting to focus on frames like this through my DSLR made it nearly impossible for me to drag myself away from this fascinating plant.
In setting up a timelapse camera, I wanted to get a better sense of how the plant changed over long periods of time, to be able to find out what changes were happening overnight when none of us were here to keep tabs, and to get some sort of visual record of the human context of the bloom by being able to watch crowds fluctuating. Results are here, here, here, and here in animated gif form, and at the end of this post as a 30-second video. There was one day when it grew a whopping 4 inches in height. You can see the tip of the spadix (the tall middle part) reaching higher and higher in the timelapse. It's insane. (By the way, final height at bloom was 5' 6".)
The detail shots I couldn't stop taking with my trusty DSLR were a different bag of worms. On the one hand, I was making images that The Huntington's communications team could share online and so I was trying to tell some sort of visual story that would give people some sense of the plant as a whole and up close. But there was also something deeply personal and moving in engaging with the camera's views that was quite different from the non-mediated experience. Was it the lens showing me things my eyes couldn't see? Was it the shift from consuming to creating, the sheer act of making something that got me processing it differently? Was it just a way to force myself to slow down and focus? I can't really tell you.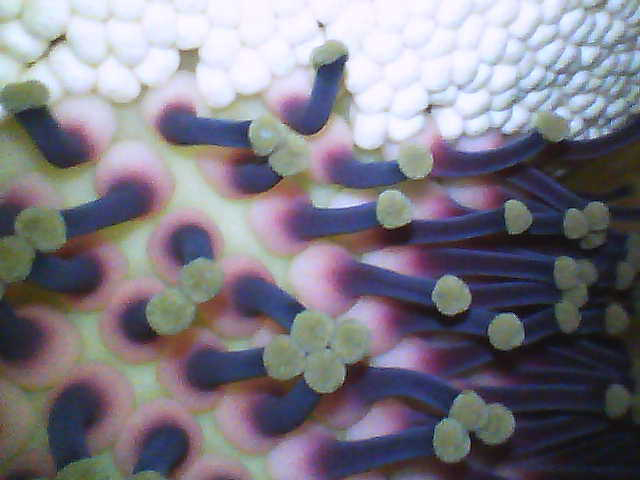 The borsecope allowed views of plant parts we wouldn't have otherwise been able to see.
For the botanists involved in hand-pollinating the plant, other tools and motivations for imaging entered the mix. To get a better view of the teensy female and male flowers hidden away in the base of the plant, they lowered a borescope (tiny camera at the end of a long tube) into the ruffled spathe (the fancy crimson part) and were able to get a sense of when they should pollinate. A thermal imaging camera gave image-based readings that showed which parts of the plant were heating up—and how hot things were getting—as it neared pollination time. And though some of the reasons for this kind of imaging were along more pragmatic lines, the spectacular images being produced by these devices were also contributing to an undeniable image-fueled air of excitement and curiosity.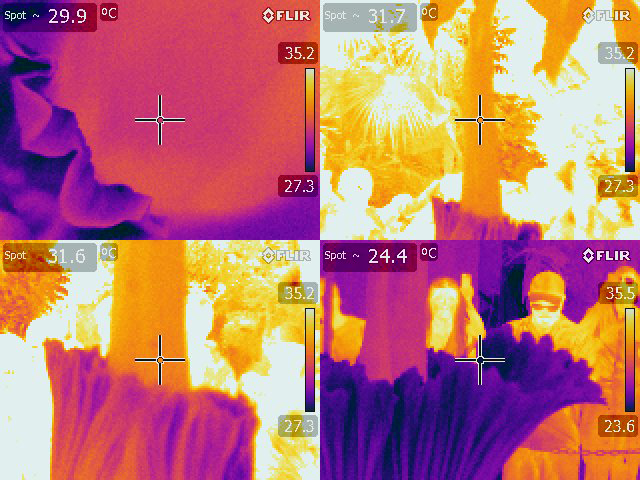 The heat imagery was useful for studying botanical processes and for just being beautiful to look at.
And to be fair, this frenzy of hyperdocumentation also brought with it some issues, the very same ones that many of us have dealt with at events where we can't seem to get a decent view (or good camera angle) because there's so much camera-pointing and selfie-shooting going on around us. Visceral impact upon our own comfort and desires aside, the ever-present camera and the perceived need to photo-document everything from a Corpse Flower to a bowl of soup does raise some great questions about what the presence of these devices (our own or others') means for how we experience…well, anything anymore. And we will continue to ask and wrestle with such questions for a long time, I'm sure.
But regardless of the varied reasons we camera-wielders had for photo-documenting this bloom—helping us see features that our eyes couldn't otherwise apprehend; giving us information we could use to further process or understand what was happening; serving as "proof" that it did happen and that we were there; inscribing ourselves into a larger cultural history; participating in the now-ubiquitous cultural ritual of documentation without questioning why; performing curiosity—the acts of photo-documentation were in full bloom right along with the A. titanum. This flowering of community, of inquisitiveness, of celebration of fleeting life was, for me, as beautiful and overwhelming as that of the plant itself.
Where to see images of the recent bloom:
Flickr: We've posted an assortment of detail shots, borescope pics, and thermal images.
Instagram: Scroll back through to see a mix of views. And for Instagram users, you can find lots of great visitor snaps if you search #AtTheH, #CorpseFlower, and #StinkyPlant.
Tumblr: Find animated gifs, beauty shots, pollination pics, and some awesome visitor selfies.
Kate Lain is the new media developer at The Huntington.