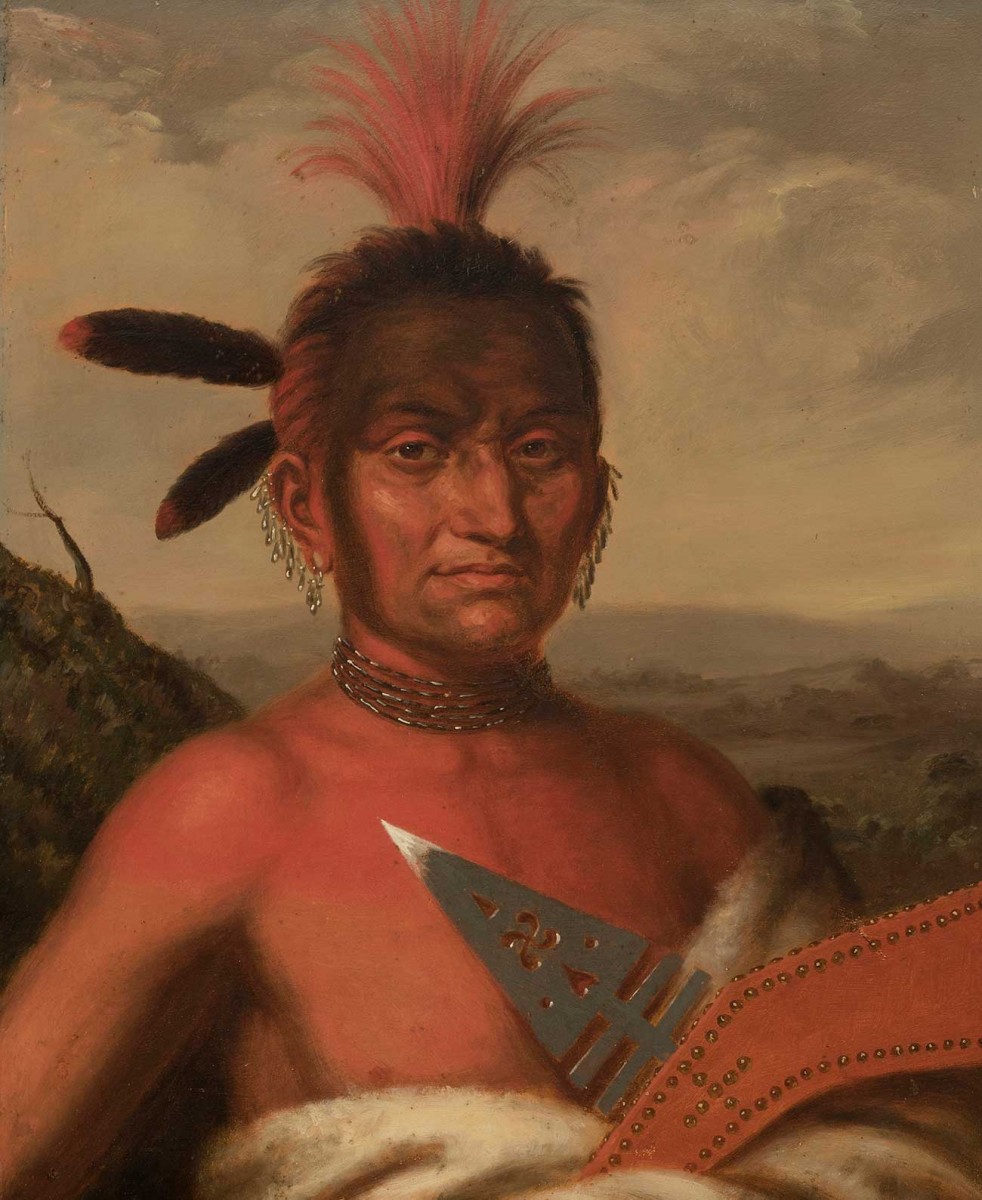 Charles Bird King
, Moanahonga (Great Walker), An Ioway Chief
, ca. 1824, oil on panel, 17 1/2 x 13 3/4 in. Purchased with funds from the Virginia Steele Scott Foundation Acquisition Fund for American Art and the Art Collectors' Council, the Lynn K. Altman Family Trust, the Janis and Rudy Mercado Art Acquisitions Fund, and the Angels Attic Museum Fund for Art Acquisitions, in memory of Jackie McMahan and Eleanor Pitts La Vove. The Huntington Library, Art Museum, and Botanical Gardens.
This year, The Huntington acquired a striking portrait of Moanahonga (Great Walker), an Ioway chief, painted around 1824 by the American artist Charles Bird King. At the time the portrait was painted, the Ioway territory extended from the current state of Iowa along the Mississippi River north to Minnesota, south to Missouri, and west to Nebraska. The portrait emphasizes Moanahonga's markers of leadership and power—his extraordinary gunstock war club with pierced decoration on the iron blade, his tufted deerskin headdress (called a roach), red-tipped feathers, silver and shell jewelry, and his body paint in red and black, all of which refer to his status and skill as a warrior. The portrait is also distinguished by its delicately painted background, an element missing from most of King's compositions. The tip of the war club points suggestively toward a single dead tree on a grassy hill, perhaps signaling his waning power in the face of colonization.
Although this portrait was made by a white artist of an Indigenous sitter, Moanahonga's self-fashioning and stature reveal the savvy intercultural diplomacy that Native American leaders engaged in during this period. The image was among more than 100 paintings commissioned from King by Thomas L. McKenney, later of the U.S. Bureau of Indian Affairs, depicting delegations of Native American leaders who had come to Washington, D.C., during the 1820s–40s to negotiate treaty settlements. The diplomatic visits were part of a decadeslong strategy orchestrated by the U.S. government to displace Native peoples and force them from their homelands under the guise of diplomacy. The visit to Washington in 1824 by Moanahonga and other Ioway leaders resulted in the dispossession of their land in the northern half of Missouri and removal further westward to the Kansas-Nebraska border.
Among the most significant governmental art commissions of the 19th century, King's finished portraits were eventually displayed at the Smithsonian Institution in Washington. When the Smithsonian building tragically burned in 1865, many of the original paintings were destroyed—what survives today are often copies by Henry Inman and other American artists, as well as versions King kept in his personal collection, of which this painting is one.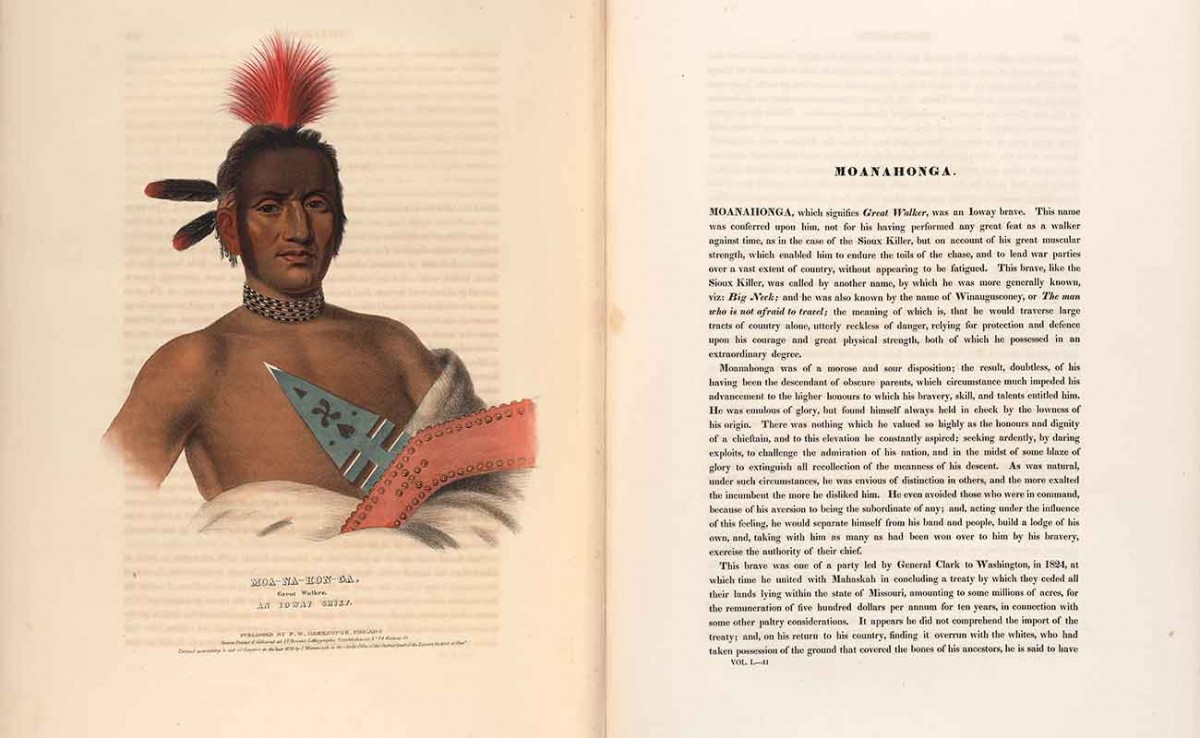 E. C. Biddle after Charles Bird King, MOA-NA-HON-GA, Great Walker. An Ioway Chief. Hand-colored lithograph in Thomas L. McKenney and James Hall,
History of the Indian Tribes of North America, with Biographical Sketches and Anecdotes of the Principal Chiefs
, Vol. 1, Philadelphia: Frederick W. Greenough, 1838. The Huntington Library, Art Museum, and Botanical Gardens.
King's Native American portraits served as the basis for most of the images in the three-volume History of the Indian Tribes of North America by Thomas L. McKenney and James Hall, published between 1836 and 1844; The Huntington owns three editions from the period. Moanahonga appears in the first volume of the publication with a biographical sketch, which notes his great physical strength and courage and that, according to the accompanying narrative, "he would traverse large tracts of country alone, utterly reckless of danger." Like most of the images in this book, in translating the depiction to a hand-colored lithographic print, the portrait was silhouetted against white, further visually dispossessing the chief of his peoples' lands, suggested by the misty, gray landscape setting in King's oil painting.
"Moanahonga, also known as Big Neck or No Fear, was an Ioway warrior patriot," writes Ioway tribal member and scholar Lance Foster. "He died defending his people and his homelands. During the War of 1812, he fought against U.S. expansion west of the Mississippi River. Misled into signing the 1824 treaty that ceded lands in Missouri, he refused to leave. He continued to fight the United States, including a battle in 1829. He remained in his Missouri and Iowa homeland until a final battle in 1831, during which he and an enemy Sioux chief killed each other in hand-to-hand combat. Finding their two great leaders where they had fallen, the Sioux and the Ioway made peace, and from that time on the two nations lived in friendship."
Following King's death in 1862, this painting—along with 20 other portraits of Native Americans in the artist's collection—were bequeathed to the Redwood Library and Athenaeum, one of the earliest, continuously operating libraries in the United States, founded in Newport, Rhode Island, in 1747. The portrait remained at the Redwood until 1970, when it was deaccessioned with King's other paintings of Indigenous sitters and sold at auction to a private collection.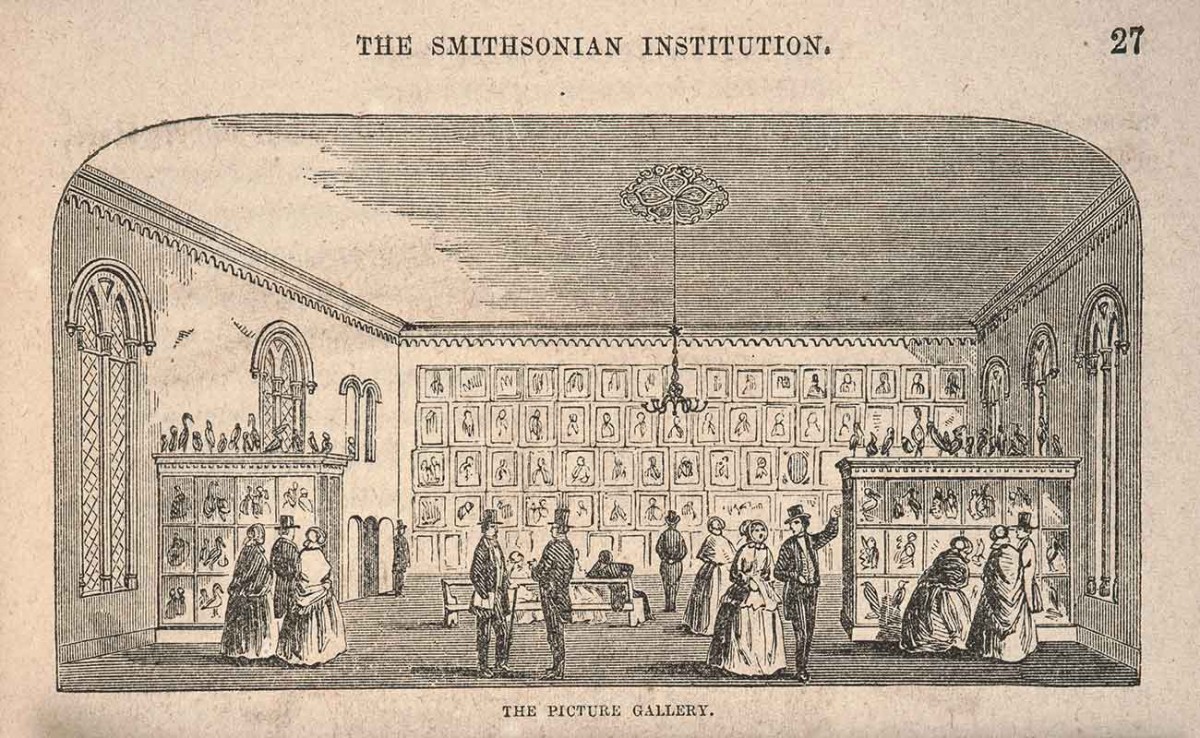 Engraving of the Gallery of Art above the Great Hall in the Smithsonian Institution Building, or "Castle," ca. 1857, roughly a year before King's paintings were installed. This engraving, titled "The Picture Gallery," shows people browsing a room laden with portraits. The engraving was published in the Smithsonian's Guidebook of 1857. The Huntington Library, Art Museum, and Botanical Gardens.
The addition of this portrait of Moanahonga allows The Huntington to present alternative narratives of leadership in American history and to highlight issues of Native American sovereignty. It also provides a new dimension to the Library's holdings in 19th-century history and westward expansion, including numerous sketches of Native American subjects by George Catlin and photographs by Carleton Watkins. The painting also adds depth to The Huntington's significant collection of early American painters, such as Benjamin West, with whom King studied in London; Thomas Sully; and Gilbert Stuart; and builds on Henry E. Huntington's founding collection, which is strong in portraits of U.S. presidents and political leaders, as well as settler-artists' representations of Native Americans from the early 20th century. In our present moment, this portrait by King resonates with The Huntington's new acquisitions of works by living Indigenous artists, including four photographs that also speak to Indigenous power and survivance by contemporary artists Cara Romero (Chemehuevi) and Mercedes Dorame (Tongva).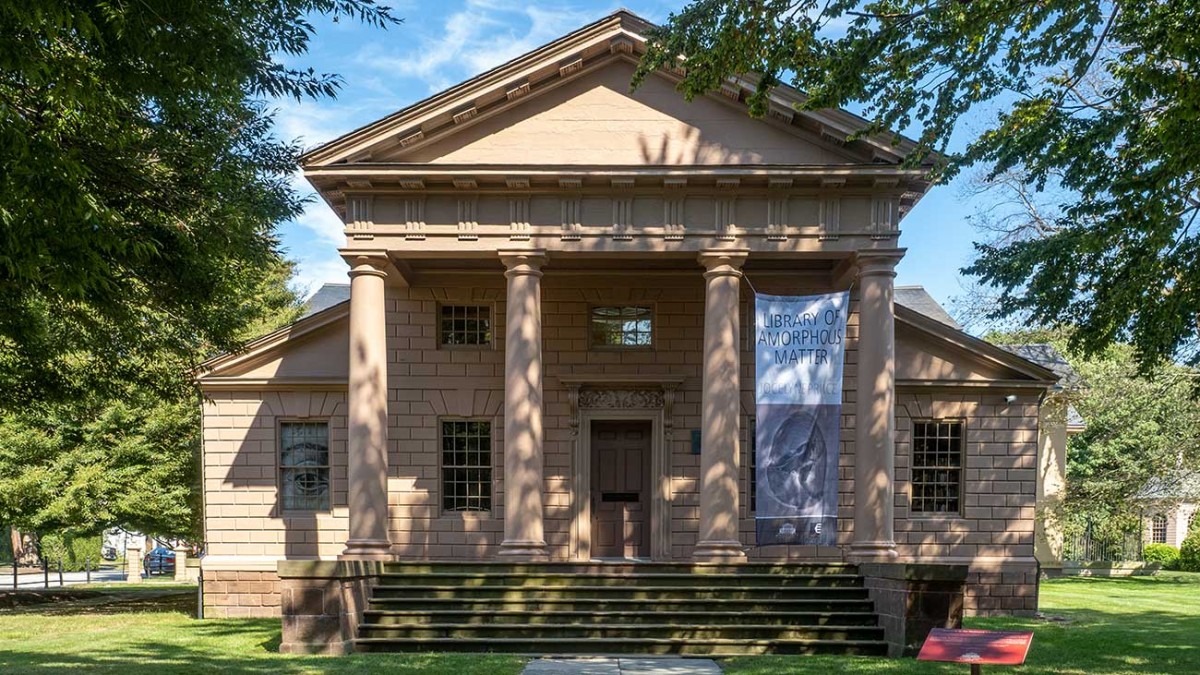 The Redwood Library and Athenaeum, one of the earliest, continuously operating libraries in the United States, founded in Newport, Rhode Island, in 1747. Charles Bird King's
Moanahonga (Great Walker), An Ioway Chief
was bequeathed to the Redwood after King's death in 1862 and remained there until 1970. Photo by Ajay Suresh, licensed under CC BY 2.0.
These photographs, King's portrait, and copies of the McKenney and Hall volumes will appear in a special installation of the American Art galleries this fall, titled "Borderlands," opening Nov. 20.
You can find information on thousands of paintings, drawings, prints, sculpture, and other works of art online in The Huntington's art collections catalog.
Dennis Carr is the Virginia Steele Scott Chief Curator of American Art at The Huntington.