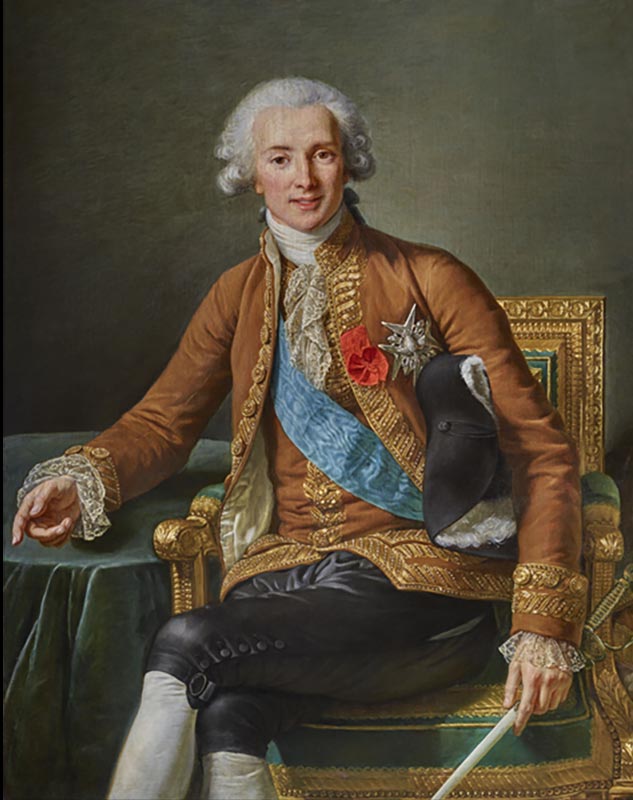 In the years before the French Revolution, Élisabeth Louise Vigée Le Brun (1755–1842) fashioned a remarkable career in portraiture, a craft dominated by men. She did so by applying her considerable talent to the depiction of beauty and status in pre-revolutionary France, cultivating connections at the court of King Louis XVI, and occasionally taking calculated artistic risks. In 1783, for example, she painted Marie Antoinette, the queen of France, in a simple cotton dress, scandalizing critics accustomed to high royal fashion. Four years later, "persons of taste" throughout Paris howled in protest when Vigée Le Brun's smiling self-portrait broke with convention by showing her teeth.
Vigée Le Brun's 1784 portrait of Joseph Hyacinthe François-de-Paule de Rigaud, comte de Vaudreuil (hereafter "the Count")—which was acquired by The Huntington with support from The Ahmanson Foundation in 2022—took no such chances. Vigée Le Brun's most important patron aside from the queen, the Count sat for the painting upon receiving membership in the Order of the Holy Spirit, among the most venerable and exclusive institutions of the French monarchy, from Louis XVI himself. Vigée Le Brun's brushstrokes—creating a range of elements from a powdered wig to a sumptuous coat and a ceremonial sword—reveal a man with no shortage of money, cachet, and self-assurance born of male authority, aristocratic rank, and powerful friends at Versailles.
What Vigée Le Brun's portrait does not show, however, are the distant, blood-soaked sources of her subject's wealth and prestige. Originally a minor noble family from southwestern France, the Vaudreuil clan had become the administrative dynasty of France's Atlantic empire. The Count's grandfather, Philippe de Rigaud, marquis de Vaudreuil, served as governor-general of New France for over two decades in the early 18th century. Philippe's oldest son (the Count's uncle), Pierre de Rigaud, marquis de Vaudreuil-Cavagnial, was governor of Louisiana in the 1740s and governor-general of New France in the 1750s. The Count's father, Joseph-Hyacinthe de Rigaud de Vaudreuil, capped his 30-year career in the Caribbean with a midcentury stint as governor-general in the French colony of Saint-Domingue, now the independent nation of Haiti.
These men and dozens of their relatives governed much of the 18th-century French Empire, enriching themselves in the process. Although its members dabbled, sometimes illicitly, in the North American trade in furs and liquor, the family's real money came from ownership of land and people. The Count's father and uncle came of age in Canada, in a household served by more than 20 enslaved Native Americans. While governor of Louisiana, the marquis de Vaudreuil-Cavagnial bought a plantation on Lake Pontchartrain and at least 30 enslaved Africans. A decade later, he sold it, and them, for 10 times the original purchase price. For the Count's part, his father bequeathed to him one of the largest plantations in Saint-Domingue. Situated above the bustling port city of Cap-Français, the plantation had dozens of enslaved laborers who churned out the sugar that made the Count's fortune. The Caribbean origins of his wealth were made clear by the painter François-Hubert Drouais, whose 1758 portrait now sits in London's National Gallery. In it, the teenage Count points directly at a map of Saint-Domingue.
As governor of Saint-Domingue, the Count's father tightened the colony's grip on hundreds of thousands of bound laborers by limiting the right of slaveholders to emancipate enslaved people, expanding the infrastructure that allowed plantation agriculture to boom, and reducing the rights of free people of color. These oppressions were experienced soul by soul, as enslaved individuals worked to stay alive and build what life they could under the circumstances. Some of their stories survive in the pages of Les affiches américaines, a weekly newspaper printed in Saint-Domingue between 1766 and 1791.
One of these individuals was Tam, an enslaved carpenter and mason who escaped Vaudreuil's plantation, liberating himself and his tools in the hope of plying these trades as a free man. The letters MDV were burned into his chest to mark him as the property of Monsieur de Vaudreuil, but he defied this claim. Another was Zinga, an enslaved teenager forced to work as a perruquier, or wigmaker. When he escaped, a notice described him as having a handsome face but scarred buttocks marked by "many lashes." Unlike Tam, Zinga could not support himself as a free man using the skills he had acquired in his niche trade.
When authorities captured Paul, an enslaved young man owned by the Count's father, they found him with a young woman, recently arrived from Africa, who stood, bewildered, "wearing a man's shirt." When they asked for her name, her nation, and the name of her "master," she stared back silently, probably because she had not yet learned to speak French.
Like the Vaudreuil patriarchs, enslaved parents also wanted to secure a better life for their children. Such was the hope of Pierrot and Marie-Louise, who managed to secure freedom papers for themselves and their two teenage daughters, Marie-Catherine and Françoise. Their joy soon turned to terror when, in 1767, colonial officials declared their papers null and void, ruling that the family would remain enslaved for life. As justification, authorities cited two acts issued by Gov. Vaudreuil more than a decade earlier, which limited the right of slaveholders to grant freedom to the enslaved and restricted the rights of free people of color. The night after their freedom was revoked, the family fled, risking "extraordinary punishments" by carrying their now-voided certificates to prove their liberty. The long shadow cast by the Count's father put this family, and countless others, in mortal danger.
When the Count sat for Vigée Le Brun's portrait in 1784, French plantation slavery had reached a scale unprecedented in human history. That year alone, more than 27,000 people were captured in western Africa, forced onto ships, and taken to Saint-Domingue. By 1789, when the Count represented his fellow Saint-Domingue planters in the fateful meeting of the Estates General, which precipitated the French Revolution, a half-million enslaved people toiled on the island's plantations. They would soon rise in revolt, becoming the first nation established by formerly enslaved citizens. Only days before the uprising began, 28 enslaved people fled the Vaudreuil estate to join the leading edge of the Haitian Revolution. Vaudreuil's underlings captured and tortured three of them until they revealed some of the rebels' plans. Vigée Le Brun's masterpiece is perhaps more important for what it conceals—and for the racial reckoning it demands—than for what it reveals.
Christopher Hodson is associate professor of history at Brigham Young University.
Brett Rushforth is associate professor of history at the University of Oregon and a 2022–23 National Endowment for the Humanities Fellow at The Huntington.
They are the authors of Discovering Empire: France and the Atlantic World from the Crusades to the Age of Revolution, forthcoming from Oxford University Press.