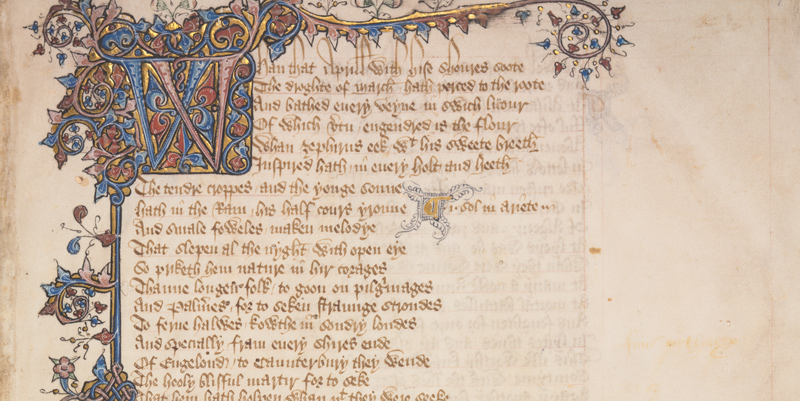 The opening page of the Ellesmere manuscript of Geoffrey Chaucer's "Canterbury Tales," 1400–1405, written in a scribe's careful penmanship. The Huntington Library, Art Collections, and Botanical Gardens.
"Between my finger and my thumb
The squat pen rests.
I'll dig with it."
—Seamus Heaney, "Digging," 1966
Irish poet Seamus Heaney wrote and spoke often about the craft of writing—the physical act of putting pen to paper. In his Nobel Lecture in 1995, Heaney paid homage to the great writers who preceded him. "I loved Robert Frost for his farmer's accuracy and his wily down-to-earthness," he said, "and Chaucer too for much the same reasons." This year's newly announced Nobel Prize winner in Literature, Alice Munro, will likely continue this tradition of gratitude when she accepts her award in Stockholm in December.
Heaney, who died in August at the age of 74, paid a visit to The Huntington one February day in 1999, and later that evening he delivered the annual James Michelin Distinguished Lecture in Caltech's Beckman Auditorium. His talk was drawn from his latest book at the time, Opened Ground: Selected Poems, 1966–1996, which begins with the iconic poem "Digging."
But prior to that talk, Heaney experienced the sheer pleasure of what Roy Ritchie describes as the E-Ticket excursion at The Huntington. Ritchie, the former W. M. Keck Foundation Director of Research, would occasionally bring dignitaries to "The Vault," the inner sanctum of The Huntington's stacks, home to Shakespeare's First Folio, letters by George Washington and Abraham Lincoln, and hand-painted illuminated manuscripts.
Literary Manuscripts Curator Sue Hodson joined the tour and at some point showed Heaney a set of poetry manuscripts in Robert Burns' hand. "Heaney stood in the inner vault reading out loud in that Irish accent, with that flying hair and his wonderful face," says Hodson, who has been busy lately helping to plan the reinstallation of The Huntington's treasures in the new permanent exhibition, "Remarkable Works, Remarkable Times: Highlights from the Huntington Library,"slated to open Nov. 9.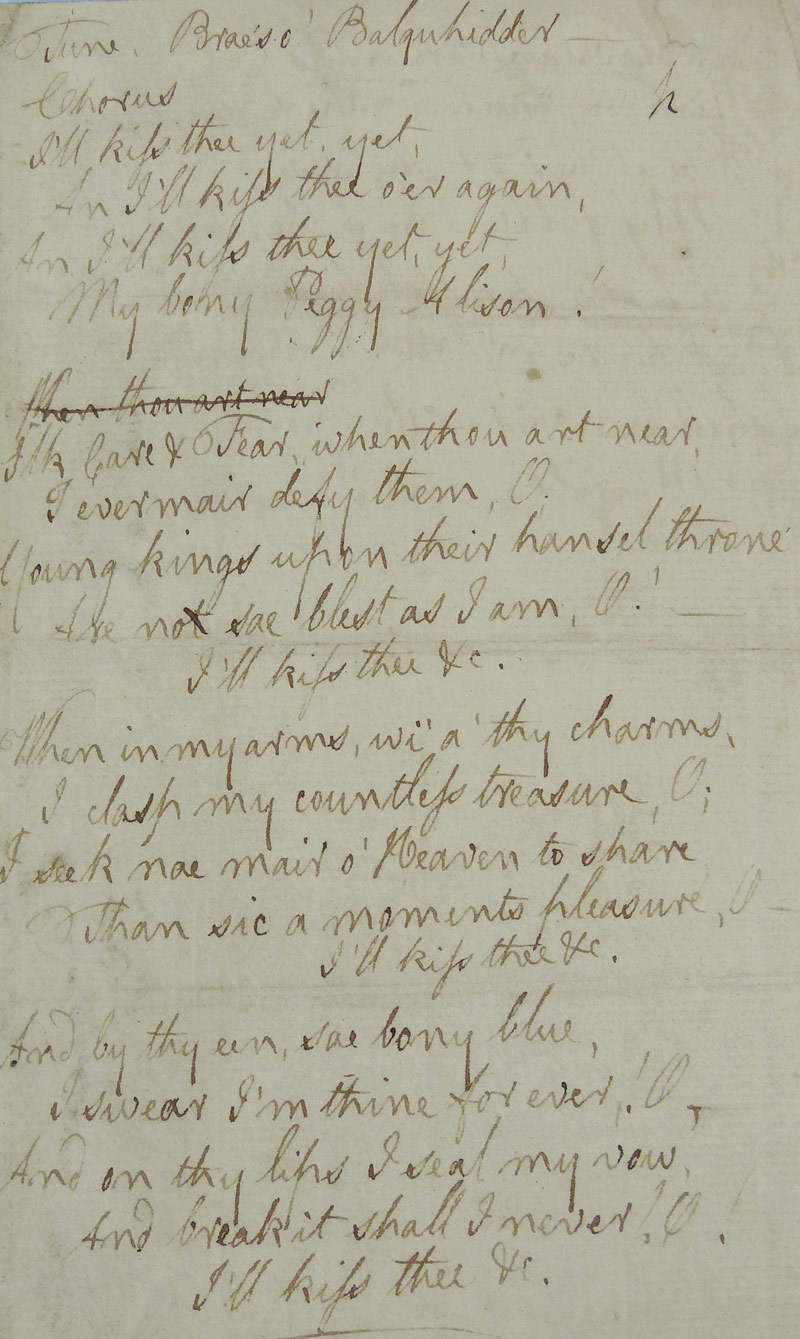 "Bonie Peggy Alison," by Robert Burns (1759–1796). The Huntington Library, Art Collections, and Botanical Gardens.
"Burns is not easy to read," adds Ritchie, who was born in Scotland and can vouch for the challenges of deciphering Burns' 18th-century Scottish dialect.
"But Heaney had no trouble with the handwriting," says Hodson. "He read it with the right inflection, with expression, and with feeling."
"Sue and I had this phenomenal private reading of Burns' poetry by Seamus Heaney, Nobel Prize–winning Celtic poet," says Ritchie.
Heaney's mastery of another writer's verse no doubt benefitted from his parallel career as a translator of poetry. Two years later, in 2001, he would publish his translation of Beowulf, the thousand-year-old epic of Old English. During his Michelin Lecture that night at Caltech, Heaney read his translation of a medieval Irish poem, Colum Cille Cecinit: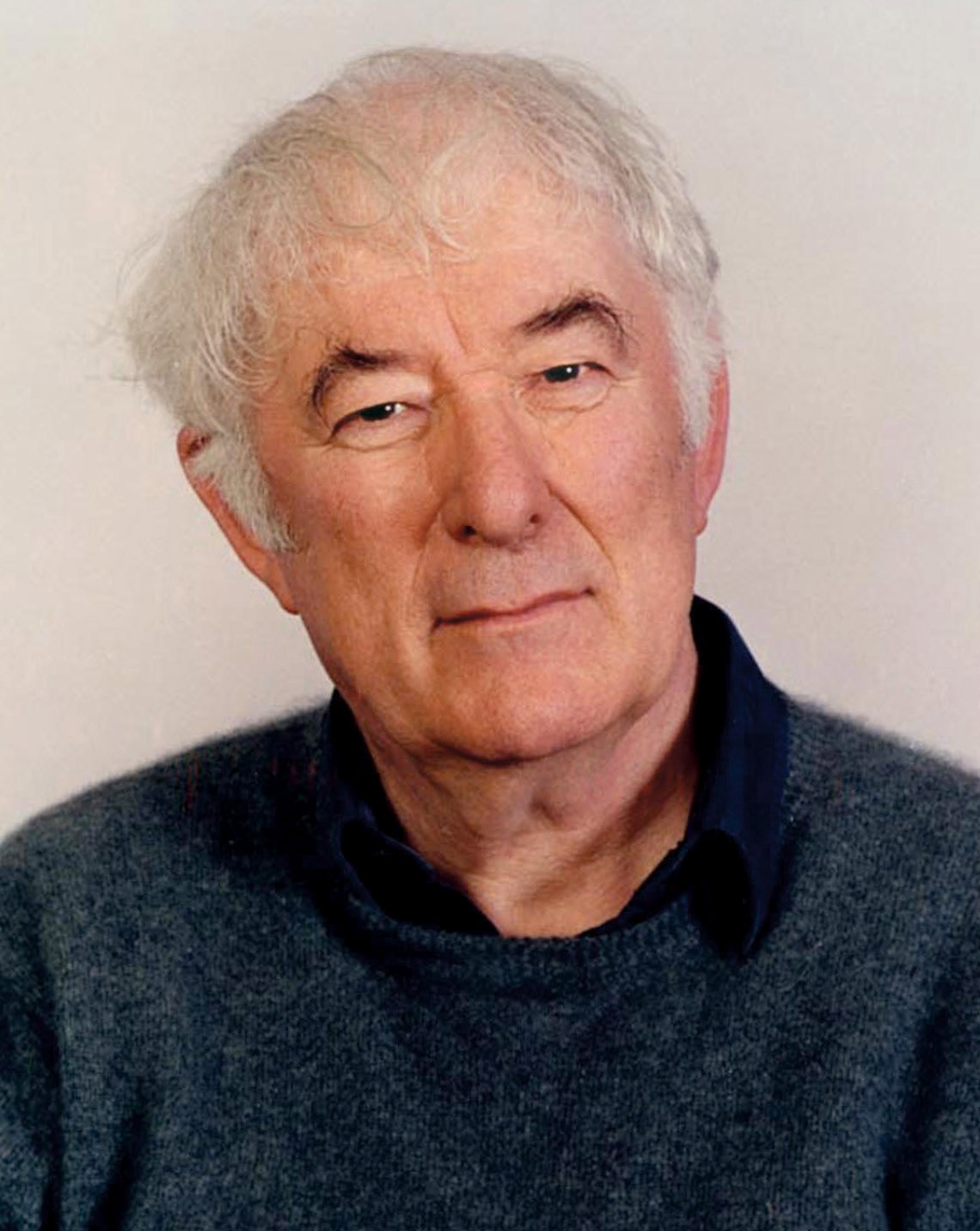 Seamus Heaney. Photo by Keith Barnes.
"My hand is cramped from penwork.
My quill has a tapered point.
Its birdmouth issues a blue-dark
Beetle-sparkle of ink.
Wisdom keeps welling in streams
From my fine drawn, sallow hand:
Riverrun on the vellum
Of ink from green-skinned holly.
My small runny pen keeps going
Through books, through thick and thin
To enrich the scholars' holdings:
Penwork that cramps my hand."
Written by an anonymous 12th-century scribe—about the imagined reflections of a 6th-century scribe named St. Columba—the lines bear an uncanny resemblance to Heaney's own verse in "Digging" and seem to declare that Heaney's private audience in The Huntington's vault that day extended to the many kindred spirits who had painstakingly transcribed the hundreds of manuscripts housed safely on the shelves.
Thank you to Loma Karklins and Shelley Erwin of the Caltech Archives for providing access to video of Seamus Heaney's Michelin Lecture, "Opened Ground: A Reading with Commentary," held in the Beckman Auditorium on Feb. 25, 1999. You can also read the poem "Bonie Peggy Alison" at this website. For more on the scribe behind the Ellesmere Chaucer, read "The Name of the Scribe," by Mary Robertson, in the spring/summer 2006 issue of Huntington Frontiers.
Matt Stevens is editor of Verso and Huntington Frontiers magazine.