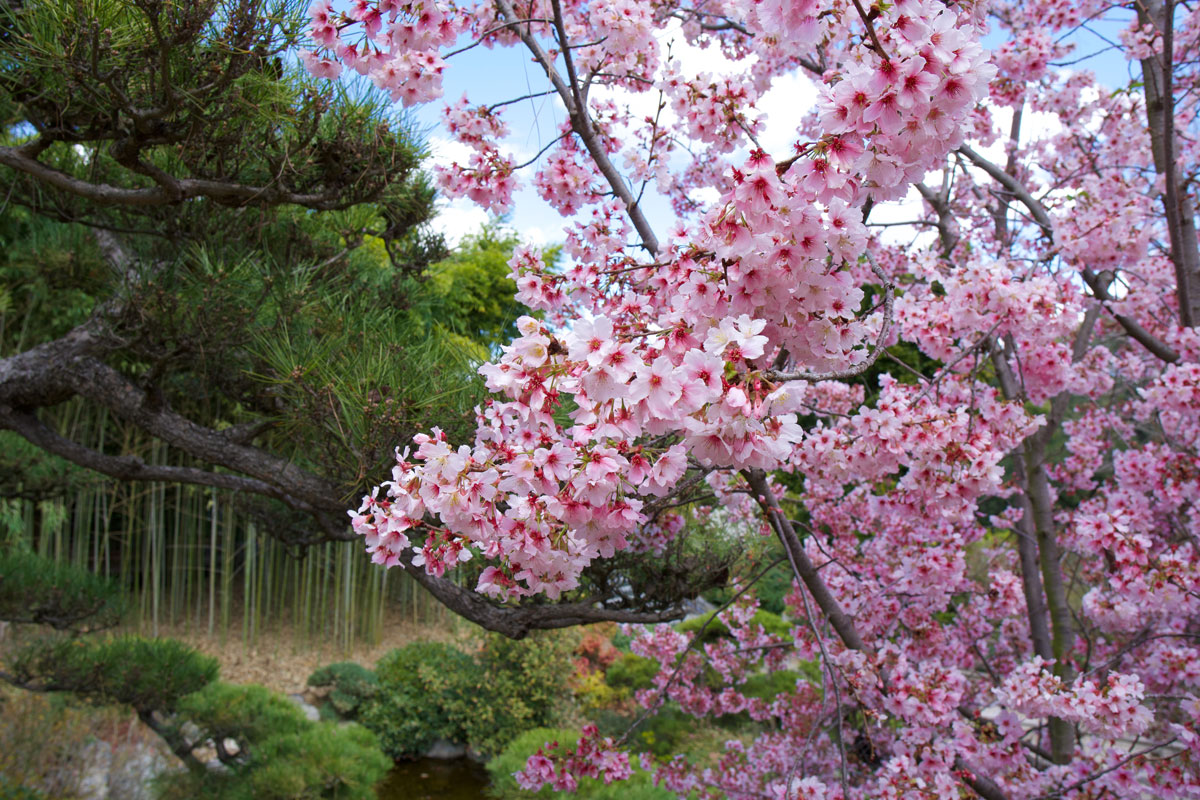 The ornamental cherry is a signature plant in the Japanese Garden. Among the many cultivated varieties (cultivars) that have been developed, this one,
Prunus serrulata '
Pink Cloud', originated at The Huntington. Photo by Arianna Muñoz.
At this time of year, flowering fruit trees are in the spotlight for their showy displays of pink blossoms, but there is a lot of competition throughout The Huntington's gardens. Although many trees share the pink color palette, if you look closely, you'll see that each one is distinctive.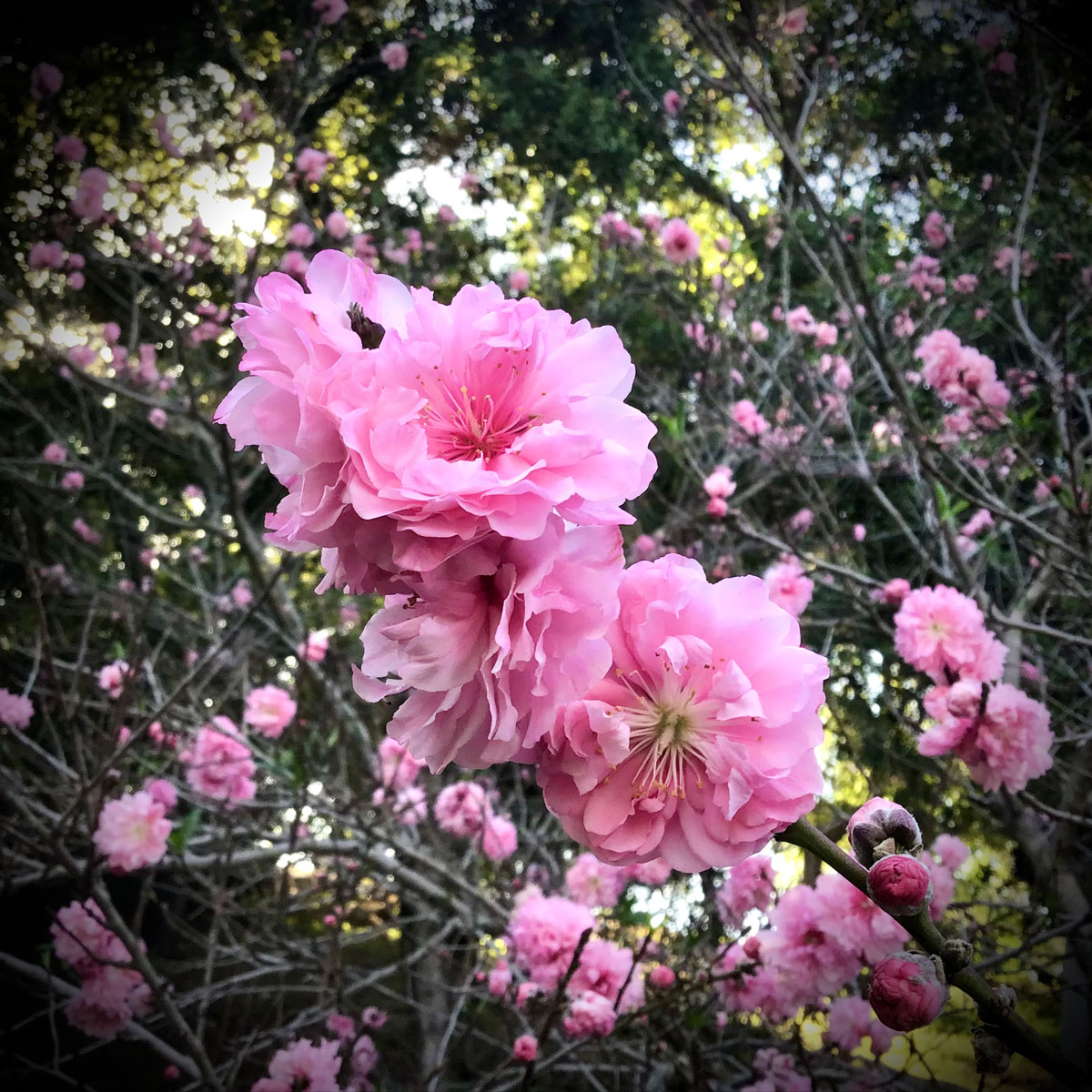 Ornamental peach
(Prunus persica '
Helen Borchers'
).
Photo by Sandy Masuo.
Flowering peach (Prunus persica) is a cousin of the popular ornamental cherry. This and other stone fruits are part of the Rosaceae family, and their flowers do indeed resemble tiny roses. Over the centuries, people have selected and cultivated varieties of cherry, plum, apricot, peach, and almond specifically for their flowers rather than their fruit. Plants in this genus are found in northern temperate regions around the world. This cultivar, 'Helen Borchers', is now blooming in the Chinese Garden.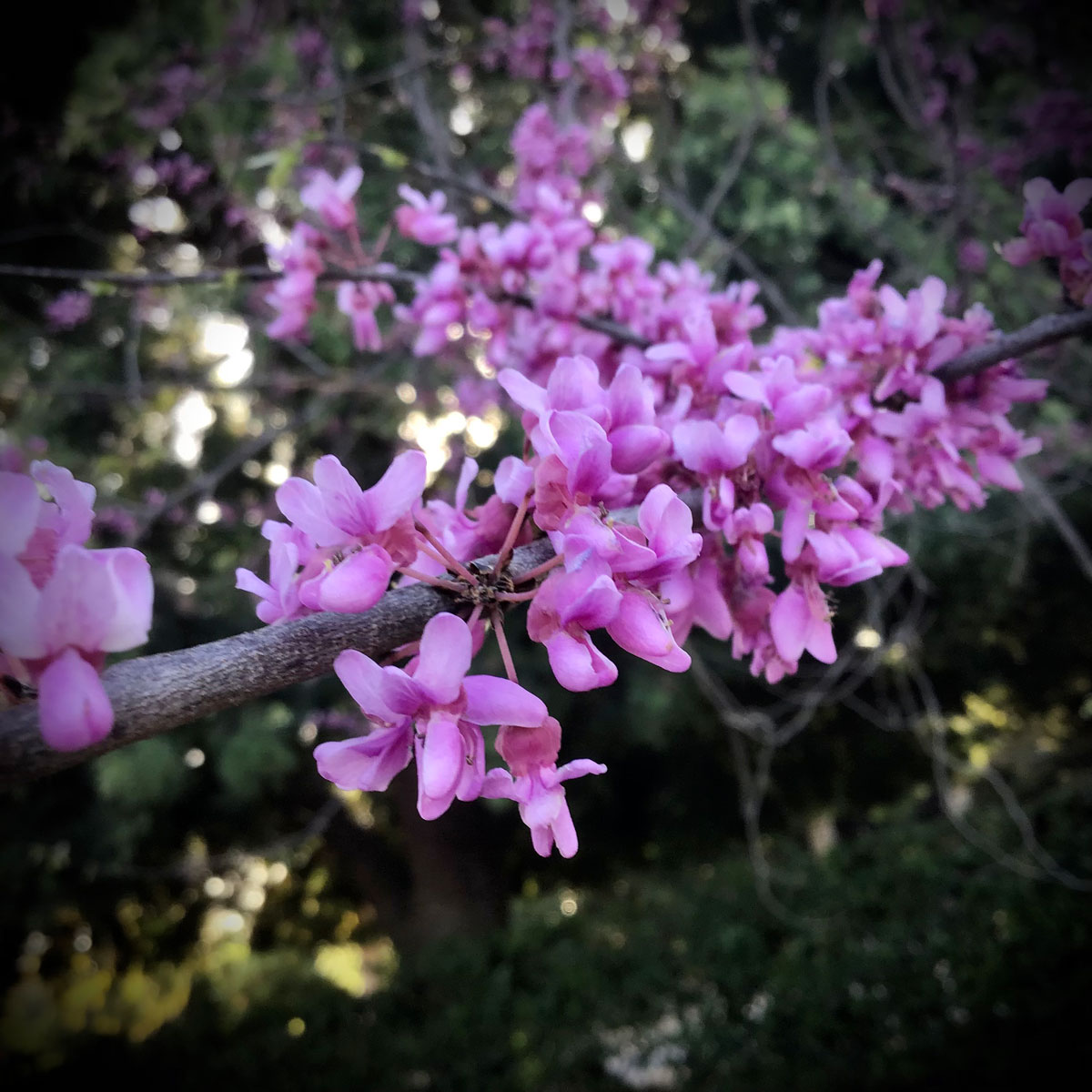 Eastern redbud
(Cercis canadensis)
. Photo by Sandy Masuo.
Cercis is a genus of about 10 species, including our native western redbud (C. occidentalis). Like the flowering stone fruit, these small trees produce a profusion of pink blooms just before the leaves emerge. Redbuds belong to the pea family (Fabaceae), and if you look closely at their flowers, you can see the resemblance to sweet peas. As an added bonus, when they have finished flowering, redbud trees erupt in attractive heart-shaped leaves. They also produce long seed pods, like their fabaceous cousins. This eastern redbud (C. canadensis) is in bloom along the Allen Avenue exit in the parking lot.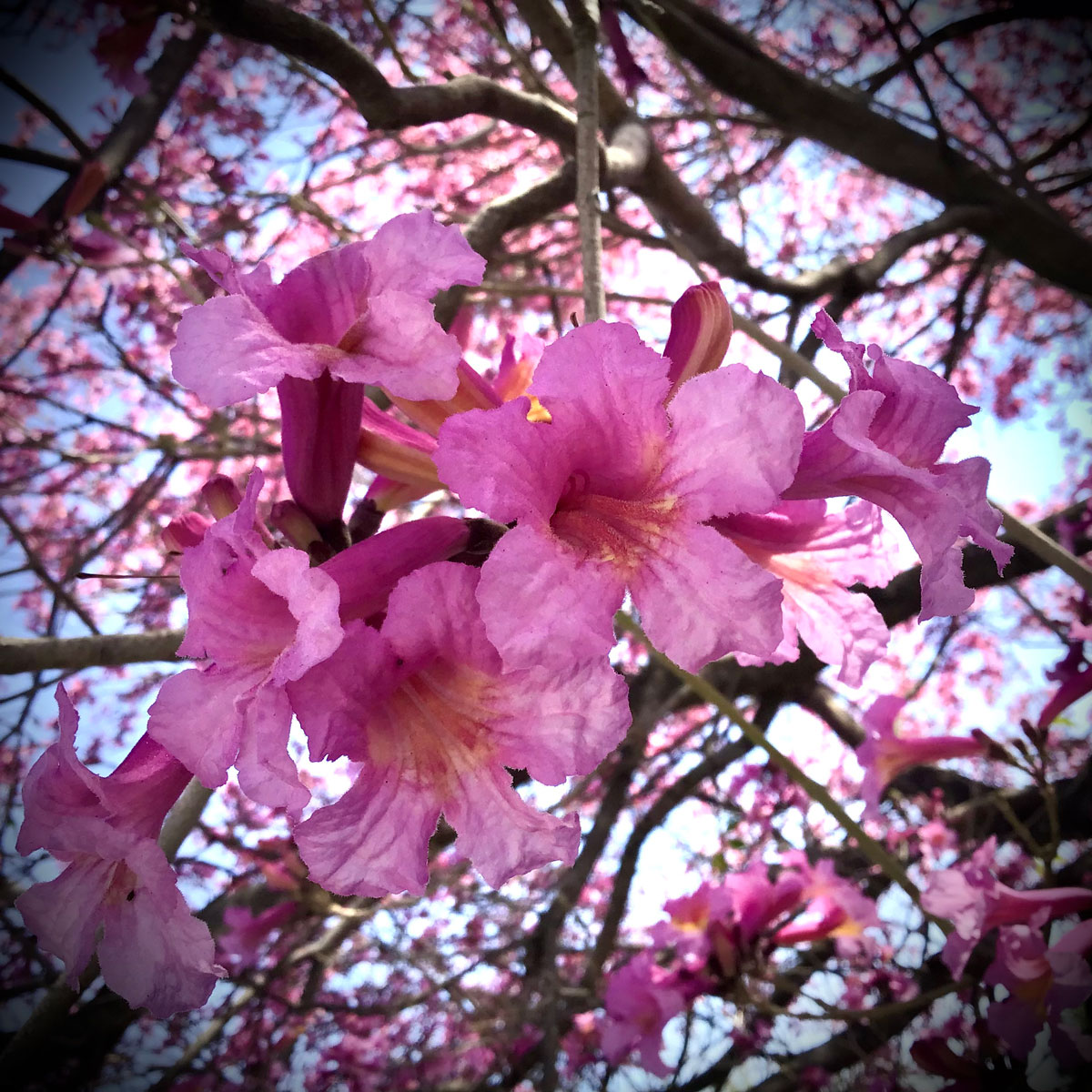 Pink trumpet tree
(Tabebuia heptaphylla)
. Photo by Sandy Masuo.
Trumpet trees (Tabebuia) are native to the West Indies and Central and South America. In spring they produce masses of trumpet-shaped flowers in pink or golden yellow. These members of the bignonia family are growing in popularity as street trees. In addition to the many spectacular specimens on the Huntington grounds—including this T. heptaphylla in the parking lot—you may spot them along several streets in Pasadena and other municipalities.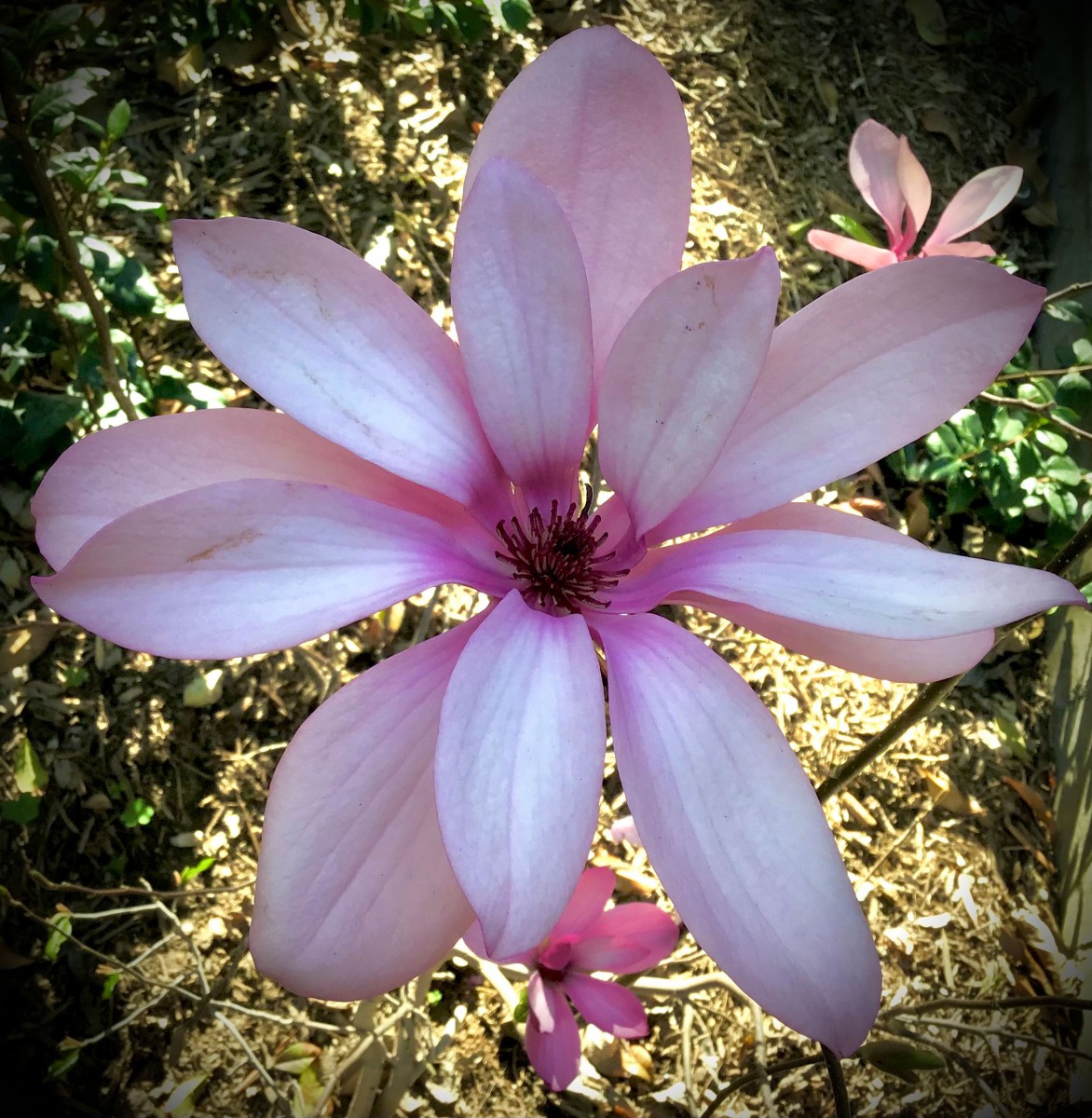 Star magnolia
(Magnolia stellata)
. Photo by Sandy Masuo.
Magnolia is an ancient genus of about 200 species, and it is the focus of some of The Huntington's most important botanical conservation work. It is also a vibrant element throughout the gardens. Star magnolias (M. stellata) produce fragrant flowers that range from white to shades of pink. Native to Japan, this is one of the smallest species in the genus.
What is your favorite vision in pink?
Sandy Masuo is the senior writer in the Office of Communications and Marketing.