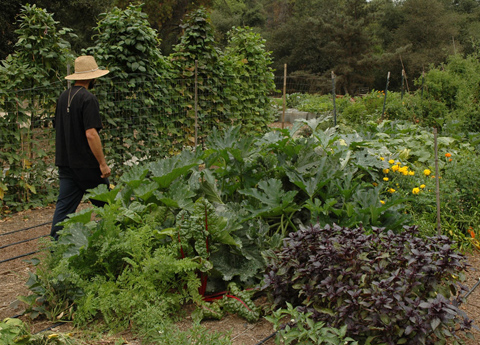 In the spring/summer 2009 issue of Huntington Frontiers magazine, I wrote about a project that was underway to return The Huntington to its agricultural roots. Next week marks the official unveiling of the Huntington Ranch. Part outdoor classroom, part demonstration garden, and part research lab, the Ranch is located on 15 undeveloped acres northwest of the Botanical Center. It now features a sprawling outdoor station, complete with a vegetable garden, that will host a broad spectrum of educational programs focusing on innovative ideas in sustainable urban agriculture. The site also encompasses the surviving orange groves from Mr. Huntington's day and a new heritage grove of avocados (planted by the California Avocado Society) representing the 32 most significant varieties in the state's agricultural history.
Next Friday and Saturday, Nov. 12 and 13, Ranch project coordinator Scott Kleinrock will welcome aspiring urban gardeners to a 2-day symposium. You can learn all about it on the new Huntington Ranch Blog.
Matt Stevens is editor of Huntington Frontiers magazine.