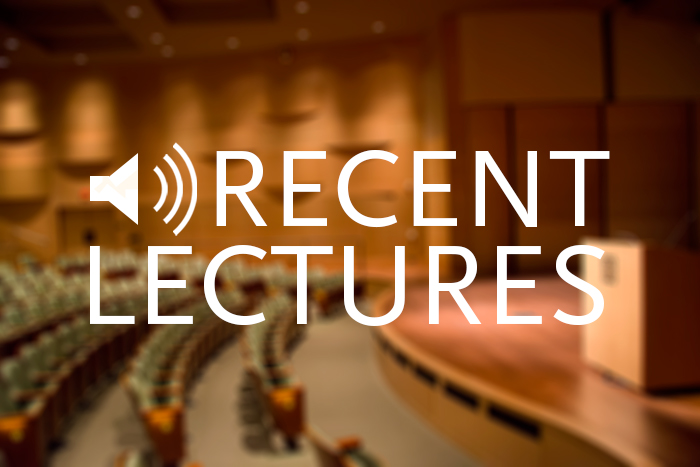 Home to gorgeous gardens, spectacular art, and stunning rare books and manuscripts, The Huntington also offers an impressive slate of lectures and conferences on topics and themes related to its collections. Below are audio recordings of 12 recent lectures.
Belonging on an Island: Birds, Extinction, and Evolution in Hawai'i (August 16, 2018)
Daniel Lewis, the Dibner Senior Curator of the History of Science at The Huntington, discusses his new book about the birds of Hawaii. Belonging on an Island: Birds, Extinction, and Evolution in Hawai'i takes readers on a thousand-year journey as it explores the state's magnificent birds, touching on topics ranging from the concept of belonging to the work of pioneering bird conservationists.
Pasadena Busch Gardens: Adolphus Busch's Early Amusement Park (July 29, 2018)
When German brewing magnate Adolphus Busch purchased a mansion on Pasadena's "Millionaires' Row" in 1904, he quickly bought up some 60 additional acres stretching down to the bottom of Arroyo Seco and developed it into a lushly landscaped pearl. Busch Gardens, which opened to the public in 1906, featured terraced hillsides, waterfalls and ponds, and "fairy scenes" drawn from tales of the Brothers Grimm. Local historian Ann Scheid gives a fascinating lecture about this once-famous theme park, remnants of which can still be glimpsed around the neighborhood where it once stood.
Remembering the Reformation (May 23, 2018)
Alexandra Walsham, professor of modern history at the University of Cambridge, explores how the English Reformation was remembered, forgotten, contested, and reinvented between 1530 and 1700 and discusses the enduring legacies that these processes have left in more recent cultural memory.
Silk, Slaves and Stupas (May 20, 2018)
Author Susan Whitfield (Silk, Slaves and Stupas: Material Culture of the Silk Road) is joined by renowned theater director Peter Sellars for a fascinating conversation about the diversity of peoples and cultures that traveled the ancient trade routes of Afro-Eurasia.
The Search for Perfection in an Imperfect World (May 17, 2018)
Best-selling author Simon Winchester (The Professor and the Madman; The Men Who United the States) explores the origins of "precision" and the invisible role it plays, for good or for ill, in the way we live our lives. The lecture is drawn from his new book, The Perfectionists: How Precision Engineers Created the Modern World.
The Frankenstein Challenge (May 10, 2018)
David Baltimore, President Emeritus and Robert Andrews Millikan Professor of Biology at the California Institute of Technology, discusses the challenge of globally controlling technology when potentially 200 different jurisdictions might be involved.
Reconstructing the Mindscape of a 17th-Century Korean Literati Garden: Garden of Seyeonjeong (May 8, 2018)
Art historian Katharina I-Bon Suh of the Seoul National University discusses how the Garden of Seyeonjeong's design and layout served practical purposes but also alluded to philosophical metaphors and fantastical worlds in this East Asian Garden Lecture.
California Plants (May 6, 2018)
Author Matt Ritter, professor of botany at Cal Poly, San Luis Obispo, takes readers on a visual "tour" through the state's most iconic flora in a lecture based on his new book, California Plants.
Designing with Palms (May 5, 2018)
Jason Dewees discusses how the sensory appeal of palms, along with their beautiful diversity, earn them a place in well-designed gardens.
Every Picture Tells a Story (April 25, 2018)
Richard White uses images shot by landscape photographer Jesse White to explore California's story.
Abraham Lincoln's Diary (April 19, 2018)
Ronald White examines Lincoln's overlooked notes to himself, revealing new and surprising aspects of America's greatest president.
Representations of the Garden of Solitary Delight (April 17, 2018)
Carol Brash examines four different representations of the Garden of Solitary Delight (Dule yuan), built in the 11th century by scholar-official Sima Guang.
Find more audio recordings of Huntington lectures and conferences on SoundCloud and iTunes.