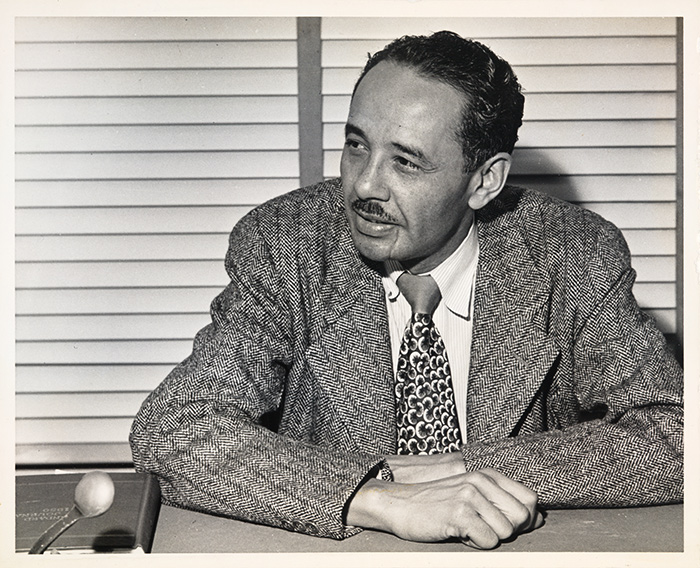 Loren Miller, seated at desk, ca. 1950. Unknown photographer. Loren Miller Collection. The Huntington Library, Art Collections, and Botanical Gardens.
Loren Miller (1903-1967) was a Los Angeles-based attorney and civil rights activist who drafted most of the briefs in the landmark U.S. Supreme Court case Brown vs. Board of Education (1954), which ended legal segregation in public schools. He also specialized in housing discrimination cases, owned the California Eagle—one of the longest-running African-American newspapers in the West—and counted among his friends the poet Langston Hughes.
"I was scarcely able to contain my joy," says Amina Hassan, as she recalls being the first scholar to delve into the Loren Miller collection after it arrived at The Huntington in 2006.
Hassan has a personal connection to Miller, the subject of her recently published book, Loren Miller: Civil Rights Attorney and Journalist. (You can listen to her lecture about her book on iTunes U or here.) She first learned about Miller as a child, when her father, Alfred Hassan, became Miller's legal client after being denied service at a restaurant that he had visited with two white colleagues.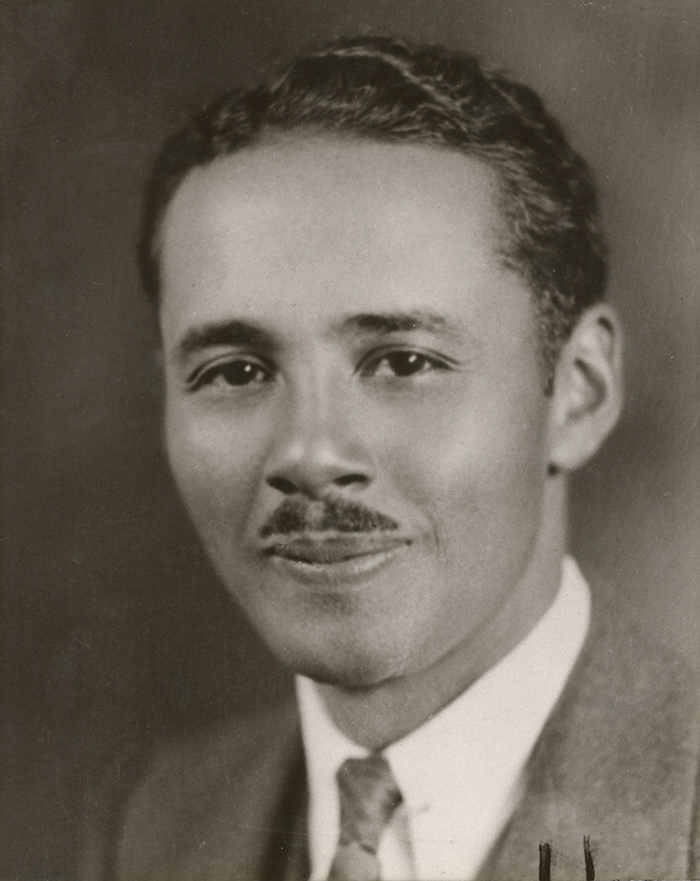 Loren Miller, ca. 1933. Born in Pender, Nebraska, in 1903 to John Miller, a former slave, and Nora Herbaugh, a white Midwesterner of Dutch ancestry, Loren Miller attended Kansas University and received his law degree in 1928 from Washburn Law School in Topeka, Kansas. Langston Hughes Collection. The Huntington Library, Art Collections, and Botanical Gardens.
As a journalist, lawyer, and judge, Miller would dedicate himself to fighting against discrimination of all types throughout his long career. "Either we shall have to make democracy work for every American," he declared, "or in the last analysis we shall not be able to preserve it for any American."
As part of the American Civil Liberties Union, Miller fought for racial integration in the U.S. military and the Los Angeles Fire Department, as well as against the internment of Japanese and Japanese-American citizens during World War II. In 1948, Miller and Thurgood Marshall, who would later become the first African-American Supreme Court justice, successfully argued Shelley vs. Kraemer, the U.S. Supreme Court case that established the unconstitutionality of racially restrictive housing covenants.
Hassan's research in the Miller collection was made possible as a result of a rare double gift to The Huntington. Edward and Angela Miller—Loren Miller's son and daughter-in-law—initially contacted the Library with the offer of several manuscripts by Langston Hughes. His other son, Loren Miller, Jr., later donated the more than 10,000 items that make up the Loren Miller archive.
"We are very pleased that these two magnificent collections have come to the Library," says Sara S. "Sue" Hodson, curator of literary manuscripts at The Huntington, who describes being "bowled over" when she first saw the material. "Both collections fit beautifully with the Library's holdings for the study of Los Angeles history, and both significantly strengthen The Huntington's collections for African-American history and literature."
Loren Miller, holding a copy of the
California Eagle
, 1951. In 1929, Miller came to Los Angeles, where he worked as editor of the
California Eagle
, the oldest African-American newspaper in the city. He purchased the newspaper in 1951. Langston Hughes Collection. The Huntington Library, Art Collections, and Botanical Gardens.
Alice Tsay is a former intern in the education division at The Huntington and is pursuing her doctoral degree in English Language and Literature at the University of Michigan.