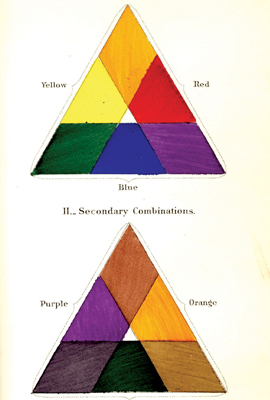 Triangles showing the primary and secondary colors, from Robert Ridgway's
Nomenclature of Colors for Naturalists
(1886). Copyright Huntington Library, Art Collections, and Botanical Gardens.
On Thursday night in New York City, Daniel Lewis will be giving the Norman Lecture on the History of Science and Medicine at the Grolier Club, arguably the most important book club in the country. Lewis, the Dibner Senior Curator for the History of Science and Technology at The Huntington and curator of the permanent exhibition "Beautiful Science: Ideas that Changed the World," will be talking about the history of color dictionaries, a subject he discussed with Huntington Frontiers in its fall/winter 2008 issue. "
Color dictionaries are a highly collectible category of book," Lewis says, "but the topic has been a neglected one." These dictionaries, usually including color swatches and an identifying name or number, served as a common language for scientists and naturalists who needed to quantify colors for their own comparative uses. They were an essential research tool; Darwin took one along on the voyage of the Beagle for his studies of animal and plant life. The Huntington Library contains an unsurpassed collection of works on color theory and practice, including a number of color dictionaries.
The Grolier Club was founded in 1884. "Every major collector, book seller, and librarian has been a member over the years," says David Zeidberg, the Avery Director of the Library at The Huntington and a member of the club since 1983. Henry Huntington himself was a member and met many of his fellow collectors through meetings at the Grolier and bought some of their collections as a result.
Lewis, also the head of the manuscripts department at The Huntington, is author of a forthcoming book about ornithologist and color expert Robert Ridgway. The Feathery Tribe: Robert Ridgway and the Modern Study of Birds will be published in spring 2012 by Yale University Press.
Matt Stevens is editor of Huntington Frontiers magazine.