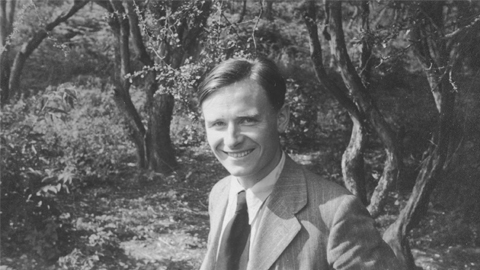 Christopher Isherwood, c. 1932, photograph from personal album. From the collection of the Huntington Library, copyright The Huntington Library, Art Collections, and Botanical Gardens.
Sunday night, Colin Firth has a good chance of winning his first Oscar for his role as King George VI. While The King's Speech is not yet available on DVD, you can rent A Single Man and watch Firth's Oscar-nominated performance from last year. That film is based on a novel by Christopher Isherwood (1904–1986), whose papers are at The Huntington and include drafts of A Single Man. His second draft, with handwritten corrections, is currently on display in the Library's Exhibition Hall.
Published in 1964, A Single Man tells the story of one day in the life of a lecturer at a Los Angeles university, whose long-time partner has died. In her label in the display case, literary manuscripts curator Sara S. "Sue" Hodson writes, "With grace and eloquence, Isherwood's portrayal of one gay man's life speaks to the over-all human condition. At once humorous and deeply moving, yet never depressing, the novel is widely considered to be Isherwood's masterpiece, as well as an under-appreciated gem of 20th-century literature."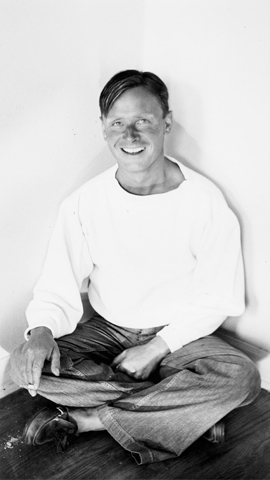 Christopher Isherwood, c. 1950, photograph by William Caskey. From the collection of the Huntington Library, copyright The Huntington Library, Art Collections, and Botanical Gardens.
Born in England, Isherwood became a naturalized U.S. citizen after settling in Southern California in 1939. He is best known for The Berlin Stories, tales that fictionalize his life in pre-World War II Berlin that were later adapted as the play I Am a Camera and the award-winning musical Cabaret. The Huntington collection includes literary drafts, diaries and journals, photographs, audio and videotapes, and letters from many authors, including W. H. Auden, Truman Capote, E. M. Forster, Somerset Maugham, Stephen Spender, Gore Vidal, and Tennessee Williams.
Hodson curated the exhibition "Christopher Isherwood: A Writer in His World" in 2004. That exhibition was followed by "Celebrities, Friends, and Strangers: Portraits by Don Bachardy." Bachardy, a critically acclaimed portrait artist, was Isherwood's long-time partner; he donated the Isherwood materials to The Huntington in 1999.
And Hodson is no stranger to film herself. She was featured in Chris & Don: A Love Story, the 2007 documentary about the couple's remarkable decades-long relationship. It was directed by Tina Mascara and Guido Santi. Hodson also appeared recently on a panel celebrating the publication of Isherwood's The Sixties: Diaries. She joined moderator David Kipen and painter Peter Alexander for "Christopher Isherwood's Los Angeles," an event sponsored by Zócalo and held at the Hammer Museum in December.
Matt Stevens is editor of Huntington Frontiers magazine.