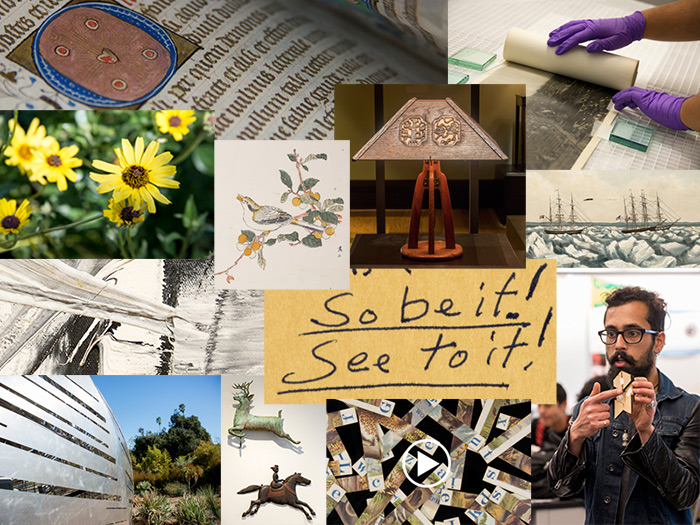 A collage of some of our Verso favorites from 2016.
As 2016 winds to a close, we invite you to take another look at a dozen stories plucked from the more than 80 we've published this past year on Verso.
We start off with a meditation on the symbolism of medieval lists by Martha Rust, a 2015–16 National Endowment for the Humanities fellow at The Huntington, accompanied by exquisite images from a Book of Hours in our collections. Read "Symbolism in Medieval Lists."
One of our most popular posts marked the 10th anniversary of the death of science-fiction novelist Octavia E. Butler, whose papers reside here. We announced a project called "Radio Imagination," sponsored by Clockshop, a Los Angeles–based arts organization that partnered with The Huntington and other local institutions to provide a yearlong series of events celebrating Butler's life and work. Read "Celebrating Octavia Butler."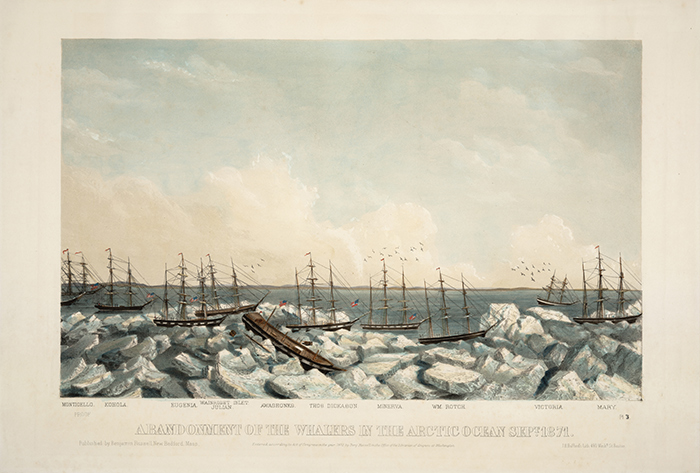 The National Oceanic and Atmospheric Administration used this hand-colored lithograph—
Abandonment of the whalers in the Arctic Ocean Sept. 1871
—to announce a major archaeological discovery. To learn more, read "A Whale of a Discovery." The Huntington Library, Art Collections, and Botanical Gardens.
We were pleased to report that the National Oceanic and Atmospheric Administration used a Huntington lithograph of ships trapped in ice to publicize a major archaeological discovery—the hulls of two out of 33 American whaling vessels that had sunk in the Arctic Ocean in the late 19th century. Read "A Whale of a Discovery."
We told you about students from one of The Huntington's partner schools, Esteban E. Torres High School in East Los Angeles. Students from their Engineering and Technology Academy enjoyed a class taught by Manan Arya, a Ph.D. candidate in aerospace engineering at Caltech, who helped them understand the scientific principles behind origami. Read "Into the Fold."
In light of the drought in California, we provided you with a list of 10 water-wise plants to grow at home, selected by Scott Kleinrock, The Huntington's landscape design and planning coordinator. He helped design the Frances and Sidney Brody California Garden. Read "Top-10 Water-Wise Plants."
You can read about drought-tolerant plants, such as this beautiful
Salvia clevelandii
'Winnifred Gilman', in "Top-10 Water-Wise Plants." Photo by Kate Lain.
We shared stunning views of the newly installed permanent exhibition of Greene & Greene architecture and design in the Dorothy Collis Brown Wing of the Scott Galleries. Read "Greene & Greene in Context."
Criss Cross Spelling Slips, a Victorian-era entertainment, served as the subject of a playful video that we posted. To provide context, we also included a Q&A with David Mihaly, The Huntington's Jay T. Last Curator of Graphic Arts and Social History. Read "LOOK>> Spelling Slips."
Chelsea Ngoc-Khuyen Trinh, who served as curatorial intern in the Art Collections at The Huntington before joining The Broad in Los Angeles, gave us an in-depth look at abstract artist Emerson Woelffer and his dynamic painting Yellow Poem. Read "A Pure Act of Painting."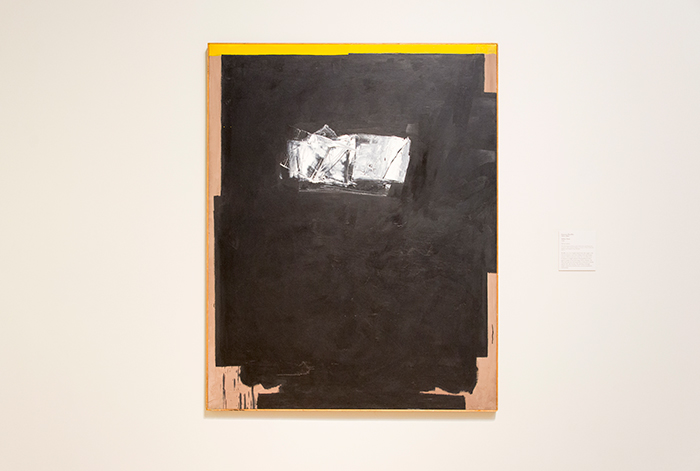 You can explore the bold strokes of Emerson Woelffer's
Yellow Poem
in "A Pure Act of Painting."
Yellow Poem
, 1960, oil on canvas. Gift of Adam Mekler in honor of Ariel Gabriella Mekler and Daphne Lane Beneke. The Huntington Library, Art Collections, and Botanical Gardens. Photo by Kate Lain.
We explored the themes of "Gardens, Art, and Commerce in Chinese Woodblock Prints," a major international loan exhibition in the Boone Gallery. It's still open through Jan. 9, 2017. Read "Chinese Poetry, Painting, and Gardens."
Nicole Alvarado, a college intern in The Huntington's conservation lab, offered a behind-the-scenes glimpse of how she carefully unrolled and flattened 20 panoramic photographs belonging to the Homer D. Crotty collection. Read "Unrolling a Long Past."
The opening of the new Jonathan and Karin Fielding Wing of the Scott Galleries in October included an inaugural exhibition of more than 200 works from the Fieldings' magnificent collection of 18th- and early 19th-century American paintings, sculpture, furniture, ceramics, metal, needlework, and other decorative arts. Read "Becoming America."
We published a Q&A with Dan Goods and David Delgado, visual strategists at NASA's Jet Propulsion Laboratory, about the Orbit Pavilion, a large aluminum structure in which visitors can hear sounds representing the movement of the International Space Station and 19 Earth satellites. Read "Hearing NASA's Earth-Science Satellites."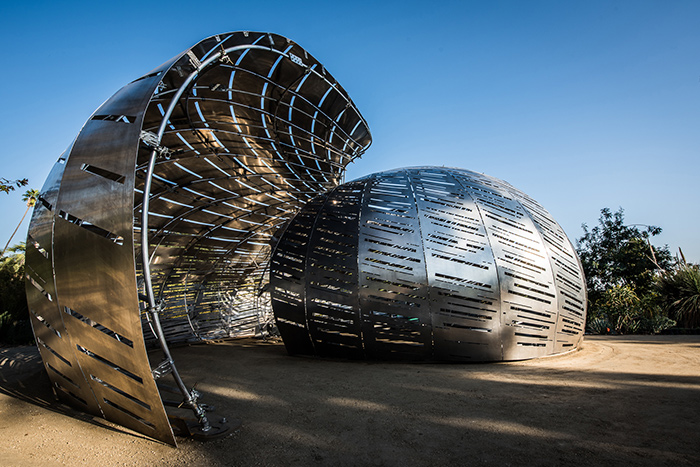 Check out our Q&A with the visual strategists behind NASA/JPL's Orbit Pavilion in "Hearing NASA's Earth-Science Satellites." Photo by Dan Goods.
Thank you for reading our blog. We hope you'll return in 2017 for more great stories about our astonishing library, art, and garden collections.
Kevin Durkin is editor of Verso and managing editor in the office of communications and marketing at The Huntington.