Memorial Day Weekend marks the beginning of an exodus of researchers who have spent the full academic year mining the collections in the Library. Helen Lefkowitz Horowitz, the 2010–11 Los Angeles Times Distinguished Fellow, packed up last Friday and is now home in New England with her husband, Daniel Horowitz, who also spent the year here as the 2010–11 Ray A. Billington Visiting Professor of U.S. History at Occidental College and the Huntington Library. They both left their faculty posts at Smith College last fall to take on Huntington fellowships.
Last October, Helen Horowitz was still settling in at The Huntington when Oxford University Press released her latest book. In Wild Unrest: Charlotte Perkins Gilman and the Making of "The Yellow Wall-Paper" she draws connections between Gilman's own life and the narrator of her famous short story—a woman who descends into madness. Horowitz argues that Gilman's great story emerged from emotions rooted in the confinement and tensions of her unhappy marriage. She talked about the Pasadena connections of Gilman in a lecture here in November, available for download from iTunes.
With a new book in hand, Horowitz faced a challenge common among scholars who turn their attention to the next big project. How to begin? Each year, The Huntington awards approximately 150 fellowships to scholars, including about 20 for the full academic year. Some arrive with a rough book manuscript and polish it while dipping into the archives. Others are still in the thick of research and eager to round out ideas. Horowitz's is one of five distinguished fellowships awarded to midcareer and senior scholars each year.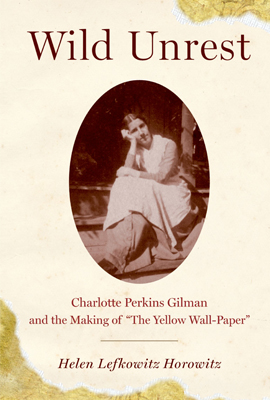 Her new project, it turns out, bears some resemblances to the old one, with one notable exception. "I was coming out of a study of Gilman's reaction to nervous distress, or neurasthenia, and how it affected her intimate relationships," recalls Horowitz. While Gilman and her husband were a case study of a broken relationship, Horowitz was determined to find examples of spouses who helped, not hindered, their loved ones' struggles. Let loose in the collections, she ended up focusing on William James, whose wife, Alice Gibbens James, was critical to his emotional development and emergence as a great psychologist and philosopher.
"What I'm finding so interesting is the interrelationship of illness and intimacy within a courtship and marriage, and how they factored into the outcome of James' work," says Horowitz.
Horowitz is eager to see how her "new" project evolves. "I'll actually be back for the winter semester," she says, since her husband has been invited to teach one more course at Occidental College beginning in January 2012. Newly retired from Smith, Helen will be eager to return to The Huntington to polish her work in progress.
Helen Lefkowitz Horowitz is the Sydenham Clark Parsons Professor of History Emerita at Smith College. In 2003, she was a finalist for the Pulitzer Prize in history for her book Rereading Sex: Battles Over Sexual Knowledge and Suppression in Nineteenth-Century America. You can read blog posts about the other distinguished fellows this past academic year, including David Blight, Linda Colley, Bruce Moran, and Kenneth Warren.
Matt Stevens is editor of Huntington Frontiers magazine.