Photographers Paul Caponigro (left) and Bruce Davidson (right) meet for the first time at a new exhibition of their work at the Yale Center for British Art. Exhibition co-curator Scott Wilcox (center) says of the pair: "Davidson is a photojournalist and exponent of gritty street photography while Caponigro practices a pure, formalist approach to photographing landscape. If Davidson seeks to capture a specific moment in time, Caponigro dwells on the timeless phenomena of nature in relation to the enduring man-made structures of antiquity, such as Stonehenge." The show runs until Sept. 14 at Yale and will open at The Huntington on Nov. 8.
"One man lives in the city, the other in the woods," writes Huntington Curator of Photographs Jennifer A. Watts about photographers Bruce Davidson and Paul Caponigro.
"One is drawn to the strife and tumult of life," she continues in "Strangers in a Strange Land," an essay from the exhibition catalog Bruce Davidson/Paul Caponigro: Two American Photographers in Britain and Ireland, published by Yale University Press. "The other craves serenity and the contemplative forms of nature. Exceptional craftsmen, they still use film and develop black-and-white prints by hand. They are now in their eighties. They have never met."
Until now.
The pair met for the first time this week at the Yale Center for British Art's preview of the exhibition, co-curated by Watts and Scott Wilcox, chief curator of art collections and senior curator of prints and drawings at the Yale Center for British Art. The show opens today in New Haven and will be on view there through Sept. 14, 2014. It will then go on display in The Huntington's MaryLou and George Boone Gallery from Nov. 8, 2014, to March 9, 2015.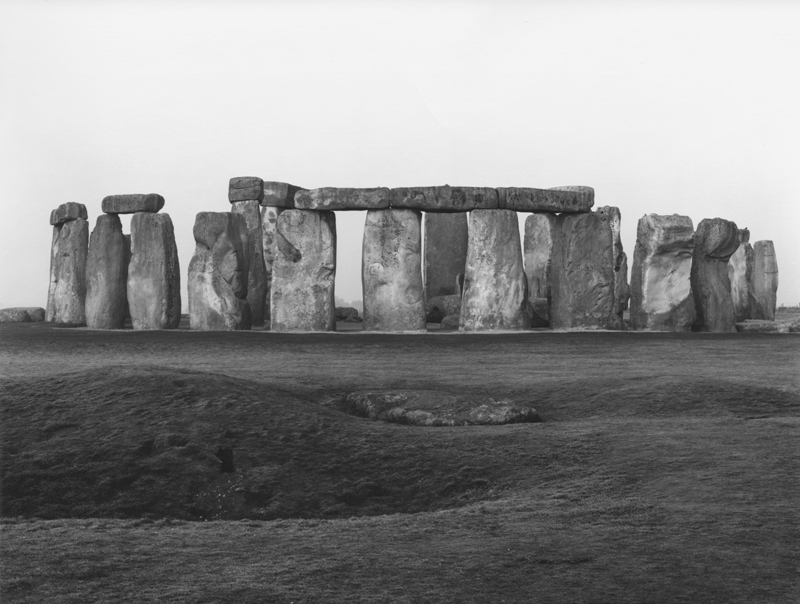 Paul Caponigro (b. 1932),
Stonehenge
, 1967, gelatin silver print. © Paul Caponigro, photo courtesy of The Huntington Library, Art Collections, and Botanical Gardens.
"This is the first exhibition to pair these influential contemporaries who followed overlapping yet distinct creative paths," says Watts. "Britain and Ireland are the countries to which each man embarked on significant creative journeys in the course of refining their art."
Although they led parallel careers, neither worked in isolation from other photographers. Caponigro's evocative landscapes show the influence of Ansel Adams, Edward Weston, and Minor White. Davidson's urban scenes recall the documentary styles of Henri Cartier-Bresson and Diane Arbus.
Caponigro credits photographer Dorothea Lange for helping to change the course of his career in the mid-1960s, when he won a Guggenheim Fellowship. He passed on a trip to Egypt and instead went to England and Ireland, in part at Lange's urging. "Ireland became my Egypt and the stones became my temples," he said.
Davidson followed the example of Robert Frank, the Swiss-born photographer who gained fame in 1958 with The Americans but had also shot the gritty life of coal miners in Wales in the early 1950s. Davidson's photographs of Welsh miners in 1967 pay homage to Frank as well as to photojournalist W. Eugene Smith. In the exhibition catalog, Watts explains how Frank and Smith each journeyed to Wales after reading Richard Llewellyn's novel How Green Was My Valley (1939), which took a Welsh mining village as its subject.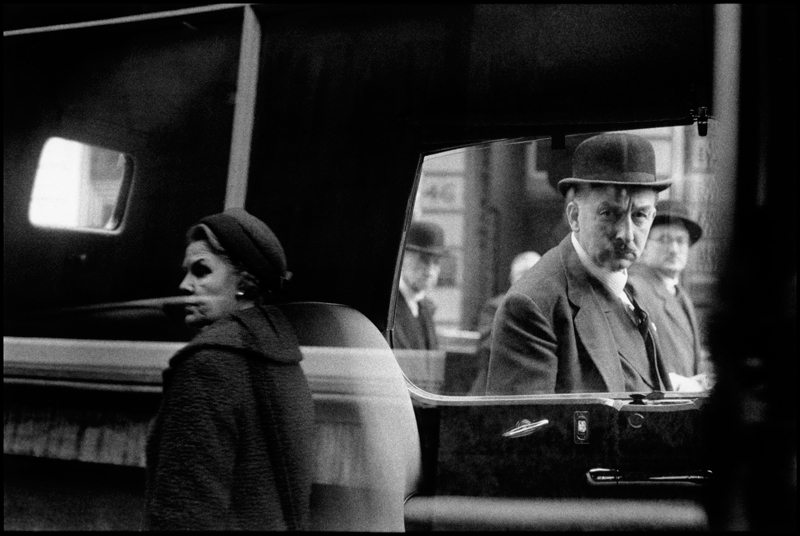 Bruce Davidson (b. 1933),
London
, 1960, gelatin silver print. © Bruce Davidson/Magnum Photos, photo courtesy of The Huntington Library, Art Collections, and Botanical Gardens.
Watts begins her essay about Davidson and Caponigro with an epigraph from the Llewellyn book: "It has always seemed to me that there is something big to be felt by a man who has made up his mind to leave the things he knows and go off to strange places."
The exhibition and accompanying catalog show how Davidson and Caponigro embraced the "strange places" of Britain and Ireland and made them their own.
Click here to watch "Still Looking," a film featuring both photographers and produced exclusively for the exhibition. Created in early 2014 by Huntington filmmaker Kate Lain, the film is a series of evocative moments with Davidson and Caponigro on location in their respective homes in New York City and Maine.
The exhibition catalog is available at the Huntington gift shop. Published by Yale University Press, it includes essays by Watts and Wilcox and 140 photographs by Davidson and Caponigro.
Thank you to Yale @RTbooks, the art and architecture blog of Yale University Press, for reproducing today's blog post. Visit its site to learn more about this book and and other titles offered by the press.
Matt Stevens is editor of Verso and Huntington Frontiers magazine.