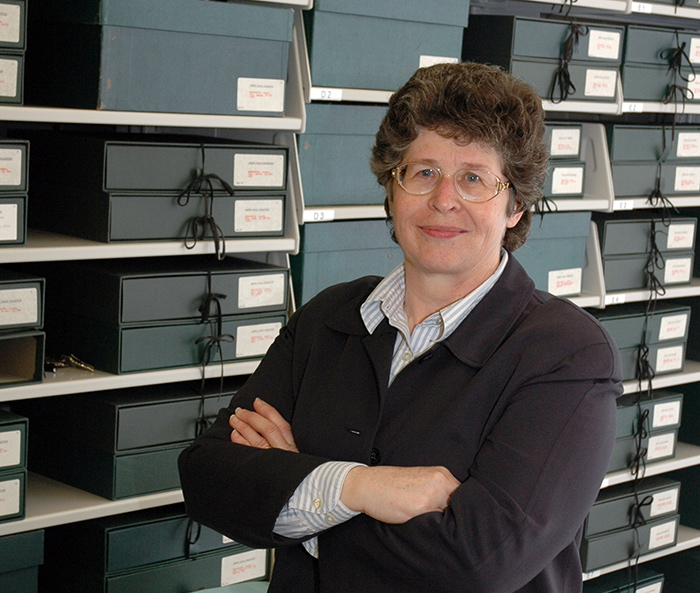 Sara S. "Sue" Hodson, curator of literary collections, in 2005. Photo by Lisa Blackburn.
If you were to ask Sue Hodson, who is retiring today, about her favorite Huntington memories, she might tell you about the repartee that was exchanged by the panel of political cartoonists convened in conjunction with her Paul Conrad exhibition. Or she might tell you about the media frenzy that occurred when The Huntington boldly opened access to its microfilm copies of the Dead Sea Scrolls, or the kerfuffle created by the discovery of a signature purported to be that of Shakespeare (it wasn't). Or she might tell you about lunches with her colleagues and searching for the best local chocolate sundae. But no matter how she replied, she would certainly mention two things: the collections and the people.
Sue Hodson began her career at The Huntington as a page in 1973, "when I was two," she usually prevaricates, "just tall enough to reach the bottom shelves." After brief departures to earn two graduate degrees, she returned to The Huntington full time as the assistant curator of literary manuscripts in 1979.
Over the next 38 years, she would oversee all British and American literature from the Renaissance to the present. This vast sphere has seen her engaged in everything from teaching workshops on Late Medieval and Renaissance paleography with long-time colleague Mary Robertson, to writing the introduction to a new publication of Clement Clarke Moore's A Visit from Saint Nicholas.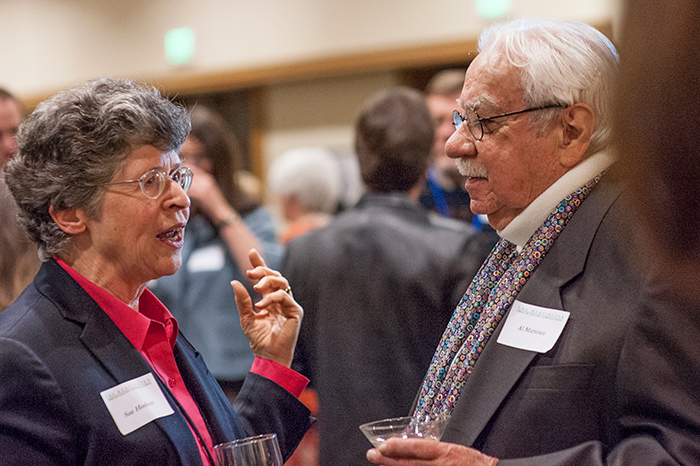 Sue Hodson chats with writer Al Martinez at the opening reception for the exhibition "Al Martinez: Bard of L.A.," March 16, 2012. Photo by Martha Benedict.
Behind the quiet façade of the library, she can often be seen motoring through the halls in her signature button-down blouse and slacks, and, occasionally, whimsical socks. This modest exterior belies a petite powerhouse of industry and a touch of the rebel.
Early in her career, she was invited to an elegant social event for Huntington supporters with the implicit mandate to don an appropriate frock. The feminist in Sue delighted in raising the eyebrows of society ladies by wearing an exquisite dress inspired by Vietnamese fashion, complete with silk pants. You might say she has been pushing boundaries ever since.
The raw poet Charles Bukowski might seem more comfortable down the road at the Santa Anita race track than within the tranquil confines of The Huntington, but Sue knew that Bukowski's papers and his take on life in Los Angeles would be right at home alongside Chaucer's bawdy "The Miller's Tale" and Whitman's controversially sensual Leaves of Grass.
Linda Lee Bukowski (left), wife of the late poet Charles Bukowski; Sue Hodson (center); and exhibitions' preparator Lauren Tawa (right) pose in front of the title wall of the exhibition "Charles Bukowski: Poet on the Edge," Oct. 10, 2010. Photo by Martha Benedict.
She has become a scholar of author and adventurer Jack London, recognizing that London was more than a writer of dog stories and Klondike tales. Captivated by the humanity of London's portraiture, she published Jack London, Photographer, with Jeanne Campbell Reesman and Philip Adam, in 2010.
Sue has the keen ability to recognize literary talent. For example, she acquired the papers of Hilary Mantel, author of Wolf Hall and Bring Up the Bodies, before the esteemed novelist was awarded the Order of the British Empire and two Man Booker prizes.
She is devoted not only to the physical preservation of the collections she manages, but also, in the words of Robertson, to "the preservation, in an intellectual sense, of the contributions of the people whose papers we have." In nine outstanding West Hall exhibitions and countless articles and presentations, Sue has brought the stories buried in the archives to life.
The Huntington has a long history of materials related to theater and music, which opened the door for Sue to better represent Southern California arts and culture in the Library's collections more broadly. This is apparent in such acquisitions as the papers of African American art song composer Harold Bruce Forsythe and ballet instructor Joseph Rickard, founder of the First Negro Classical Ballet. These collections bring new voices into the archives and new opportunities for scholarship and outreach as well.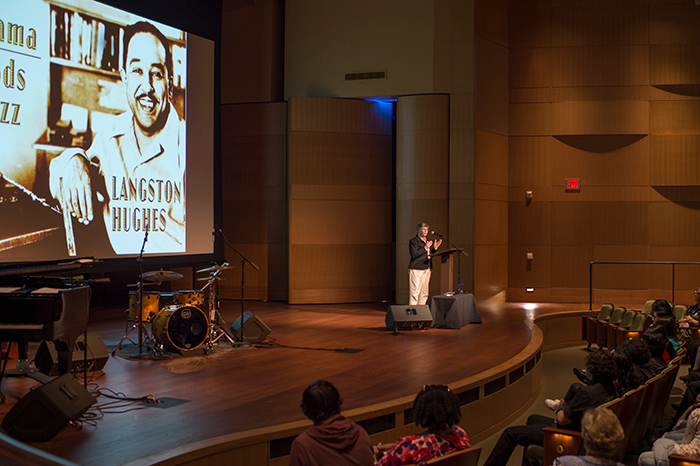 Hodson talks to high school students before a performance of Langston Hughes's "Ask Your Mama: 12 Moods for Jazz," which was read by Ron McCurdy, a professor of music at the USC Thornton School of Music, and accompanied by a musical score composed by McCurdy and performed by his jazz quintet, April 14, 2016. Photo by Martha Benedict.
Along with the papers of poet Langston Hughes, they became the cornerstone of the popular Dreams Fulfilled events series. Sue still serves as a judge for an annual Langston Hughes poetry contest.
And she has broadened the scope of literary collecting to better represent humanity across the board. Sue is responsible for increasing our diversity with collections by playwrights Velina Hasu Houston, Wakako Yamauchi, and Lucy Wang, as well as science fiction author Octavia E. Butler and gay writers Joseph Hansen and Christopher Isherwood.
Sue delights in the camaraderie of The Huntington. Her genuine warmth and passion for her profession appeals to donors and scholars alike, and she has formed close friendships that will last well beyond her professional life. She has collaborated with staff in almost every division of The Huntington and gamely participated in paper boat races, bowling competitions, and celebrations big and small. She has been a mentor, a leader, and a friend. And romance blossomed at The Huntington as well, when Sue met her husband Peter Blodgett, curator of Western American history. Together they have been a curatorial Huntington power couple.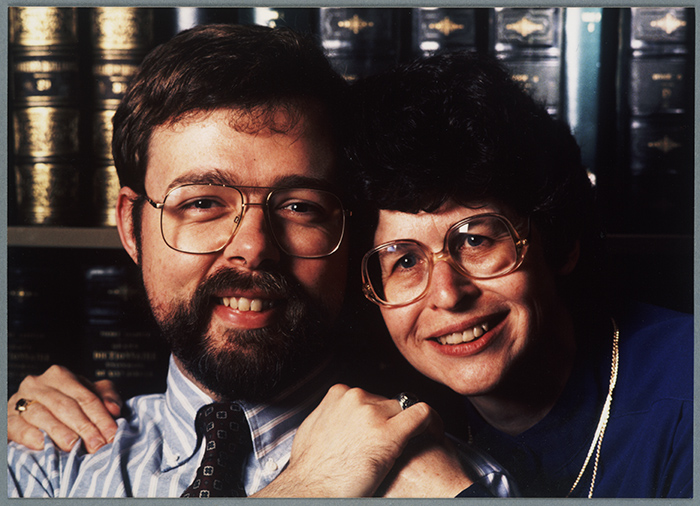 Peter Blodgett and Sue Hodson, a match made at The Huntington. Photo provided courtesy of Whittier College.
You might think that someone so involved in her job wouldn't have time for anything else, but Sue has been equally active outside The Huntington. She's been passionately committed to the archival profession at local, state, and national levels, chairing committees, serving as president of the Society of California Archivists, reviewing books, evaluating grant proposals, and regularly presenting at conferences. A recognized expert on ethical issues related to archives— especially privacy and confidentiality—she teaches and publishes regularly on these topics. You might even catch her in the concert hall, playing the timpani with the Claremont Symphony Orchestra.
In her first decade at The Huntington, Sue worried that she might never bring in a literary collection. She needn't have been concerned. In the past 25 years, she has brought in more than 30 major collections and dozens of other items to stretch and enhance the Library. Her impact on scholars and scholarship is incalculable.
Next up? Sue will be making her mark on scholarship in a new way, by returning to The Huntington to do her own research. Meanwhile, her legacy will live on, in the souls of those whose lives she has touched, and through the collections she has left to a new generation of scholars.
You can read Sue Hodson's seven contributions to Verso here.
Natalie Russell is assistant curator of literary collections at The Huntington.