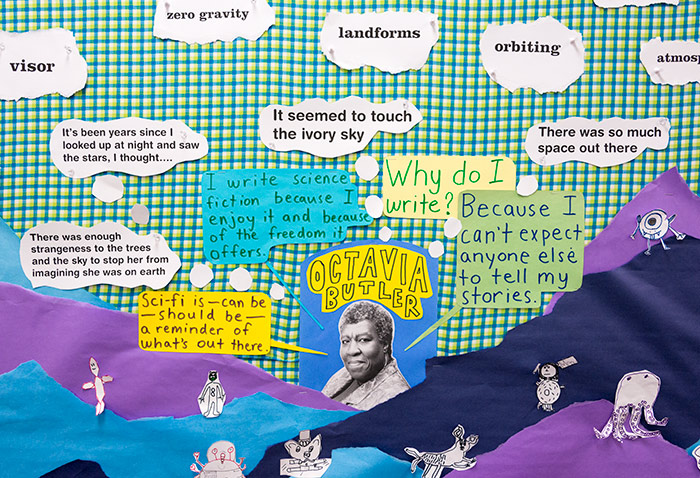 In a classroom at Rockdale Visual and Performing Arts Magnet, an elementary school in Eagle Rock, an image of science fiction writer Octavia E. Butler appears surrounded by her quotes and student drawings of creatures inspired by her work. Photo by Kate Lain.
As acting president of The Huntington, I am having the great pleasure of immersing myself in the wide-ranging activities that take place in this extraordinary institution. Our exhibitions program is chief among them, as it showcases both our research and educational missions.
Curators work for months on the planning of an exhibition, and, depending on its complexity, dozens of other staff members jump in—from conservators to graphic designers to lighting specialists. Once every object is placed in its case or mounted on the wall, the labels affixed, the banners hung, and the lights flipped on, it all somehow appears effortless. That's part of the magic. But there is often much more to an exhibition than meets the eye.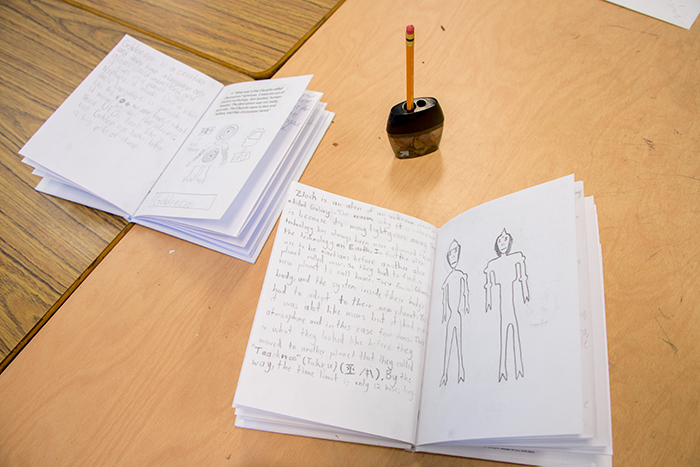 The Huntington's educators developed a curriculum based on the life and legacy of Butler, involving creative writing for Rockdale's fifth and sixth graders. Students created illustrated journals in which they described a day on an alien planet. Photo by Kate Lain.
I am particularly excited by what our Education staff has been doing with "Octavia E. Butler: Telling My Stories," a Library exhibition on the renowned science fiction writer Octavia Butler, whose papers reside at The Huntington. In partnership with Rockdale Visual and Performing Arts Magnet, an elementary school in nearby Eagle Rock, our educators developed a "deep learning" curriculum based on the life and legacy of Butler, involving creative writing for the fifth- and sixth-graders and a Butler-inspired art project for the entire school—all 300-plus students.
This was a pilot project and a labor of love. Huntington staff spent many weeks developing curricula for the classroom and professional development materials for teachers. The idea was to use Butler's work as a platform from which to inspire students to imagine their very own alien world, and, through art and writing, to describe a day in the life there. The curriculum was designed to meet fifth- and sixth-grade Common Core state standards in English language arts. By encouraging students to dig deep into their own creative imaginations, we hoped to transform their learning experience and demonstrate measurable improvement in their writing skills.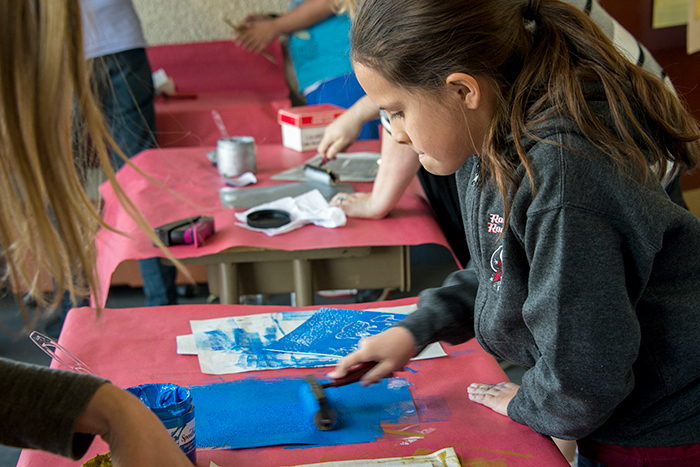 Children in Pam Chirichigno's fifth-grade class at Rockdale learned how to make prints of their alien worlds by etching a design onto a sheet of styrofoam. Here, Denise Eichenauer applies ink to a roller. Photo by Kate Lain.
Fifth- and sixth-graders spent time learning about Butler and her writing process by reading samples of her published work along with her motivational notes and drafts. Her process guided their own as they emulated how she went about her work: keeping journals, drawing sketches, and conducting detailed research. In a sense, Butler became their mentor. Their imaginations caught fire.
Across all grade levels, students were encouraged to conjure their own creatures through art. And conjure they did! When the Butler exhibition opened in April, 19 works of art by Rockdale students were on display in the gallery alongside Butler's own work. Many students came with their families to see the artwork they had produced. (You can see all 313 of the student artworks on Flickr.)
Nicanor Taylor, another student in Pam Chirichigno's fifth-grade class, focuses on getting just enough ink onto the roller. Behind him are examples of prints by other students. Photo by Kate Lain.
In a follow-up survey of the fifth- and sixth-graders, students expressed how much they enjoyed unleashing their imaginations to create new worlds populated with alien inhabitants. Ninety-seven percent—that's right, 97—said they now enjoy creative writing more than they did before.
Rockdale's principal, Desiree De Bond Vargas, called the pilot project "dynamic and transformative" and an "amazing learning and growing experience for everyone." Her teachers have reported enthusiastically that they envision using the teaching materials again and again. Said Vargas: "Butler certainly made the right decision in bequeathing all of her life's writings, memoirs, journals, and documents to The Huntington." We couldn't agree more.
We can't help but think how satisfied Butler would be to know that her stories are enabling young school children to tell theirs. The exhibition continues through Aug. 7. Please stop by and see what Octavia Butler, and these remarkably creative students, have to say.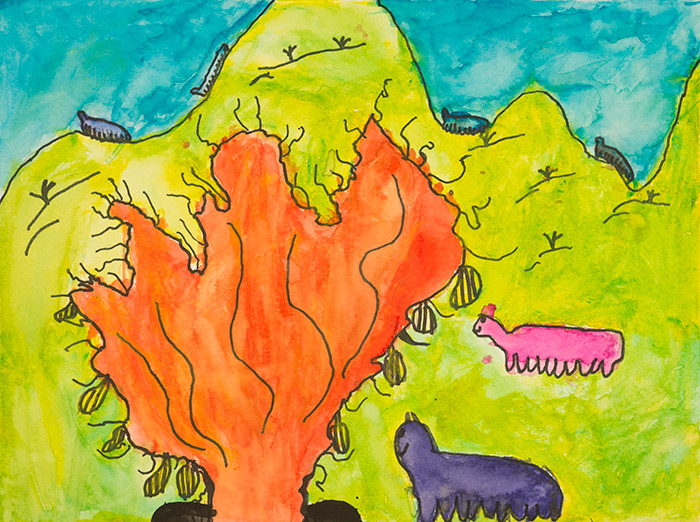 Ava Valencia, a student in Elson Wong's third-grade class at Rockdale, created this work of art. It's on view in the "Octavia E. Butler: Telling My Stories" exhibition at The Huntington through Aug. 7. Photo by Kate Lain.
Related content on Verso:
Telling Her Stories (April 6, 2017)
Mentoring in the Afterlife (June 10, 2016)
Celebrating Octavia Butler (Jan. 27, 2016)
Writing Herself In (June 22, 2015)
You can learn more about the Octavia E. Butler collection here.
Steve Hindle is acting president and W. M. Keck Foundation Director of Research at The Huntington.