This Sunday, American History TV (C-SPAN 3) will broadcast "The Presidency: Thomas Jefferson and Alternatives to Slavery," a program that picks up where Laura Voisin George left off in her Huntington Frontiers article last spring about an archaeological excavation in Virginia.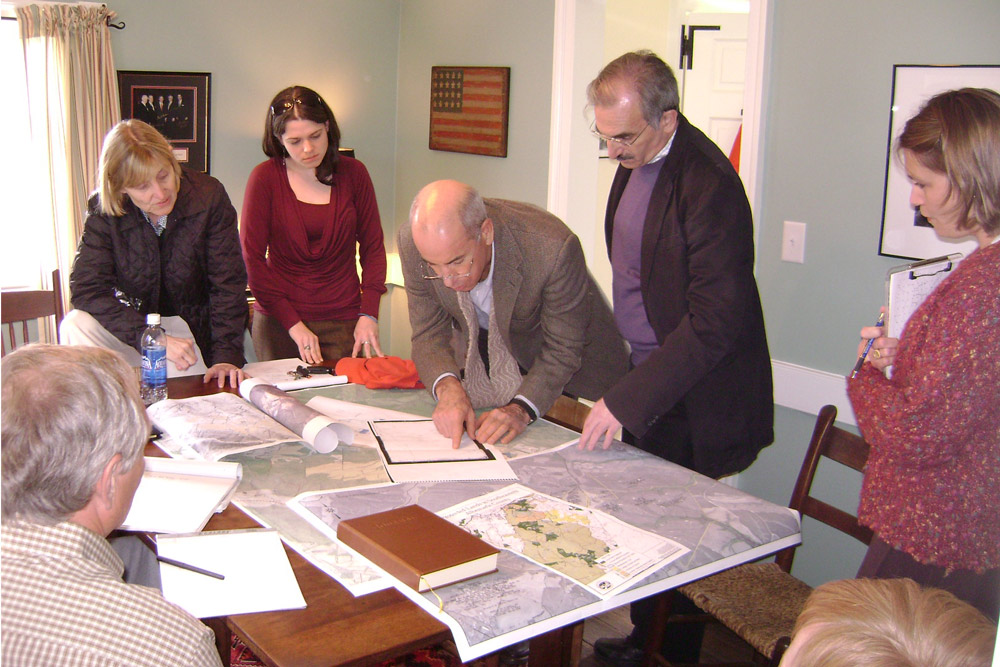 Fraser Neiman (center), the director of archeology at Monticello, points to a copy of the map from the Huntington collection as the survey team compares it to the current maps (photo by Laura Voisin George).
In 1795, Thomas Jefferson purchased a tract of land called "Indian Camp," near Monticello, for his young confidante William Short, who he treated like a son. The C-SPAN program features a presentation held in May 2011 at the Jefferson Library at Monticello in which scholars explored how Jefferson and Short exchanged ideas about the property and proposed plans for using it as a testing ground for various agricultural methods and labor systems, including alternatives to slavery. The panel was moderated by historian Peter Onuf, of the University of Virginia, with concluding comments from Annette Gordon-Reed, the Pulitzer Prize–winning author of The Hemingses of Monticello: An American Family.
In her Huntington Frontiers article, "Surveying the Past," VoisinGeorge had described what historians or archaeologists often call the "Aha!" moment of research. A few years ago, she was a fairly new member of the Morven Project. (The property once known as Indian Camp was renamed Morven in the 19th century, and in turn had been donated to the University of Virginia in 2001 by philanthropist John W. Kluge.) Voisin George and a group of historians, archaeologists, and anthropologists were pondering a dig at the site. She described the excitement when the team gathered around a digitized map from the Huntington Library that provided crucial details—including notes in Jefferson's hand—that set the team on its way to discovering new evidence about the farmers who tilled the land dating back centuries.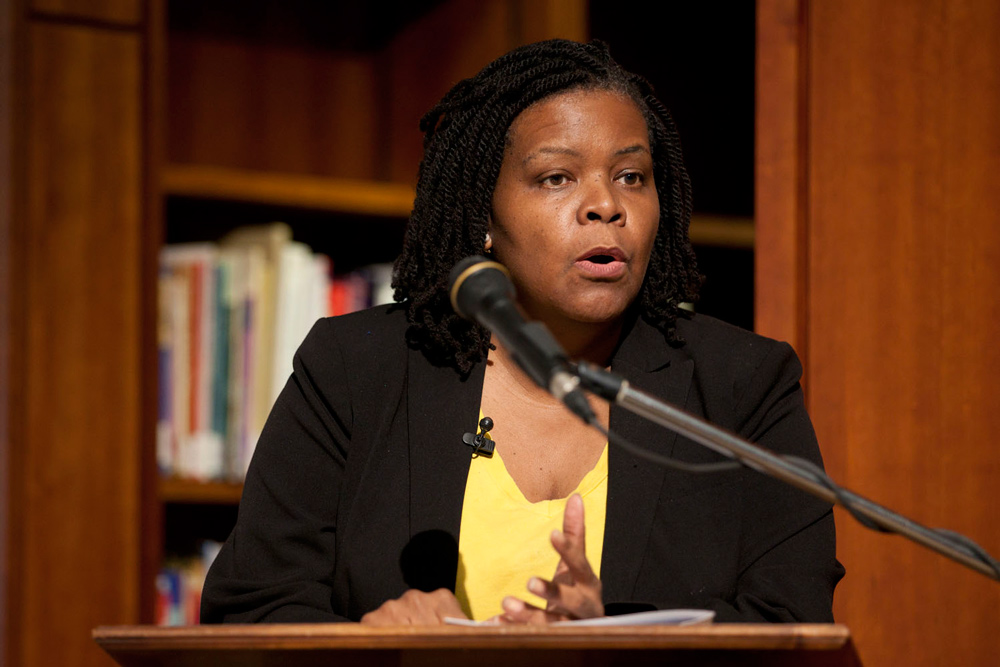 Annette Gordon-Reed speaking at the Jefferson Library (photo by Dan Addison/University of Virginia Public Affairs).
Just as Voisin George was completing that magazine article last spring, historian Annette Gordon-Reed delivered a public lecture at The Huntington about the writing of her award-winning book about Sally Hemings and her family. Following the talk, a member of the audience asked her to reflect back on her research to describe one, powerful "Oh-my-God moment." Her first thought was about a series of letters between the very same William Short and Thomas Jefferson in which Short prodded the then–vice president about issues of race. A sidebar—"Layers of Meaning"—at the end of the Huntington Frontiers article describes those letters.
Listen to Gordon-Reed recount her OMG moment here.
In the months following Voisin George's article and Gordon-Reed's lecture, the pair's "Aha!" and "OMG" moments converged—and the result is that panel featured this weekend on C-SPAN 3. Voisin George explains that in March of this year, she moderated a panel for the 2011 Virginia Forum Conference on "William Short's Indian Camp: International Abolition Ideals Confront Virginia's Slave-Based Agriculture in the 1790s." Panelists Nicholas P. Wood, Randall J. Winston, Scot A. French, and Billy L. Wayson discussed Short's "radical" agricultural experiment at Indian Camp in which he hoped to demonstrate the abilities of freed slaves. That panel was reprised in May for a presentation at the Jefferson Library, this time recorded by C-SPAN, now with Onuf as the moderator and a response by Gordon-Reed. Onuf and Gordon-Reed have since teamed up yet again in late June for another event, this one called "Thomas Jefferson and Plantation Life," which served as the 22nd annual Jefferson Symposium, co-sponsored by Monticello and the University of Virginia.
Meanwhile, that Huntington map of Short's Indian Camp is still on Voisin George's mind. She reports that she and historian Scot French, of the University of Virginia, have since uncovered additional evidence that led archaeology team member Steve Thompson to pinpoint the date of the map to a period between April 13, 1800, and May 17, 1802, improving on the previous dating of ca. 1795.
More information about this ongoing collaboration between archaeologists and historians at Morven—researching not only the historic land's use and labor patterns at this particular estate, but also how they can provide fine-textured illustrations of the evolving community surrounding Monticello—can be found at www.virginia.edu/morvenresearch.
"The Presidency: Thomas Jefferson and Alternatives to Slavery" can be seen on Sunday, July 17, on C-SPAN 3 at 5:30 a.m., 4:30 p.m., and 7:30 p.m. PT and on the website of C-SPAN 3 thereafter. You can download Gordon-Reed's lecture "The Hemingses of Monticello: Writing the Life of an Enslaved Family" from iTunes U.
Matt Stevens is editor of Huntington Frontiers magazine.