A look back on the year of The Huntington Blogs, where we covered more than a hundred stories about the Library, Art Collections, and Botanical Gardens.
The Huntington records dozens of lectures and conference proceedings each year and posts them to iTunes U. Here are some audio programs to round out your holiday playlists.
10. The exhibition "The House That Sam Built: Sam Maloof and Art in the Pomona Valley, 1945–1985" is accompanied by a set of audio interviews with Maloof and six of his contemporaries. Hal Nelson, curator of American decorative arts, also gave a talk on a unique chair that Maloof crafted for musician Jan Hlinka. And as a bonus, you can watch a set of videos produced by Peter Kirby, who filmed Maloof at his workshop and home in 1990.
9. In June, The Huntington and Caltech were venues for the 22nd North American James Joyce Conference, which was presented by Libros Schmibros Lending Library and Bookshop and sponsored by the Pasadena Arts Council. By the time it culminated on Bloomsday (June 16), it had featured an interview with novelist Nicholson Baker; poetry readings by Eavan Boland, Paul Mudoon, and Sinéad Morrissey; and a reading of Joyce's short story "Counterparts" by actress Fionnula Flanagan.
8. To commemorate William Shakespeare's birthday in April, we wrote about a talk by Bruce Smith, the Dean's Professor of English at the University of Southern California, who spoke about "The Congeniality of Shakespeare's Genius." That talk is available for download with other presentations about"Shakespeare and His World."
7. Great literature at The Huntington goes far beyond Joyce and Shakespeare to talks on subjects as diverse as "Wild Unrest: Charlotte Perkins Gilman and the Making of 'The Yellow Wall-Paper,'" by Helen Lefkowitz Horowitz, and "Making a Literature: Black Writing and Jim Crow," by Kenneth Warren. Horowitz and Warren were among the class of distinguished fellows at The Huntington for the 2010–11 academic year.
6. Other distinguished fellows touched on topics of a more supernatural persuasion. In October, Frances Dolan, the Fletcher Jones Foundation Distinguished Fellow for 2011–12, evaluated stories of witchcraft in 17th-century England; and back in February, Bruce Moran, the Dibner Distinguished Fellow for 2010–11, held forth on "Better Living through Alchemy: Private Lives and Applied Science in the Early Modern Era."
5. Astronomy is another popular lecture topic in The Huntington's annual offerings related to the history of science, and each year the Carnegie Observatories sponsors their own series of talks, which included a presentation by physicist Edward W. "Rocky" Kolb, of the University of Chicago.
4. Another event sponsor this year was the Pasadena Arts Council, which hosted an evening in Friends' Hall as part of its AxS Festival 2011—Fire and Water. The evening featured a conversation between William Deverell, director of the Huntington-USC Institute on California and the West, and Philip Connors, author of Fire Season: Field Notes from a Wilderness Lookout. The pair talked about how fire has shaped the West and explored great nature writers from Henry David Thoreau and Aldo Leopold to Norman Maclean and Jack Kerouac.
3. Talks about the Civil War are popular on iTunes, especially with the unfolding of sesquicentennial commemorations this year. The Huntington added many programs to its already rich categories about Abraham Lincoln and the Civil War, including presentations from this year's conference "Civil War Lives."
2. In another fall conference, historians gathered to honor Roy Ritchie, the recently retired director of research at The Huntington. In "The New Maritime History," talks by Margarette Lincoln and Michael Jarvis paid homage to Roy's role fostering great research as well as to the impact of his own scholarship on the history of piracy. Ritchie also gave his own talk back in February, on Founder's Day, when he spoke about the intricate history of The Huntington's research program.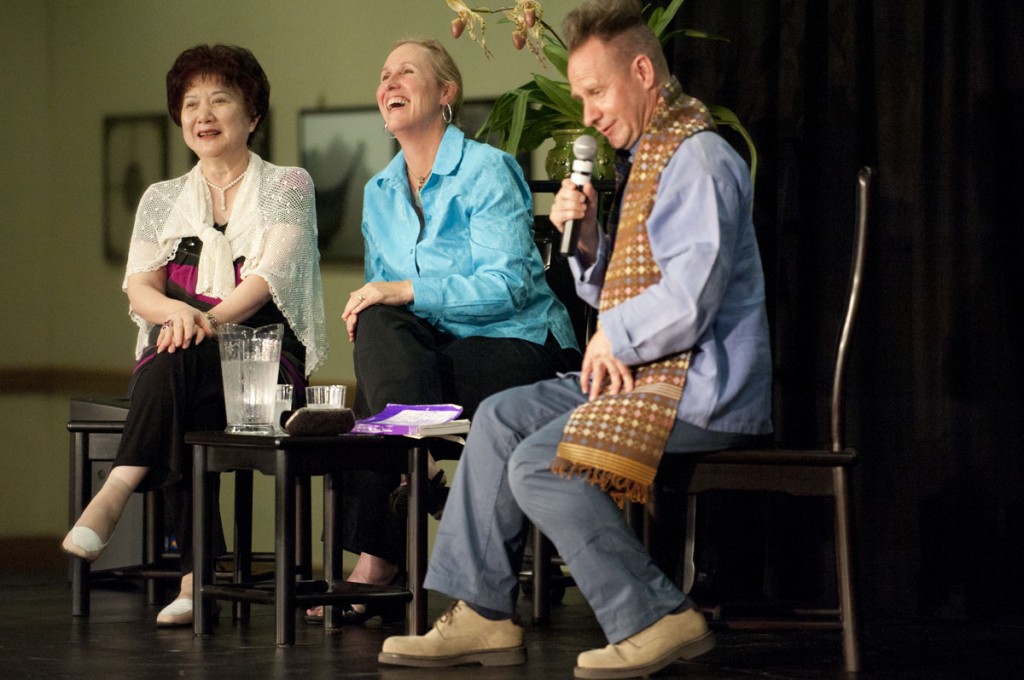 Hua Wenyi (at left) and Peter Sellars (right) discuss their work together. Susan Pertel Jain (center) is executive director of the UCLA Confucius Institute and was responsible for bringing the two together. Photo by Martha Benedict.
1. A highlight of the annual Chinese Garden Lecture Series was Peter Sellars' appearance on stage with Hua Wenyi, an internationally renowned master of Kun opera. Sellars is renowned in his own right as a director of musical theatre and opera. The pair's informal conversation, full of humor and fond reminiscences as well as insightful commentary, emphasized what Sellars described as the "flowering of cultures that comes from creative collaboration."
Visit The Huntington's site on iTunes U.
Matt Stevens is editor of Huntington Frontiers magazine.