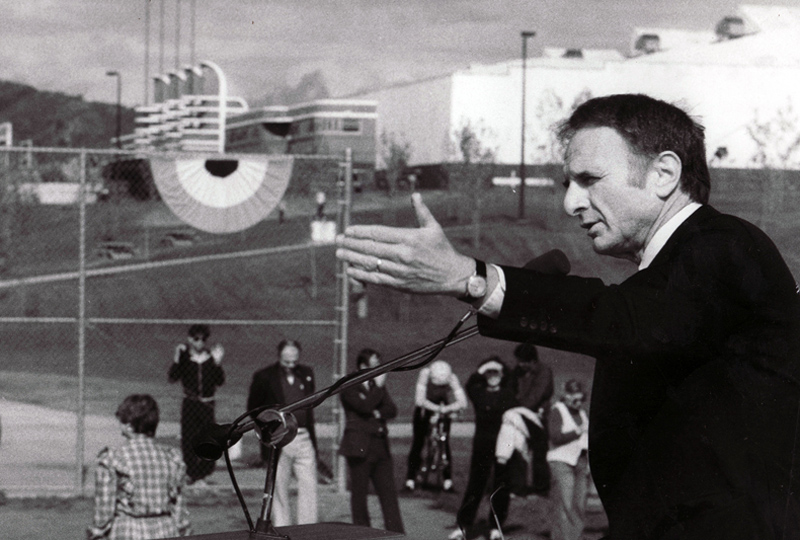 Ed Edelman at the dedication of Pan Pacific Park, mid-1980s.
This Sunday at 5 p.m., PBS SoCal will air the documentary "The Passion and Politics of Ed Edelman: An Untold Story of Leadership in Los Angeles." Edmund D. Edelman retired in 1994 after a 30-year career in Los Angeles politics, first as a city councilman and then as county supervisor for the 3rd district. After elective office, Edelman continued his public service career for another 15 years as a senior fellow at the RAND Corporation, as a representative on Homelessness for the City of Santa Monica, and as facilitator for the creation of both the new Hertzberg-Davis Crime Laboratory and the expanded Colburn School of Music. His papers—more than 1,000 boxes of correspondence, memos, reports, and legal documents—are housed at The Huntington.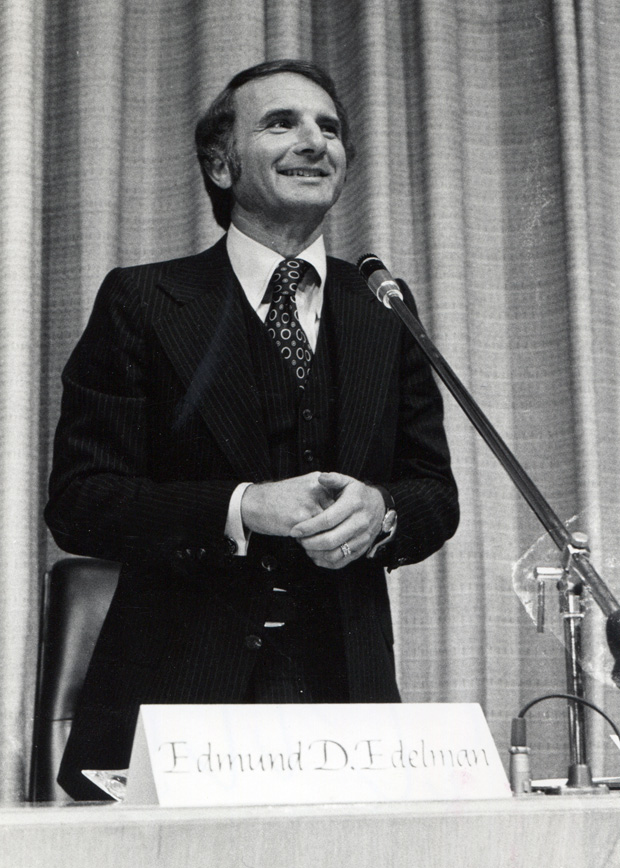 Ed Edelman before his inauguration to the County Board of Supervisors, 1974.
Produced by Edelman's wife, Mari Edelman, and narrated by Tom Brokaw, the documentary features interviews with politicians, journalists, and historians who describe a humble man and forceful leader who left his mark on the region through causes as diverse as police reform, civil rights, juvenile justice and human services, HIV/AIDS, land conservation, transportation and infrastructure, and music and the arts.
"There are two things you can do with power that are bad," Edelman says in the film. "The first is to abuse it. The second is not to use it."
Edelman has left his mark most notably on two institutions that he helped create—the Department of Children's Services and the Children's Court (known as the Edmund D. Edelman Children's Court). Both were the first such agencies in the nation. Also bearing his name is the Edmund D. Edelman Westside Mental Health Center.
The depth and breadth of Edelman's archive promises that there are many more stories yet to be told about the leader. Tom Sitton, former head of the history department at the Natural History Museum of Los Angeles County, is currently at work on a book about the history of Los Angeles County government. In 2005, he published Los Angeles Transformed: Fletcher Bowron's Urban, 1938–1953 ( University of New Mexico Press). He says that Edelman's correspondence with staff members and constituents, notes, county reports, photographs, and other material chronicle the evolution of ideas and shaping of public policies.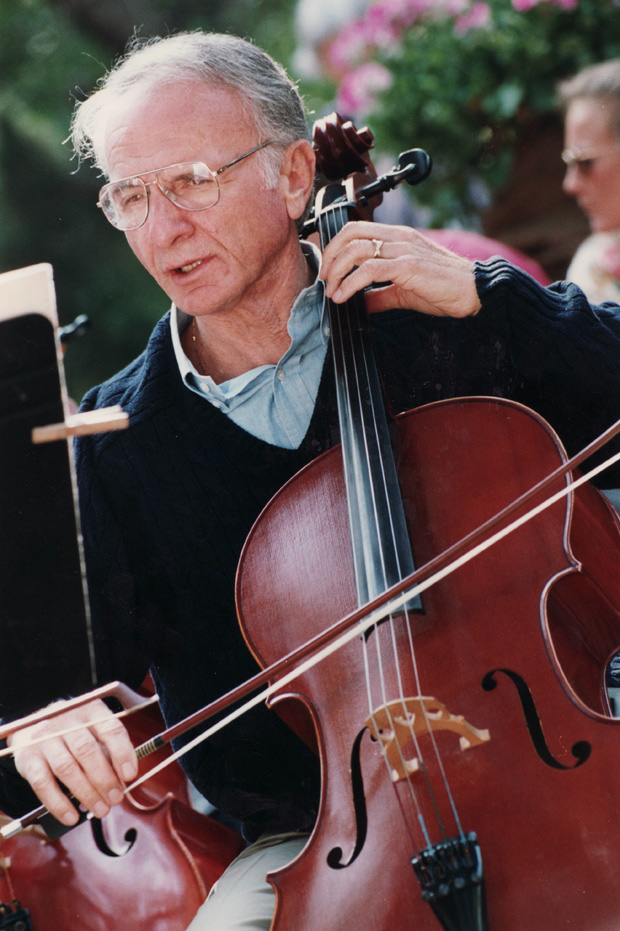 Ed Edelman playing the cello, 1994.
"On one level," says Sitton, "the assemblage can help to create an overview of a broad range of political, economic, and social issues faced by county officials during this era. On another, they provide the details of developing responses to various challenges in the memos between the supervisor and his staff members and letters to and from civic leaders and representatives of interest groups."
Among the experts featured in the documentary is William Deverell, professor of history at USC and director of the Huntington-USC Institute on California and the West. "For all of his accomplishments in a diverse metropolis," says Deverell, "Edelman was also a champion of the environment in greater Los Angeles." And beyond his politics Edelman has maintained his life-long passion for music, allowing it to circle back into his politics through his support of any number of cultural arts programs.
For more information, visit the documentary's website. Also on camera will be current supervisors Mike Antonovich, Don Knabe, Gloria Molina, and Zev Yaroslavsky; political scientist Raphael Soneshein; journalist Patt Morrison; historian Kevin Starr; architect Frank Gehry; among others.
Matt Stevens is editor of Verso and Huntington Frontiers magazine.