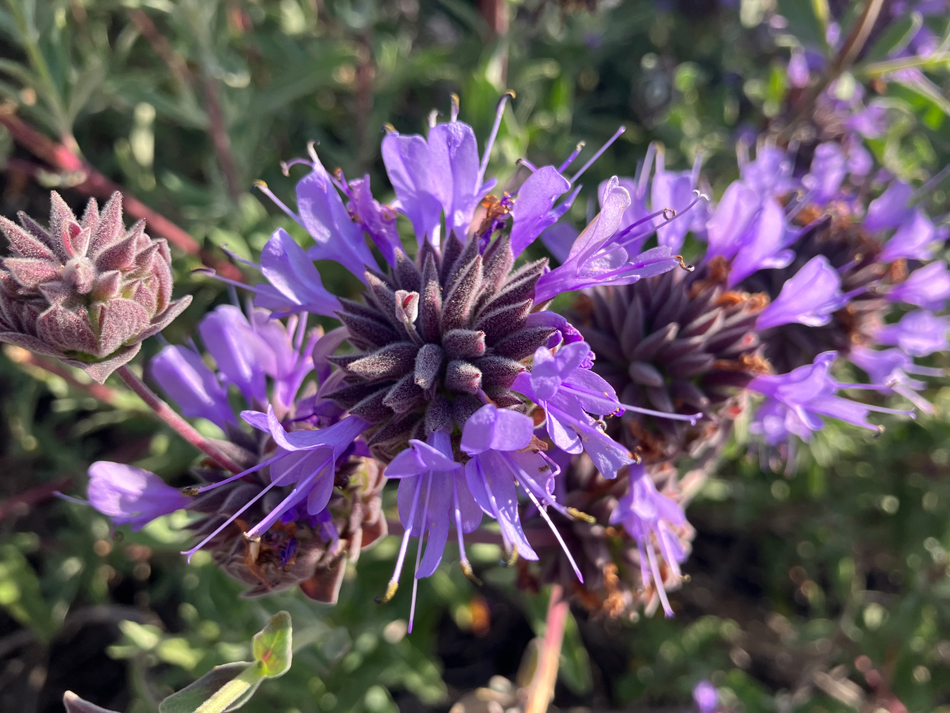 Cleveland Sage
(Salvia clevelandii)
is a hardy, fragrant shrub native to the Southwest. It is one of many drought-tolerant species that add beauty to The Huntington's parking lot year-round with their lovely flowers, interesting seedpods, and evergreen foliage. Photo by Sandy Masuo.

"Sweet April showers do spring May flowers," poet and farmer Thomas Tusser famously observed. But Tusser's verse was rooted in the temperate climate of 16th-century England. In arid 21st-century California, April arrives at the tail end of the rainy season, which concluded this year with a water shortage emergency announcement. By the time state officials released the statement on April 27, The Huntington's Botanical and Facilities staff members, who closely monitor rainfall and water consumption throughout the year, had already prepared a detailed water conservation strategy. This strategy builds on the institution's long-established plans for a botanical garden in a drought-prone area.
One vital element of The Huntington's commitment to conservation is to lead by example. Since 2015, the institution has reduced landscape watering by 13% while adding more than 15 acres of new public garden areas. Botanical staff members are committed to testing and displaying a range of plant species, highlighting those that can thrive in our climate with limited water resources while using best practices for water-wise landscaping. In many cases, Botanical staff will share their successes more directly by offering these selections through plant sales. Such actions help empower and educate the public to make garden choices that are aesthetically pleasing and beneficial for the environment.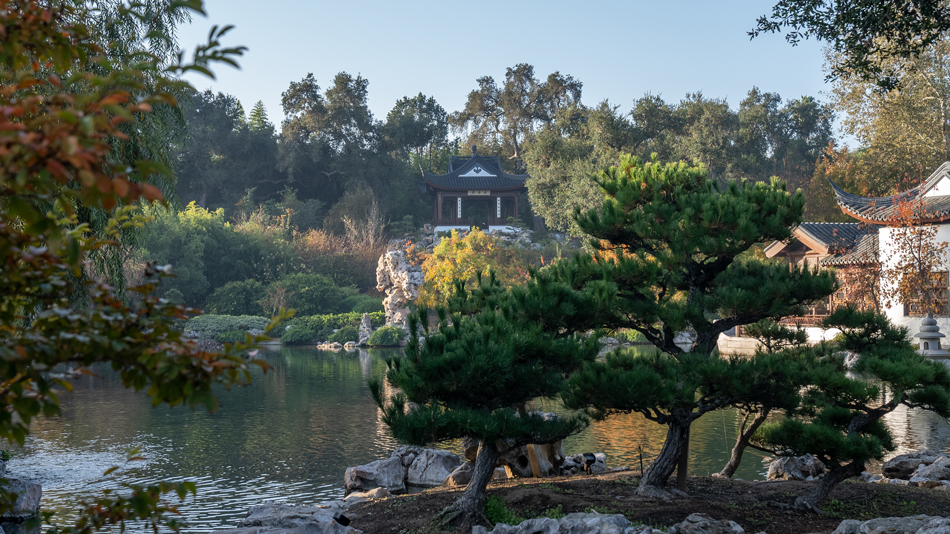 Most of the expanded garden acreage at The Huntington is part of Liu Fang Yuan 流芳園, the Garden of Flowing Fragrance, which grew from 3.5 acres in 2008 to 15 acres today. The lake and water basins in the landscape capture stormwater runoff. Photo by Aric Allen.

Nicole Cavender, the Telleen/Jorgensen Director of the Botanical Gardens, emphasizes the connections between establishing sustainable practices and The Huntington's broader institutional goals. "Understanding the nature of the challenges we are facing and developing ways to improve resiliency and adaptation are key to our conservation mission," she said. "Biodiversity matters when we consider what our role as humans is in a changing climate."
"The gardens are the public face of conservation efforts," Cavender added. "Behind the scenes, we are engaging in plant science that will help safeguard biodiversity both in wild plant populations and in domestic species, such as those that are important to agriculture."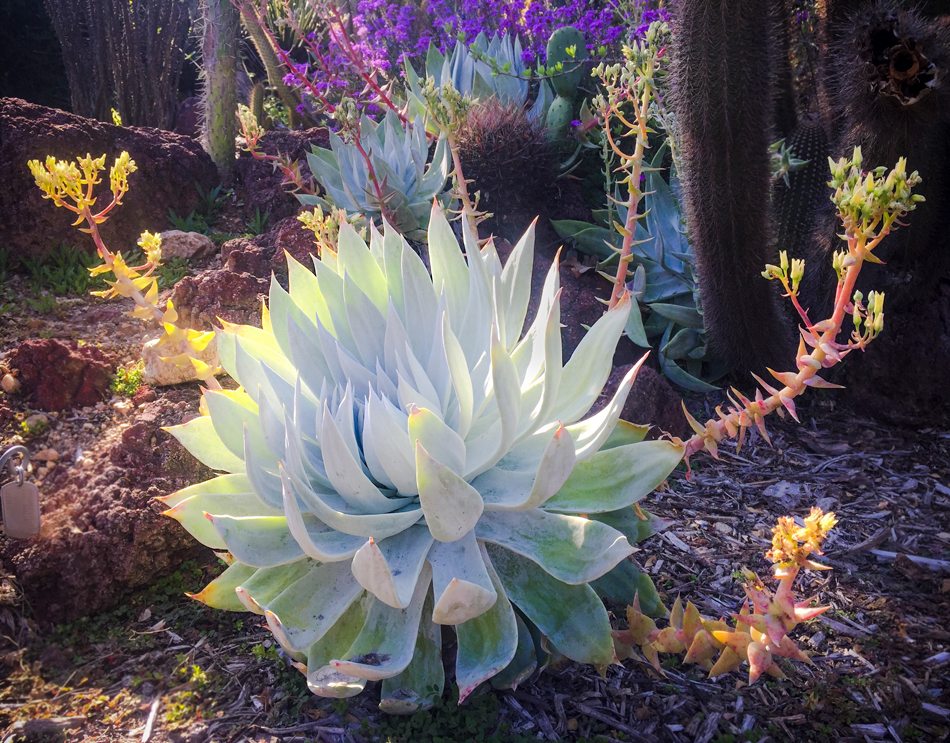 Ten species of Dudleya are classified as threatened or endangered. Last year, Gov. Gavin Newsom signed into law new protections for these native succulents. However, the giant chalk rose
(Dudleya brittonii)
is not uncommon in the nursery trade. Photo by Andrew Mitchell.

But water has not been an obsession for only the Botanical staff. The Huntington's Library staff has long trained their attention on water issues as a fundamental feature of California history. "The exploitation of water supplies attracted foreign and domestic investment, stimulated banking and commerce across the region, encouraged agricultural and industrial enterprises, drastically reshaped great portions of many different landscapes, and enticed hundreds of thousands of individuals to migrate from around the world to the West," said Peter Blodgett, the H. Russell Smith Foundation Curator of Western American History. "The Huntington collections dealing with Western water resources include papers that touch upon these and many related subjects, demonstrating this institution's long-standing commitment to acquiring material that documents the historical roots of contemporary problems."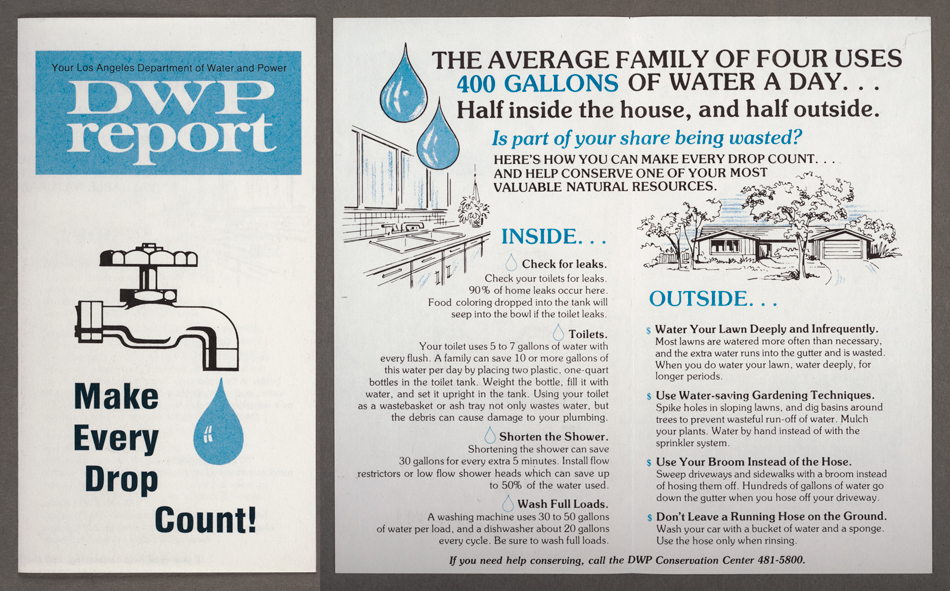 Drought is a chronic condition in the West. Yet water conservation messaging has not changed much since this 1977 Department of Water and Power pamphlet was issued, even though drought conditions are increasing in magnitude. The Huntington Library, Art Museum, and Botanical Gardens.

The statistic that the Southwest is experiencing the driest conditions in more than 1,000 years recently rippled through the media, but it is old news to climatologists. Experts have known for some time that progressively drier conditions are part of a larger climate trend that is being exacerbated by the buildup of carbon emissions in our atmosphere. The 20th century, when most of California's development took place, was exceptionally rainy.
California residents—enjoying unusually high levels of precipitation, the perception of plentiful water promoted by commercial interests eager to develop the state, and the acquisition of water from remote sources—have been accustomed to a seemingly endless water supply that is increasingly unsustainable. In May, the State Water Resources Control Board released data that indicated municipalities in the South Coast hydrologic region, which includes Los Angeles and more than half the state's population, used about 25% more water in April 2022 than they did two years ago.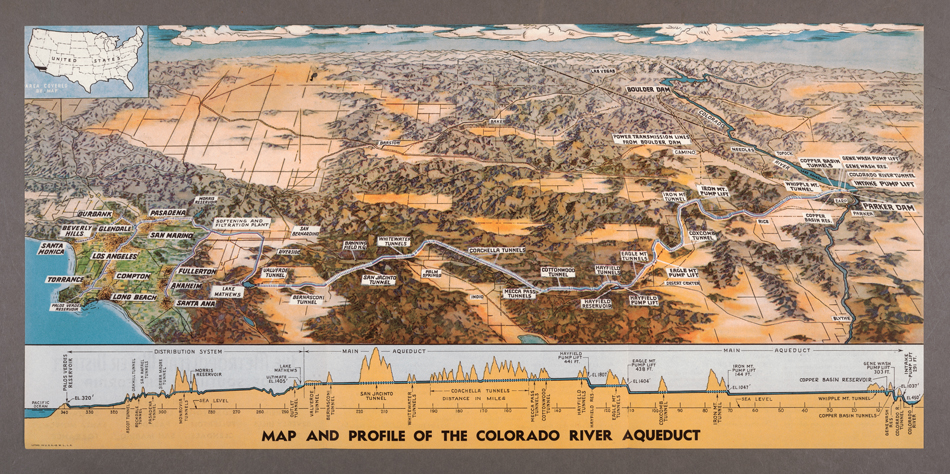 Completed in 1941, the Colorado River Aqueduct was the largest Public Works Project in Southern California. The 242-mile system moves more than a billion gallons of water a day. The Huntington Library, Art Museum, and Botanical Gardens.

The key to establishing a balanced existence in a region that is only becoming drier is to make decisions informed by science, better understand the events that led to current conditions, and make readily available the insights and tools needed to adapt. "We have a big role to play here in being leaders for a sustainable future," Cavender said. "Considering all that our staff knows about water conservation and what our historic library collections can tell us about the legacy of this region, both can yield important insights into better ways to face the future."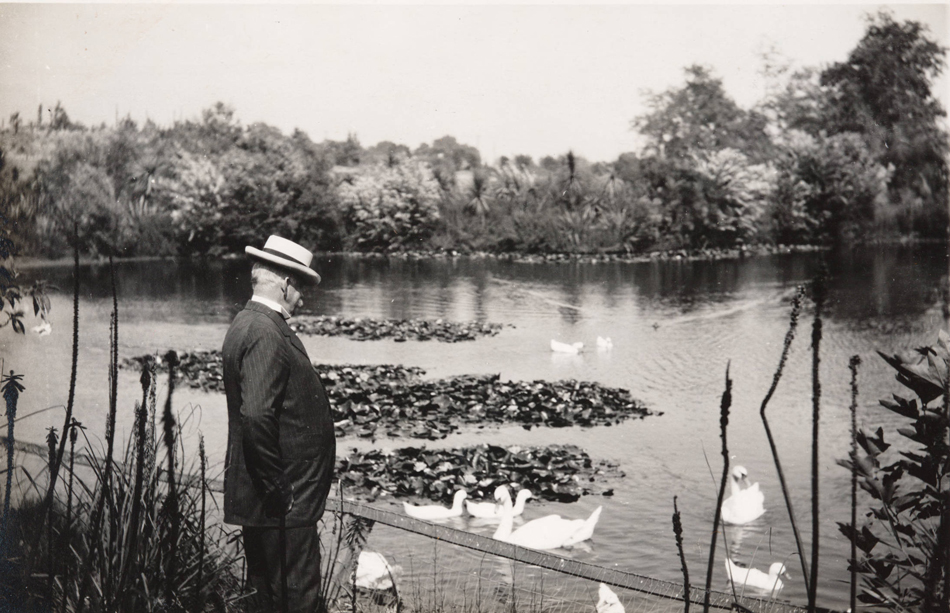 Henry E. Huntington visits the "lake" that once existed adjacent to the Desert Garden. Fed by an underground spring, the reservoir eventually dried up as the growing San Gabriel Valley population depleted the aquifer that was its source. Henry E. Huntington Estate photograph collection. The Huntington Library, Art Museum, and Botanical Gardens.

Sandy Masuo is the senior writer in the Office of Communications and Marketing at The Huntington.