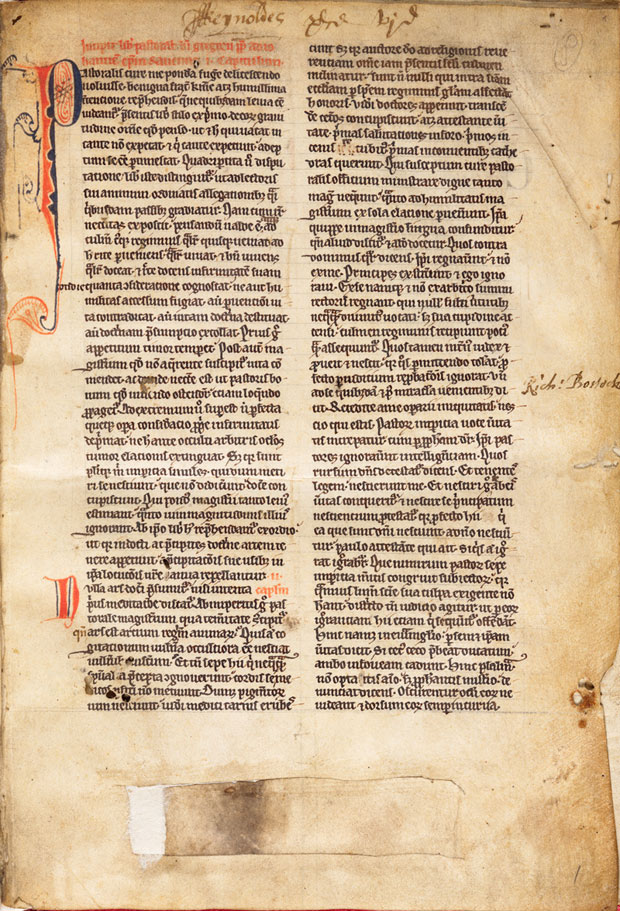 Pope Gregory the Great (ca. 540–604),
Cura Pastoralis
, in Latin, 32 leaves. This hand-decorated manuscript on vellum was owned by and probably written at the Reading Abbey in Berkshire, England, around 1225–1250. Huntington Library, Art Collections, and Botanical Gardens.
When the conclave of cardinals assembles to replace Pope Benedict XVI, it might look past the example of Pope Gregory XII—the last pope to resign, in 1415—to Gregory I (ca. 540–604), known to history as Gregory the Great and author of a foundational text of early Christianity in western Europe. In January, The Huntington's Library Collector's Council purchased a 13th-century copy of his formative treatise.
When Gregory sent St. Augustine to convert England to Christianity in 597, he sent with him his recent treatise on the responsibilities of a bishop to his flock, the Liber Regulae Pastoralis [or Cura Pastoralis; On Pastoral Care]. Among the most important texts of the Middle Ages, it became the practical and spiritual handbook for bishops and priests for nearly a thousand years. In it, Gregory considers what kind of man should become a priest, how he should order his life, how he should balance spiritual contemplation with the cares of the secular world, and how he should execute his primary responsibility as a "physician of souls" through careful directed preaching (both in word and deed) and through compassionate discipline.
"The work was copied and recopied for nearly a thousand years," says Mary Robertson, the William A. Moffett Curator of British Historical Manuscripts at The Huntington. "It was promoted by Charlemagne and translated into Anglo-Saxon by Alfred the Great."
This particular manuscript, dating to 1225–1250, makes it one of the oldest items in the Huntington collection, explains Robertson, and sheds new light on the practices of one of England's most important monastic scriptoria during the High Middle Ages, that of the wealthy Benedictine abbey at Reading in Berkshire, founded by Henry I in 1121.
This 13th-century manuscript represents a new emphasis on preaching and outreach in the medieval English church characteristic of the High Middle Ages, but also testifies to the lasting power of Gregory's ideas 600 years after his death. "The manuscript will tell scholars much about the interests and habits at Reading's important scriptorium," says Robertson, "and later ownership marks document the dispersal of the great library at the Dissolution of the Monasteries under Henry VIII."
For other stories about recent purchases by the Library Collectors' Council, see "More!" (about the acquisition of Charles Dickens' letters) and "Family Gatherings" (about two family collections spanning more than a century of American history).
Matt Stevens is editor of Verso and Huntington Frontiers magazine.