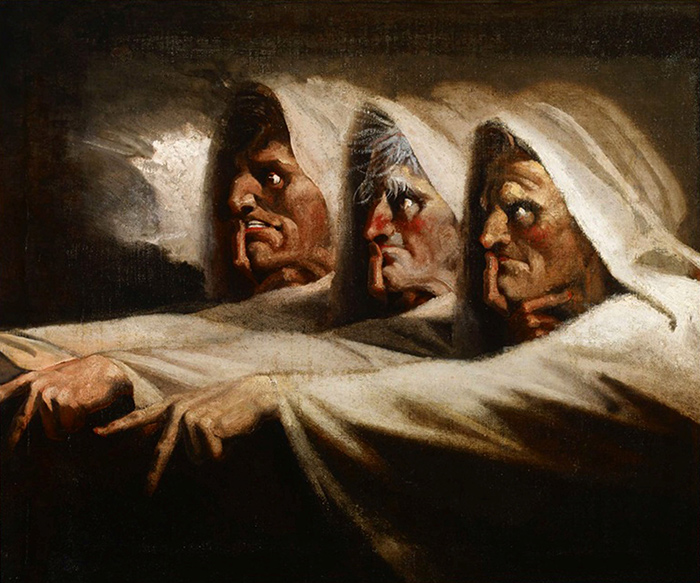 Henry Fuseli (1741-1825),
The Three Witches
or
The Weird Sisters
, ca. 1785, oil on canvas, 24 ¾ x 30 ¼ in. The Huntington Library, Art Collections, and Botanical Gardens. Purchased with funds from The George R. and Patricia Geary Johnson British Art Acquisition Fund.
The Huntington's recently acquired The Three Witches or The Weird Sisters, painted by Henry Fuseli (1741-1825) in about 1785, goes on view tomorrow in the Huntington Art Gallery. It's one of three full-size color versions that the artist made. The others are at the Kunsthaus Zürich and the Royal Shakespeare Company in Stratford-upon-Avon, England.
All three paintings depict the trio of witches from William Shakespeare's Macbeth who foretell his fate. Looking for a wicked good time? Compare The Huntington's version of Fuseli's Three Witches (above) with the two other versions below. Scholars believe The Huntington's is a study for the two that followed. Which witch is your favorite?
The Kunsthaus Zürich's Witches (1783):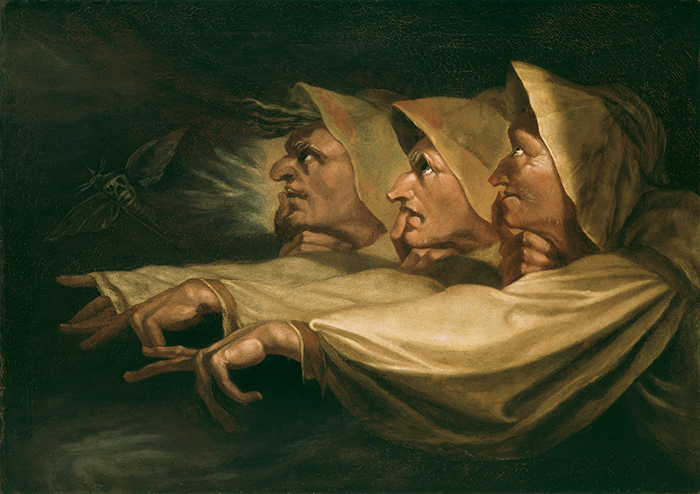 Henry Fuseli,
The Three Witches
, 1783, oil on canvas, 25 1/2 x 36 in. The Kunsthaus Zürich.
And the Royal Shakespeare Company's Witches (ca. 1783):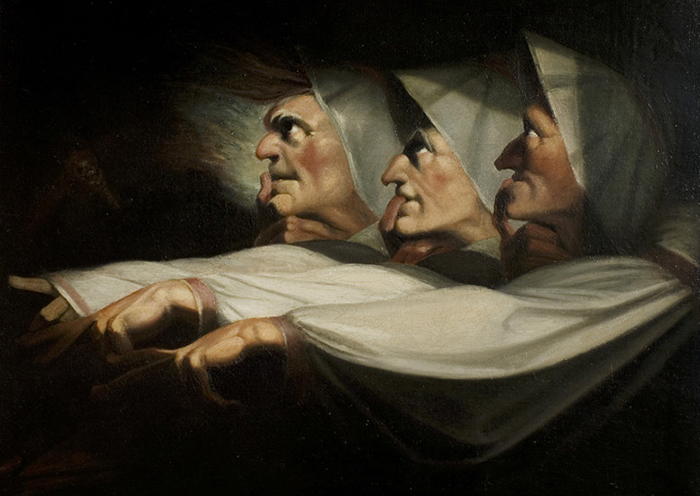 Henry Fuseli,
'Macbeth', Act I, Scene 3, the Weird Sisters,
ca. 1783, oil on canvas, 29 1/2 x 35 ½ in. Royal Shakespeare Company Collection.
Why do you think Fuseli made the changes he did? He re-cast and re-costumed the characters for one thing. But there's more.
Look closely at the upper left corner of the Kunsthaus Zürich painting. What is that winged-skull-demon thing haunting the upper left?! (It's also in the Royal Shakespeare Company version, but just harder to see.) Hint: It's on the movie poster for the 1991 thriller "Silence of the Lambs."
Well, it's a Death's-head Hawkmoth, a real insect with markings uncannily similar to a human skull. As an element of the painting, it serves as a portentous symbol of the fate awaiting Macbeth.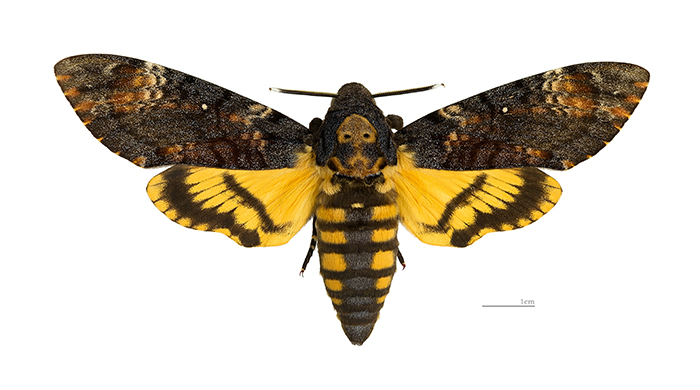 Death's-head Hawkmoth (Image from Wikimedia Commons.
Acherontia atropos MHNT
by Didier Descouens. File is licensed under the Creative Commons Attribution-Share Alike 3.0 Unported license.)
Thankfully, we don't have any Death's-head Hawkmoths in North America. Happy Halloween!
Related content on Verso:
A Magic Brew? (Oct. 31, 2014)
More Than Meets the Eye (Dec. 16, 2014)
Thea M. Page is director of marketing communications at The Huntington.