With a sign held up in protest or a glimpse into intimate spaces, photographer William Camargo has a talent for transporting the viewer to a precise moment in time, often delivering a jarring history lesson in the process.
From a formerly segregated park to an upscale food hall that was once a warehouse where Latinas packed oranges, the images in Camargo's series Origins & Displacements reveal the hidden history of the photographer's hometown of Anaheim, California. The photos, which were produced during the civil unrest and global pandemic of 2020, amplify issues of gentrification and the invisible labor in the city best known for Disneyland.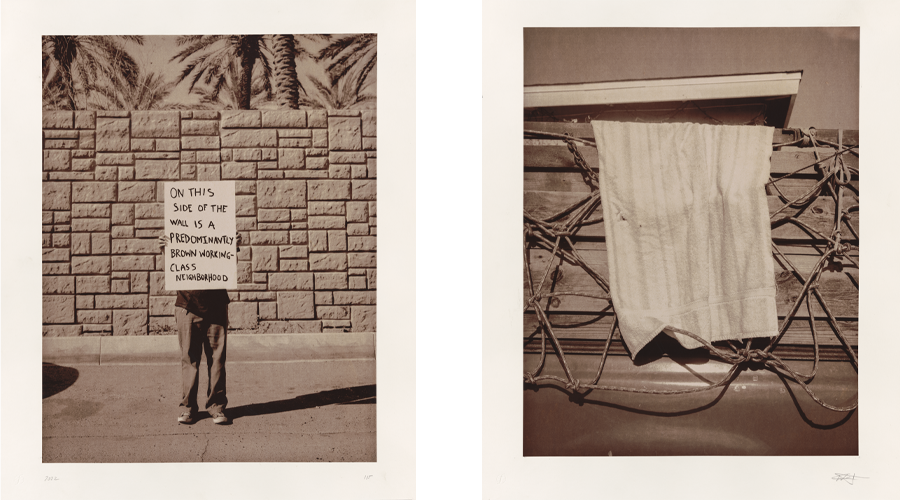 During an interview with Southern California public television station KCET, Camargo shared the impetus for making the photographs in this series: "I hope it gives people an opportunity to look at stories that are not told and to investigate why these things keep happening. And hopefully, that can create a dialogue that creates small changes toward liberation."
More recently, Camargo collaborated with Barret Oliver of The ƒ/Ø Project, a printmaking and publishing studio, to produce images from Origins & Displacements using the 19th-century albumen process. "When Barret approached me about this project, I thought there was no other way to do this because of the historical context," Camargo said. "The history of photography has this objective lens, but it really doesn't when it comes to looking at communities of color."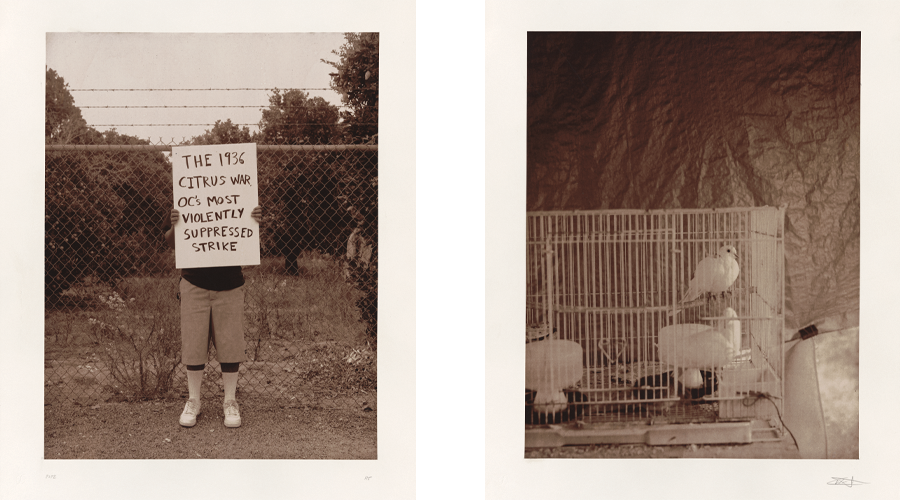 Camargo notes that photographers historically trained their lenses far less frequently on the lives of people of color, whose histories were often unseen and undocumented. By fusing his photography with an early printing technique, Camargo sought to capture a deeply poignant reality through a collision between time and place.
To develop the prints, Oliver spreads salt and egg white, or albumen, on thin paper and treats it with a silver nitrate solution to make it sensitive to light. He then exposes the treated paper to light through a negative, similar in principle to conventional black-and-white printing. But there the similarities end: The full process of albumen printing is complex and imprecise, as early photography often was.
"Because William's work references history very heavily, he and I thought it would be interesting to see his work printed that way," Oliver said. "Older techniques still have a lot to say. … They add a feeling and a voice to the work that you wouldn't get from contemporary materials."
For The Huntington, a repository for rare Civil War–era albumen prints, this year's acquisition of Camargo's photography offers contemporary insights into historical collections. "Camargo's work resonates with the history of California land as a contested space," said Linde Lehtinen, The Huntington's curator of photography. "And his interest in Latinx archives and family histories complements The Huntington's collections of several important Mexican American families in Los Angeles, including the Lugo, Pacheco, and Rodriguez papers and photographs."
Camargo hopes to see his work inform broader explorations of Los Angeles history as well as studies of immigration and Latinx communities. "I've never seen myself in museum spaces growing up, and now … I see that there is a need for my photographs to be part of that, to challenge some of the history that photography has actually created."
---
Deborah Miller Marr is the director of social content and strategy at The Huntington.