George Washington
, after 1779, after Charles Willson Peale (1741–1827), oil on canvas, The Huntington Library, Art Collections, and Botanical Gardens.
In July 1776, as George Washington readied himself and his troops for the British attack on New York, he took the time to write a letter to a loyalist merchant who had long supplied him with British and Chinese goods. As British ships approached, Washington meticulously reviewed the list of creamware dishes, china bowls, and various tea service items that he hoped to purchase.
"As the leader of the emerging nation," writes Kariann Akemi Yokota in her new book, Unbecoming British: How Revolutionary America Became a Postcolonial Nation, Washington "believed it was his responsibility to purchase tasteful goods that would properly 'fix the taste of the nation' and reflect a civilized culture."
Yokota, who was an assistant professor of history and American studies at Yale University, is currently a Senior Scholar at Yale's Ivy Scholars Program. She is also the Dana and David Dornsife Fellow at The Huntington this year. In her book, published by Oxford University Press, she shows how political independence from Britain fueled anxieties among Americans about their cultural inferiority.
Washington did, of course, have other things on his mind in those weeks between the signing of the Declaration of Independence and the attack of British troops in New York. He was thinking of his garden at Mount Vernon.
In another letter, according to author Andrea Wulf, Washington asked his estate manager to plant a new garden. Wulf spoke at The Huntington last year about her book Founding Gardeners: The Revolutionary Generation, Nature, and the Shaping of the American Nation. "So while the city prepares for the British attack," said Wulf, "Washington is talking about mountain laurel, flowering dogwood, and redbud." He's only asking for native species, Wulf explained in her talk (listen to an excerpt here). "He's asking for pines...soaring oaks...tulip poplar...and magnolia."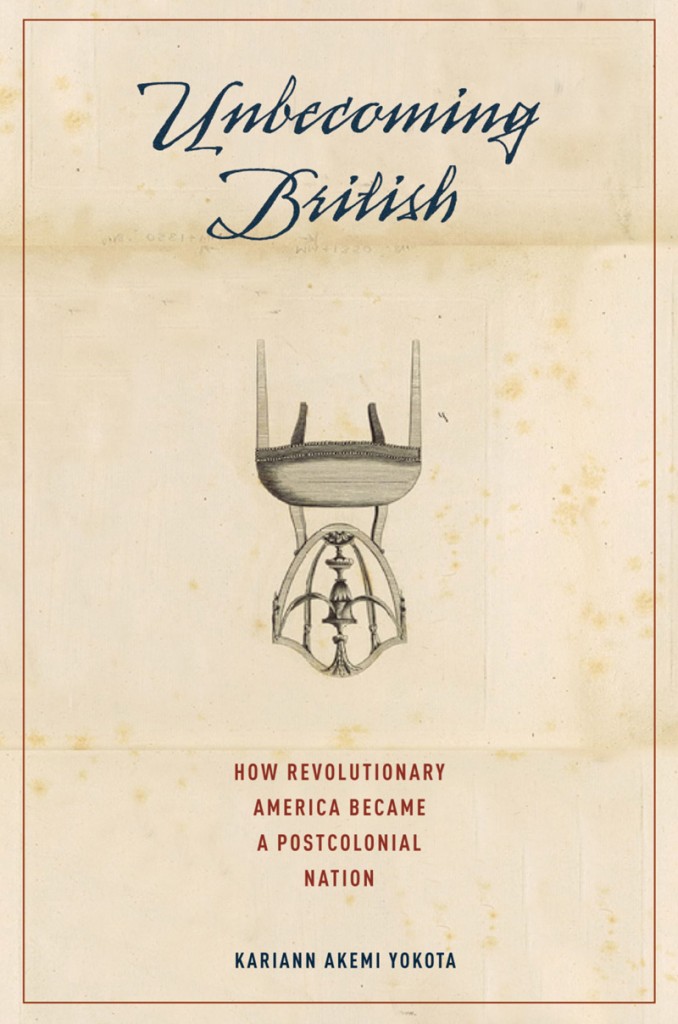 "So at the very moment the young nation is threatened to be crushed by the almighty British Army," said Wulf, "Washington seems to want to design an all-American garden, a garden where no English tree is allowed to claw its roots into the soil."
Washington's two letters—one demanding British and Chinese goods, the other rejecting all things foreign—reflects a moment in time that is summarized best by another anecdote from Yokota's book. On Feb. 22, 1784, Washington's 52nd birthday, two ships set sail from the New York harbor. Empress of China was the first American ship to travel to China to obtain luxury goods. The other ship, the Edward, was on its way to London to deliver the Congressional ratification of the Articles of Peace between the United States and Great Britain.
"What I think is interesting," says Yokota, "is that these two voyages are inextricably linked. As a colony, America had been banned from direct trade with foreign nations, so this inaugural journey to China symbolized the country's new found independence."
Kariann Yokota spoke about her book at the conference "Pacific Spaces: Comparisons and Connections Across the Pacific Ocean in Early Modern and Modern Times." You can download her talk, "Pacific Overtures: America and the Trans-Pacific World of Goods," from iTunes U. Andrea Wulf spoke at a Second Thursday Garden Talk, held on the second Thursday of each month in Friends' Hall, at 2:30 pm; each garden talk is followed by a plant sale.
On Presidents' Day last year we wrote about several Washington portraits in the art collections. The Spring/Summer 2010 issue of Huntington Frontiers included an interview with the inaugural Dornsife Fellow at the Huntington—Margaretta Lovell, author of Art in a Season of Revolution: The Artist, the Artisan, and the Patron in Early America.
Matt Stevens is editor of Huntington Frontiers magazine.