One of the last times Linda Colley gave a public lecture in Southern California, it changed the course of her research. The professor of history from Princeton will help kick off the new lecture season at The Huntington tonight with her talk on "Britain, America, and the Written Constitution."
About 10 years ago Colley was preparing for a talk about Elizabeth Marsh (1735–1785), who was conceived in Jamaica and went on to live a remarkable life that brought her to London, Rio de Janeiro, and the Cape of Africa, among other places. A three-month ordeal as a hostage in Morocco led to her only published book, The Female Captive (1769). Little else in Marsh's hand was known to survive.
Just before Colley's lecture about Marsh at the Clark Library in Los Angeles, she found out that UCLA had a manuscript of Marsh's travels in Morocco, along with original writings about further travels in India. Colley was astounded; she went on to write The Ordeal of Elizabeth Marsh: A Woman in World History, which was named by the New York Times as one of the top five books of nonfiction in 2007.
Novelist and book critic Hilary Mantel wrote of the book, "Elizabeth Marsh's life is the life of a single flitting creature caught in the net of diplomatic communiqués, ships' logs, diaries, family documents, and Colley stresses that it is the modern form of global connectivity—the Internet—that enabled her to follow each archival thread and pull them together for her reader."
Colley supplemented what little material she had on Marsh with meticulous accounts from others—found in libraries around the world as well as online—creating a nuanced biography of both personal and global dimensions. "I use the past British experience as a prism through which to look at broader global developments," she explained.
Her lecture topic tonight at The Huntington draws on a similar strategy.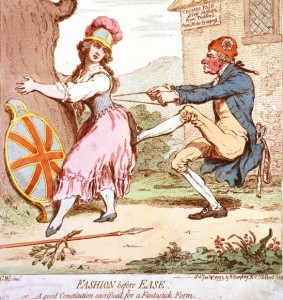 "Fashion before Ease;—or,—A good Constitution sacrificed for a Fantastick Form" (1793), a cartoon by James Gillray (1757–1815) that satirizes Thomas Paine, author of the Rights of Man, who is squeezing Britannia.
"A few years ago," she said, "I began exploring what seemed to be a paradox of British history—namely that at one level you have a society that trumpets its own unwritten constitution, yet it is writing constitutions for others at a terrific rate." Colley was the guest curator of the exhibition "Taking Liberties: The Struggle for Britain's Freedom and Rights," which received rave reviews when it opened at the British Library in the fall of 2008.
Her lecture will pick up where her exhibition left off, as she looks beyond Britain's rich history of domestic documents—beginning with the Magna Carta in 1215 and continuing with the Habeas Corpus Act (1679), the Bill of Rights (1689), and the Reform Act (1832)—to delve into its influence on constitutions scattered around the world.
Colley appreciates the value of public lectures in her research process. "I believe scholars have a duty to communicate their knowledge to different audiences," she said, "but I also think there is a selfish benefit." She explained that such occasions compel her to organize her material in new ways. "And very often you get questions that force you to reexamine your assumptions."
"If you are really lucky," she said, "some people will come up and say, 'My uncle has this diary or letter.' You never know!"
Colley is the Shelby M. C. Davis 1958 Professor of History at Princeton University and the Fletcher Jones Distinguished Fellow at The Huntington this year. She is the first of five distinguished fellows to deliver a public lecture in 2010–11.
Matt Stevens is editor of Huntington Frontiers magazine.